Book review: The Fear of Child Sexuality: Young People, Sex, and Agency, by Steven Angelides. University of Chicago Press, September 2019.
This is an important new book. Heretic TOC has accordingly decided to give it an in-depth review in two parts. This first part will focus on Angelides' aims in relation to his earlier track record. The second part will consider the book's content in more detail with a particular focus on the author's interestingly "post-Foucauldian" view of power in sexual relationships. 
We might guess that someone called Angelides would be on the side of the angels. This family name is Greek for "son of an angel" or "descended from the angels". Something like that. The name of the book itself, its title, tells us it is about fear, so we might find ourselves wondering whether the writer will boldly go where angels allegedly fear to tread. Portentously, too, this wordsmith's given name is Steven, after the first Christian martyr. His more specific subject is child sexuality, a notoriously dangerous theme for any writer these days, so is this perhaps saintly scribe doomed to martyrdom, or even actively courting it?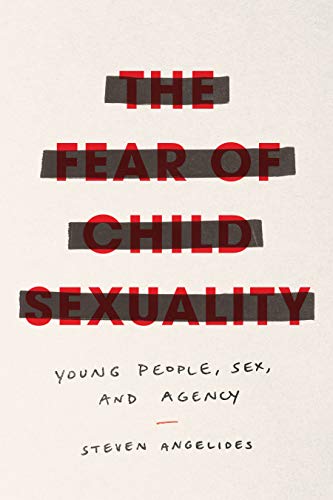 Definitely not the latter, on the evidence so far. The good Dr Angelides, a senior academic whose PhD was in history and gender studies, is affiliated with the Australian Research Centre in Sex, Health, and Society at La Trobe University and an honorary senior research fellow at Macquarie University. This much, and his listed publications, are a matter of public record, but otherwise he has kept a low profile. He isn't big on the social media, doesn't appear to give interviews, has no Wikipedia entry, and not much has been written about him.
Having been impressed many years ago by a couple of his papers, especially "Feminism, child sexual abuse, and the erasure of child sexuality" (2004), I was keen to read his new book when word reached me about it a few months ahead of its publication last month. So I wrote to his official university email address offering to write a review, possibly for an academic journal but certainly here at Heretic TOC. I heard nothing back. After a suitable interval I wrote again. Still silence.
I was a bit miffed. This was an unexpected snub. My recollection, admittedly somewhat foggy, was that Angelides had written quite respectfully about paedophile organisations such as PIE, which I chaired for several years. It was as though he at least acknowledged our sincerity and idealism. The impression I had was that he believed children are not only sexual but sometimes want sexual contact with an adult and are capable of consent in fact if not in law.
So why would he shun me and my interest in his book? Perhaps because he thinks I am a crap writer, of no significance? That would be mortifying but there is another explanation. Fear. Fear of guilt by association with a "convicted paedophile" like me.
History professor Joanna Bourke knows about these things. She is an expert on fear, author of a book called Fear: A Cultural History. So it is not surprising to see that Times Higher Education recently carried her review of The Fear of Child Sexuality. She wrote:
Even scholarly analyses of the sexuality of young people risk accusations of championing paedophilia. It is therefore very brave of Steven Angelides, an academic at La Trobe University in Australia, to tackle the topic. He is very clear about his ethical stance: he opposes all attempts to normalise paedophilia.
Except that he doesn't. I had just finished reading Angelides' book when I encountered Bourke. It was fresh in my mind and I knew that, mercifully, there was nothing whatever in it that could distinctly be taken as opposing paedophilia. Just as I remembered from his earlier papers, the perspective presented in his book is entirely compatible with children, especially those on the pre-teen cusp of adolescence and beyond, being sexually active and capable of voluntary participation in an intergenerational relationship. Wonderful! Delighted to see it! It could hardly have been otherwise, actually, because it turns out the book is pretty much a "greatest hits" compilation album of this earlier work.
So where was Bourke's utterly contrary claim coming from? Could this reputable historian have misinterpreted Angelides at some point? Or else be lying?
Well, it turns out that I cannot call her a liar but I do say loud and clear that her words performed a major deception, and it was one in which Angelides colluded. What happened, in effect, was that the pair of them came together to enact a strategy of fear. It was presumably not concocted in a conscious conspiracy between them (they may not have contacted each other or be personally acquainted) but it ends up working in the same way. There is a tactic as well as a strategy in all this that I will come to shortly. But first let's get into this strategy business. Angelides has plenty to say on this theme, starting in his Preface. He refers to:
… the cultural and political work the mobilization of emotional vocabularies of fear, anxiety, and shame does to endlessly defer an encounter with the agentive sexual child. This, I suggest, is a "strategy" of many child sex panics — although by strategies I am thinking of those aspects of power relations that are, as Michel Foucault famously puts it, "both intentional and non-subjective." Power relations have aims and objectives, and in this way are intentional; but they are also beyond an individual or group's will, consciousness, or control — in that no individual or group possesses power and in that power relations have unintended and entangled aims and consequences—and so are nonsubjective. Strategies can thereby also be anonymous and unwitting (pp. xiv).
Unintended consequences. Unwitting strategies.
Precisely!
By a supreme irony, an unwitting strategy of fear has produced a wholly unintended consequence in which Bourke and Angelides accidently collude against the sexual child that both of them (to judge from Bourke's review as a whole, as well as the book she is reviewing) would wish to support. This unwitting, accidental antagonism expresses itself through a contradiction.
To see how that has happened we must turn now from the strategy to the tactic. As we have seen, Bourke asserts that Angelides "is very clear about his ethical stance: he opposes all attempts to normalise paedophilia". Where does he make himself "clear"? Not, as I have said, in his book, or not at least in the main text, including the Preface. No, the tactic adopted by Angelides was to hide away his "clear" ethical stance in the Acknowledgements section, positioned near the end of the book, in the most obscure place possible, between the last page of the book proper and the beginning of the Notes. I am very pleased the disclaimer appearing there is indeed obscure because to make it more prominent would be to obstruct his long-held and much more positive message, a message all us heretics will applaud, namely that intergenerational sexual relationships can be ethical. The one thing that really is clear, it seems to me, is that Angelides is so fearful – understandably – of being crucified in the media and elsewhere that he feels the disclaimer, distancing himself from paedophilia, was necessary.
So how did Bourke come to notice this "clear" statement, hidden away among lengthy tributes to the author's colleagues and friends that would be of little interest to the general reader? My guess is that the publishers, the University of Chicago Press, sent a memo drawing attention to it along with every review copy they sent out. That would have done the trick. So, it looks as though there was probably corporate collusion too.
But we do not need to subscribe to this little bit of conspiracy theory on my part to see that fear is massively at work. Angelides gives us plenty of grounds for seeing why it would be in play. He tells us:
Publishing variously on the historical emergence of the modern pedophile, on child sexual abuse, on queer theory, and on child and adolescent sexuality, has done me no favors in some respects. In a way that gets to the very heart of this book's fundamental concerns about child sex panics, my work across these areas has sometimes been maliciously misrepresented by people who are opposed to almost any examination of young people's sexualities and who have a range of political axes to grind… Merely writing on these topics has been enough for some people unwilling to properly read my work to presume falsely that I am an apologist for pedophilia. Nothing could be further from the truth. From my very early involvement in the emergence of queer theory in Australia, I am on the published record denouncing any attempt to normalise pedophilia by way of transgressive queer theories (pp. 179-80).
As someone who knows what it feels like to be maliciously misrepresented of course I sympathise with all writers who find themselves on the wrong end of such abuse. However, I have been able to find only a couple of articles, published online, that attack him and his work – as already indicated, he has managed to maintain quite a low profile, perhaps because queer theory in general tends to hide itself in a fog of dense academic language that few can penetrate – and to my mind these seem to give a reasonably accurate account of his ideas. Hostile, yes, but nothing like as distorted and downright false as many of the allegations levelled at those of us who put our views out there in more straightforward activist terms.
Coming back to the contradiction I mentioned, it is this. Angelides says children may be capable of ethically acceptable participation in an intergenerational sexual relationship; Bourke is less committed but describes his book as well argued and sensible. Yet almost in the same breath, as it were, both of them badmouth paedophilia. So they arrive at the strange position of willing the end but denying the means. For how are children going to find themselves in intergenerational relationships unless they are allowed to have adults who are sexually attracted to them (i.e. paedophiles) as their older partners? Or are they supposed to confine their interest to "normal" adults who might turn to them temporarily as an inferior substitute when a physically mature partner is not available? Doesn't make much sense to me. Indeed, some might see it as a recipe for encouraging casual exploitation by the older person.
Fortunately, a clear explanation of this contradiction is available, at least as regards Bourke's thinking, which gives us a good steer when we come to the subtler line taken by Angelides. She writes:
It is unfortunate that Angelides pays insufficient attention to specificities within the category of "childhood": too often, readers are presented with an abstract "child", when he is actually referring to an adolescent, middle-class, white male.
She is saying, in other words, that he is mainly talking about teenagers, not little kids; and the ones he highlights as capable of consent are also likely to be relatively confident and empowered, based not just on their personal maturity but thanks to their privileged class, race, and gender as well. So why doesn't Angelides, who is plainly worried about being misrepresented and unjustly attacked, give himself an easier ride? Why didn't he call his book The Fear of Teenage Sexuality, which would have been far less controversial?
I find his official explanation utterly unconvincing. He says he uses the word child because that is what the law does, adding that "Retaining a legalistic definition of the child even when referring to those between ages fifteen and seventeen is also a deliberately provocative reminder of the ambiguities and contradictions faced by young people in Western societies" (p. xxvii). But it is a pointless provocation unless you have a further agenda.
What it comes down to, I think, is that he is alert, like Bourke, to a range of socially significant intersecting dimensions (class, race and gender, as well as age), some combinations of which seem to him to make likelier candidates for ethical relationships than others. He makes no positive case, for instance, for men's sexual involvement with young girls, but focuses at considerable length on sexual relationships between schoolboys in their mid-teens and their female teachers – contacts not only manifestly desired and enjoyed by the boys but also in which they exercised significant power and control. Another combination he apparently sees as viable is that of adolescent boys and men, the type of connection that was so explicitly the focus of that most famous of all paedophile organisations, NAMBLA, an acronym with "man-boy love" embedded into it. The membership of such organisations, including Britain's PIE (Paedophile Information Exchange) and Australia's PSG (Pedophile Support Group), tended mainly towards an interest in consensual relationships between older pre-teen, or early teen, boys and men. Angelides writes:
…insisting on a distinction between paedophilia and child sexual abuse was precisely the ongoing concern of groups like NAMBLA, PIE and the PSG. At the heart of this distinction were questions of consensual sex and the sexual agency of young people in intergenerational encounters (p. 80).
Quite so. And, to the extent that these consensual relations potentially relate to pre-teen kids, Angelides finds himself cheer-leading for children's sexual agency, not just that of teenagers. He can still just about viably argue, though, that he is not defending paedophilic contacts but hebephilic ones. As he says in relation to PSG, "many group members did themselves no favor by misnaming their category as pedophile" (p. 84).
Either way, there is no escaping the fact that this truly is scarily controversial terrain that could easily set off a witch-hunt against the author – and not just at Halloween as today happens to be: the witch-hunters never stop!