Today's guest blogger, Stephen James, is well known here as a regular commentator whose succinct contributions often provide a sensible counterpoint (or antidote!) to some of the always welcome but often wild "thinking outside the box" we tend to see in the heretical comments here. He has also written for the NAMBLA Bulletin and for the Newgon web magazine Uncommon Sense. His logical approach is consistent with his work as a published author of formal philosophy. He is well qualified for this, as he read philosophy and modern languages at Oxford and holds a Ph.D. in philosophy. Stephen guest-blogged here a few years ago on why "Virtuous Pedophiles" will fail. Today he turns his attention to a literary theme.
DEPICTING A BOY-LOVER IN CRISIS
Frances Vernon's The Fall of Doctor Onslow
In 1859, the eminent clergyman Charles John Vaughan unexpectedly resigned as headmaster of Harrow School in England. Harrow was (and still is) a prominent boys' public school (that is, an independent fee-paying secondary school in the confusing terminology used by us Brits). The real reason for Vaughan's abrupt resignation was not known until the 1970s when the diaries of the gay (and BL) writer John Addington Symonds were discovered. According to Symonds, a fellow pupil of his at Harrow told him that he was having an affair with Vaughan and showed him love letters as proof. Symonds, apparently anguished by the revelation, did nothing about this for over a year but then informed his father. The latter threatened to expose Vaughan if he did not resign his post and also insisted that he must not accept any high position in the Church if it were subsequently offered to him.
Not everyone accepts this account of events. Trevor Park, in his 2014 biography of Vaughan, argues that Symonds' version from his diaries is unreliable and he has produced an alternative explanation for Vaughan's resignation. But this factual question is not my concern here. What I want to talk about is the brilliant reconstruction of Symonds' account in the novel The Fall of Doctor Onslow by Frances Vernon. Vernon renamed the main protagonists and locations and of course included many imagined details. There are also bit parts for other eminent figures of the time (with their names unchanged) such as the scientist T.H. Huxley and Samuel Wilberforce, the Bishop of Oxford, whose opposition to Darwin's theory of evolution was ridiculed by Huxley in a famous debate, also depicted in the novel. The result is an enjoyable drama with a rich sense of authenticity.
And what is particularly surprising from our point of view is that the pederastic behaviour of Doctor Onslow (the novel's stand-in for Vaughan) is not treated with horrified revulsion but with a sympathetic intelligence:
Onslow shifted in his seat as he blamed his falling into sin on his headmaster's duty of flogging boys. He thought if it were not for that, he would never have given way to desire, never have known he desired – but it was not that he enjoyed inflicting pain, as some did. He wanted to inflict pleasure more than anything else in the world.
But the novel does raise moral issues connected with boy love. Martin Primrose, Onslow's kindly and forgiving brother-in-law, also a man of the Church, but much more liberal in doctrine than Onslow, persuades the latter that his chief sin lay in the fact that in entering into sexual relations with the boys he had "misused [his] authority". Explaining further, he says:
… they could not have been able to – to consent to do as you wished altogether freely, George, and therefore you – you must be partially guilty of their error as well as your own.
This argument about abuse of power sounds remarkably contemporary. But it is worth noting that merely by not exposing Onslow to the authorities at once, Primrose (and Anstey-Ward, the novel's equivalent of Symonds' father, who issues the threat to the beleaguered headmaster) would in our day and age likely be denounced as engaging in a "cover-up".
But before I continue reviewing the novel, I would like to make a brief comment about the "abuse of power" argument. Should it be 100% convincing to those who would like to take the more objective approach to adult-minor sexual relations encouraged on this blog? It is certainly true that Onslow/Vaughan was not only an adult but also in a position of authority over the youngsters. They may indeed have reasonably thought that if they said "no", he would punish them in some way. But I don't think it follows that such a danger exists in all situations of this kind. The adult (even, in some possible worlds, a headmaster?) can say "If you say no, I won't hold it against you" and the youngster could believe this if he knew the adult well and knew him to be trustworthy. In that case, if the youngster says "yes", then, assuming he truly understood what was involved (which would usually be true for older adolescents at least), I suggest that would be valid consent.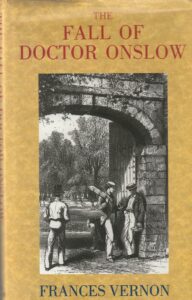 Now back to the novel.  How is Onslow himself portrayed? Throughout most of the story, he is not exactly likeable.  In Chapter One, he hypocritically flogs a boy for writing a love letter to a younger friend (though by the standards of the time, this might have been considered a mild punishment). He is sarcastic to pupils who make mistakes in their lessons. Above all, his treatment of his wife, though not out of kilter with the misogynistic times, is often arrogantly dismissive. Louisa Onslow comes across as an intelligent woman who is forgiving in relation to Onslow's secret "vice", though naturally distressed at his foolishness in letting it be discovered. On several occasions, Onslow fails to confide in her or heed her wise advice. In her he has a soulmate, but he seems barely able to accept the support and help she gives him.
And yet ultimately, Onslow is revealed to be a sympathetic character. I will not reveal in what way, though, as this would be something of a spoiler and I would like people to read the novel for themselves. (I would also advise against potential readers' looking any further into the life of Vaughan before reading the novel, as this would also give away too much.)
Generally, the novel is extremely readable. I will admit that I found some of the conversations early on taxed my understanding of the fine points of ecclesiastical doctrine in mid-Victorian England. Fortunately, this becomes less and less prevalent as the novel proceeds and in the end the only religious distinction that matters is that between theism in its Christian form and atheism.
From my brief review of this novel, readers may rightly gather that the author was an unusually perceptive person. But who in fact was Frances Vernon?
She was born Georgina Frances Vernon in 1963, the firstborn child of the tenth Baron Vernon. The photographer and author Michael Marten, who later encouraged and helped her with her writing, says:
From a very young age, maybe six, certainly by eight, she spoke and behaved and thought just like an adult … In fact she had very strong opinions about childhood, and wanted to be treated as an adult from a much younger age than is usual.
Marten goes on to tell us that Vernon later found some support for her attitude in the book Centuries of Childhood by Philippe Ariès, which argues that modern childhood was, from about the seventeenth century onward, an invention. Up to that point, children were basically thought to pass from childhood proper to adulthood around the time of puberty. Vernon thought that we should return to this idea and that modern childhood was basically a form of slavery – a notion that will resonate with some readers here.
Vernon started writing her first novel, Privileged Children, in her mid-teens, and she was still at school when it was accepted for publication by Michael Joseph. She went up to New Hall, Cambridge at around the same time, but found student life hard to cope with and left. At this point, being from a wealthy family was a critical advantage: her father gave her a flat in Camden and, in the words of her mother, "she had a sort of independence, at the ripe age of eighteen, and embarked on this life of living and writing alone".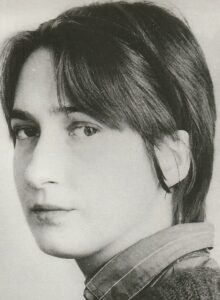 Privileged Children was a great critical success, winning the Author's Club Award for Best First Novel. It too features an age-discrepant sexual relationship: the female central character, when in her twenties, becomes intimate with a fourteen-year-old female runaway.
It seems that Vernon's interest in matters surrounding sexuality and gender to some extent reflected personal issues in her own life. Marten tells us that she may have regretted that she was not born a boy, and this might have had something to do with her father wanting to have a son to inherit his title. Her mother reports that in the opinion of her younger sister Janna, "Frances wanted to be a homosexual man, because she wanted sex with men, but to be a man". (These themes are explored indirectly in another of her novels, The Marquis of Westmarch.)
The Fall of Doctor Onslow was Vernon's last novel. Its first draft was rejected by Gollancz, who had published The Marquis of Westmarch. She was bitterly disappointed but rewrote the book significantly as a result.
Frances Vernon committed suicide at age twenty-seven on July 11, 1991, soon after completing the second draft of the The Fall of Doctor Onslow. She had long suffered from depression, in which simple tasks, such as going on an outing, created enormous anxiety. Her illness worsened through the course of her twenties, despite the help of a psychotherapist, and, it seems, eventually became intolerable for her.
After her death, Michael Marten sent her new draft of "A School Story" (as she had originally entitled the Onslow novel) back to Gollancz, but they turned this version down too. He then tried a number of other publishers and eventually it was accepted by André Deutsch. The book was published to great critical acclaim. Michael Marten believes it was Frances' best novel, having greater depth than its predecessors (excellent though these are).  Lucasta Miller's words in the Independent are especially apt: according to her, the novel's "posthumous appearance is both a tragic reminder of what she might have gone on to do, and a testimony to what she did achieve".
DOUBLETHINK ON SOME DARK MATERIALS
No one who saw the news last month that a guy in Texas had been given a 40-year sentence for running a website featuring fantasy stories about the rape, torture and murder of infants and toddlers would have been surprised that a long prison term had been imposed.
Few would have been upset, either, although it is disturbing to note that Thomas Alan Arthur, 65, had managed to make a living from his Mr Double site for 20 years, telling us there must a substantial market for his dark materials, and one imagines these customers will be dismayed.
For a very practical and ethically sound reason, so should we be. We may find fantasies of this type loathsome and nauseating (I certainly do), but the "safety valve" argument is a strong one, backed up by significant research: where pornography of all kinds is permitted, real life sexual offences go down, not up. People who get their appalling jollies reading about nasty things being done to kids are actually much less likely to do actually do nasty things to kids.
At pretty much the same time, ironically, as the Americans were making their counter-productive knee-jerk response to (presumptively) bad guys having (definitely) bad thoughts, the literature-loving French were celebrating sadistic child porn, declaring a famous example of such writing to be a "national treasure". Seriously. This month the French state bought the manuscript of 120 Days of Sodom by the original sadist himself, the Marquis de Sade, for over $5 million. The culture ministry hailed the text as a "monument" that had influenced numerous authors. The leading French news agency (AFP) reporting the story called it "the 18th-century erotic masterpiece".
No one in the French literary world appeared to be saying the text had corrupted other writers, or that if published today the author of such a depraved work could expect a long prison sentence.
But be in no doubt, Sade's work is every bit as disgusting as anything that could possibly have been on the Mr Double site. I won't go into detail here. I have no wish to churn stomachs. I will simply point out that there is a Wikipedia page on the 120 Days, which specifies the (many) fictional child victims in question, with their names, ages, and the ghastly fates assigned to them by de Sade's poisonous pen.
Astonishingly, the French think their Mr Double is marvellous! Funny old world!
TESTIMONY TO OUR TREMENDOUS TESTICLES
The Open Biology papers of the Royal Society, no less, recently published an apparently serious article titled "Brain and testis: more alike than previously thought?"
In the Abstract, we learn that:
…an association of intelligence with some semen quality parameters has been reported and a relation between dysfunctions of the human brain and testis has also been evident. Numerous common molecular features are evident when these tissues are compared, which is reflected in the huge number of common proteins. At the functional level, human neurons and sperm share a number of characteristics, including the importance of the exocytotic process and the presence of similar receptors and signalling pathways. The common proteins are mainly involved in exocytosis, tissue development and neuron/brain-associated biological processes.
Better not comment any further. I would only be talking bollocks!