Peter Tatchell has long been a hero of mine and doubtless millions of others around the globe, for the outstanding bravery, energy and lifelong dedication he has contributed to the international advancement of gay rights, lowering the age of consent, and much else. He has been dubbed a secular saint: Netflix has just brought out a documentary that celebrates his lifelong activism.
Unfortunately, what Heretic TOC must reveal today is a weaker and darker side of "Saint Peter", one which sadly he shares with the original Christian saint – a tendency to deny, disown and disavow his past, thrice and many more times. In his case it has meant pushing old friends and radical fellow-travellers under the bus to save his own skin in what we would unhesitatingly call a cowardly fashion were it anyone else.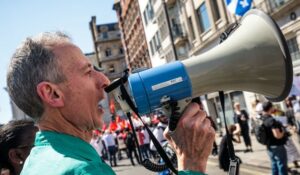 But let's start with the positive. Among my early memories of Peter's work is his courage and resilience in the face of a vicious homophobic onslaught when he was the young Labour Party parliamentary candidate for Bermondsey, London, in 1983. The media were relentlessly hostile. He was assaulted in the street, subjected to death threats, his flat was attacked. There was a scurrilous graffiti campaign branding him a paedophile. He was ganged up on by the other candidates; and, with many in his own party also against him, he unsurprisingly went down to a heavy defeat.
Did he give up the activist life? No, this was barely the start. Undaunted, he dusted himself off like the apostles of old, and kept on fighting the good fight – sometimes literally so, mounting direct action campaigns that put his life and limb in real danger on numerous occasions, most notably perhaps in his face-to-face public confrontations with Robert Mugabe, the notorious strong-arm President of Zimbabwe, citing human rights violations including torture. In 2001, in Brussels, he attempted to make a citizen's arrest of this Big Man of Africa. He was knocked unconscious by Mugabe's bodyguards and left with permanent damage to his right eye. In 2009 Peter said that he had suffered brain damage as a result of this attack, plus another by neo-Nazis in Moscow while campaigning for gay rights.
So, when I first heard all those years ago that my friend Warren Middleton, former Vice-Chair of PIE, had made his acquaintance and seemed to be getting on well with him, I was pleased and impressed. Peter had been prominent in the Gay Liberation Front in the 1970s, but I think I first heard of him when he came to wider public attention as a result of his high-profile candidacy in Bermondsey. This would have been in the early 1980s.
That was when his path and Warren's crossed. It was a meeting made in heaven. Or, rather, in Heaven, the legendary gay club in the arches underneath London's Charing Cross station. Warren was a permanent fixture there, an angel one might say, who had a job on the hospitality side at the celestial venue. Perfectly placed to socialise with the clientele, he met Peter, an occasional visitor, and the two chatted several times. It was in these circumstances that Warren told him about a book he was working on that was to include a compilation of chapters contributed by a range of authors; these contributions would be, in the words of the eventual sub-title, "Radical perspectives on childhood sexuality, intergenerational sex, and the social oppression of children and young people". Warren asked Peter if he would contribute a chapter; Peter agreed.
Was Peter aware of Warren's connection with PIE? "Warren Middleton" is an assumed name and I am not at liberty to disclose his real identity. But my understanding is that, yes, he definitely knew that Warren, in one name or another, had served on PIE's Executive Committee because Warren had told him so. This made sense at the time because letting it be known he had been in a leading activist role would have given him authority and credibility as the editor of a radical book on the themes in question. Without mentioning such credentials (bearing in mind that Warren had not previously been a published author or known as a writer or editor, except within PIE), how could Peter have been persuaded to contribute a chapter?
Last year, though, Peter was spinning a very different yarn. In an interview with the Irish online news platform GRIPT, he denied that he had ever had any association with Warren Middleton, and claims to have been deceived over the contents of the book, which was published in 1986 as The Betrayal of Youth. In an unedited Q & A with GRIPT interviewer Gary Kavanagh, he was asked, "When did you become aware that Mr Middleton was heavily involved with PIE?" He responded, "Several years later, when the book was published. I was enraged, appalled and felt conned." How had he allowed this to happen? This is what he told Kavanagh:
The request to write for The Betrayal of Youth was in about 1981 or 1982. It was made by phone call and I was given an address to post it to. I do not remember who asked me to write the chapter or the address to which I sent it. No mention was made of PIE or paedophilia when I was asked to write my chapter. Paedophiles are devious. They knew I would not write for a PIE book, so I was told it was a book about child welfare and rights… I would not have agreed to write anything for that dreadful, nauseating book.
The central claim here – that he was deceived as to the nature of the book and found it "nauseating" when it was published, is untrue. I cannot be certain it is a deliberate fabrication: this was all a long time ago, and the brain damage inflicted on Peter may have affected his memory. But just ask yourself, how likely is it that in the midst of all the dirty tricks  against him in Bermondsey he would be so naïve and unguarded as to entrust his writing on a highly controversial topic to the tender mercies of someone he did not know, on the basis of a phone call? And that he would send it to a random address that meant nothing to him – not a known publishing house – without even keeping that address on file? No, it is Peter Tatchell who deceives us here, unwittingly or not, rather than Warren Middleton. You may judge for yourself shortly when I unveil the evidence below.
I too contributed a chapter to the book. Kavanagh asked Peter if he had ever met me. He replied, "I never met Tom O'Carroll and would never want to. I condemn all that he stands for. His views are disgusting." But if my views are disgusting, so were his back in the day: we were saying much the same things! We had radical ideas in common. Again, you may soon judge for yourself.
Warren is not a well man these days, sadly. I imagine he would like to put the record straight but I know he would not be up to the hassle of dealing with the media. In any case, it would be all too easy for Peter to brush aside his recollection of events as false, along with mine and others.
What cannot be dismissed so easily, though, is a document of unimpeachable authenticity, archived in the British Library, which utterly contradicts Peter's repeated denials that he was "appalled" by The Betrayal of Youth when it came out, or that he found it "nauseating". As Heretic TOC can now exclusively reveal, he actually gave the book a favourable review! See photo below. This was published in the 13 June 1987 edition of 7 Days, the newsletter of the British Communist Party at that time. Under the heading "Radical thoughts on consent", he wrote:
When Warren Middleton recently compiled his book on children's sexual rights, to which I made a brief contribution, he found it impossible to get a publisher. They were all too nervous. So he had to publish it himself. Even now, only a few bookshops – notably Gay's The Word in London – have had the courage to stock it. Indeed, I am only writing this review because it seems that no one else is willing to risk association with this taboo subject.

Under Middleton's editorship, The Betrayal of Youth presents a diverse collection of essays by 16 different authors who offer a 'radical perspective' on the history, sociology, politics and ethics of 'childhood sexuality, inter-generational sex, and the social oppression of children and young people'.

All the authors oppose coercive and exploitative child sexual abuse, and want both children, and adults, to be protected from forced, involuntary sexual acts by the laws covering rape and sexual assault. However, they also argue that consenting, victimless sexual relationships between younger and older people should not be penalised by the law, especially where the relationship is of a tender and caring nature….

In presenting these arguments, The Betrayal of Youth speaks coolly, clearly and radically about a subject which has far too long been shrouded in emotional hysteria and adult chauvinism.
Does he sound appalled by the book? Is he nauseated by this volume that clearly, in his own description, yokes "childhood sexuality" with "intergenerational sex"? We may think not. But when he spoke of "intergenerational sex", could he have meant twenty-somethings with sixty-somethings? Again, such a reading is impossible in this context: the book was clearly about child-adult relationships, not adult-adult ones.
I trumpet this as a Heretic TOC "exclusive" because the news media have shown a lively interest in Peter's changing stance in recent years but this blog is the first to come up with hard evidence about it. What prompted this present writing, indeed, was Julie Bindel 's revival of the subject last month in UnHerd, when, in an article headed "Stop pretending Peter Tatchell is a perfect man", she made a challenge to the Netflix doc, which she describes as a "tedious hagiography of a flawed figure".
Lacking a Netflix subscription, I am unlikely to see the doc. Called Hating Peter Tatchell, the title seems to carry the suggestion that anyone who disagrees with Peter must loathe and detest him. No doubt many do, but please count me out. Mainly, I still admire the guy. His achievements are immense, his character deeply impressive in many ways.
But, for once, I found myself in agreement with Bindel and submitted a comment to UnHerd to say so, quoting a passage from Peter's chapter in Warren's book. Peter responded, accusing me of defamation and denying, in effect, that the passage meant what it said. I shot back, this time referring to his review of the book, but without giving details. He returned fire again, this time challenging me to come up with the evidence, saying the review was probably a fake put out by the Far Right. I said I would be keeping my powder dry for now, as a media deal for my story could be in the offing.
A key objective of this would be to see if I could get a prestigious news outlet to credit Heretic TOC with the story, giving a link to the site. I actually thought this was somewhat unlikely given the reluctance the MSM would have towards collaboration with "a convicted paedophile", and I did not pursue it. I have a shrewd idea, though, that the mere thought of The Guardian, say, running the story as a prominent exclusive, will have rattled Peter, and that would be no bad thing. Whatever, you can catch up with these exchanges in the comments section of UnHerd, here. Note that Peter makes 10 separate comments; I have four: mine appear under the long, cumbersome name "tomocarrolleditorialservices" (Don't ask! There was a glitch).
The Guardian, in particular, played a significant role early on in this saga, when Peter wrote a letter to the editor in response to a 1997 book review in stable-mate paper The Observer, by columnist Ros Coward. She had been reviewing Dares to Speak, a book published by Gay Men's Press, and which some heretics here probably have on their shelves. As the title suggests, the book was about adult attraction to children, this being the new "love that dares not speak its name". Coward could scarcely have been clearer in her response. She spells out this is a pro-paedophilia book and she then goes on to denounce it for this very reason.
What does Peter Tatchell do? Evidently still a radical at this time, he writes a letter saying it had been "courageous" to publish such a book. Children aged 9 to 13 who had sex with adults later told him they did not feel abused, he said; rather, it gave them "great joy". He added, "it is time society acknowledged the truth that not all sex involving children is unwanted, abusive and harmful."
Perhaps taken aback to be then faced with a tsunami of letters from Guardian readers objecting to his increasingly unfashionable positivity towards paedophilia, his now decades-long exercise of denial began there and then with claims in a second letter that his first one had not been a defence of paedophilia at all. I doubt if anyone found this letter convincing. At that time, of course, it would have been very difficult for him to recant his radical position with dignity as his defence of Dares To Speak had appeared only days earlier. So instead of taking back what he had said he went into all manner of verbal contortions to pretend he hadn't said it, thereby painting himself into a corner where he remains to this day, forced with each public revival of the subject to make ever more extreme denials, which he hopes to make credible by increasingly hysterical and intemperate denunciation of old allies such as Warren and me.
There is no need to go into further detail. Anyone wanting the full picture of Peter's previous statements in apparent support of intergenerational sexual relationships starting as early as 12 or even younger, along with a challenge to his subsequent denials, should consult the thorough, fair, forensically sharp, 10,000-word analysis undertaken by Gary Kavanagh for GRIPT. It makes a powerful circumstantial case against Peter's multiple protestations, but this was only ever claimed to present the probable falsity of Peter's denials. What Heretic TOC is now presenting for the first time is hard, irrefutable, evidence of his damaging, unworthy, falsehoods.
Why, one has to wonder, has this man of outstanding physical courage been so shrill and panicky in running away from his own past? If his reputation matters to him more even than his life, that is no bad thing in itself. What makes it so is his frankly contemptible and cowardly resort to smearing radical former friends, along with his wider smear that "paedophiles are devious" – a hate-speech trope as odious and poisonous as "the grasping Jew". Such libels against paedophiles are sadly all too familiar these days, but one hopes for better from a putatively principled, high-minded individual. His descent to the rhetoric of the gutter is hugely disappointing, and does far more damage to his reputation for integrity than any radical beliefs about childhood sexual expression.
It would be important to say all this, I believe, even if it were simply a matter of defending my friend Warren and myself against unjust attack. But the significance of Peter's treachery goes much further. In order to get himself off the hook he has shamefully resorted to insulting, demeaning, and dehumanizing child-attracted adults in general. Allowing hate-speech to go unchallenged is what drives cultures towards the ever greater oppression of unpopular minorities, and ultimately even their extermination. There is no reason to suppose paedophiles are exempt. Accordingly, when facts are available with which to make a vigorous, rigorous challenge, as in this case, it is our duty to do so.
It is often observed that we live in a "post-truth" age. Fake news reigns supreme! Everyone is at it, from presidential tweets downwards, right across society. A rotten, corrupt culture full of nasty, vicious liars. There is widespread despair over what we can do about it; and anyway, say the cynical sophisticates, What is truth?
We may agree that truth is elusive, and hard to define. But that does not mean we should surrender in the face of obvious and harmful falsehood. Heretic TOC has absolutely no intention of doing so.