Remember David Blunkett? He was one in a succession of UK home secretaries hell-bent on being tougher on crime than their predecessor a couple of decades ago and more. Among his crowd-pleasing reforms was a "crackdown on paedophiles" in his Sexual Offences Act, 2003; but his most draconian measure was the sentence of "imprisonment for public protection" (IPP), introduced in the Criminal Justice Act of the same year.
The idea was to keep in prison any offender considered too dangerous to be released when their original sentence had expired – a bit like civil commitment in the US. Being kept behind bars would continue until the Parole Board judged they no longer posed a risk to the public. In theory, they would be able to show they were no longer dangerous by attending rehabilitation courses and convincing the people running them that they had seen the error of their ways.
But it didn't work out like that. Judges went crazy, dishing out these endless ("indeterminate") sentences like parking tickets for relatively minor offences. Just getting a place on the courses, including the SOTP (Sex offender treatment programme) in a timely fashion was all but impossible, and "passing" it harder still. In 2012, IPP was abolished after a damning European Court of Human Rights ruling. In any case, prison numbers had soared so rapidly as a result of these sentences that even hard-liners in government could see the situation was unsustainable: it was leading in effect to life imprisonment for offences that might otherwise have attracted a sentence of months rather than years.
The tragedy for Steven Freeman, who took over from me as chair of PIE in 1979, when I was facing an Old Bailey trial myself, is that he was sentenced just before this abolition, in 2011. Several co-defendants in the dock with him for child porn offences were each given a determinate sentence (all in the range 1-2 years) and served their time in the usual way. Steve, though, was singled out for the dreaded IPP. This came in his case with a minimum term, or "tariff", of 30-months – exactly what had been handed down to me a few years earlier for similar offences, and not in itself an out-of-the-ordinary penalty.
As may be imagined, I had been terrified of getting an IPP. It was very much on the cards. While in jail as a remand prisoner awaiting sentence, I was solemnly served with official papers explaining the life-sentence they thought it was likely I would receive – yes, life sentence was the word they used to describe the IPP, and with good reason. Thousands of IPP prisoners have languished for years beyond the end of their tariff. The IPP law may have been dropped but not the sentences passed under it.
Steve was one of those caught in this nightmarish trap. Note the past tense. For Steve, this was truly a life sentence.  As I posted on BoyChat last month, after serving nearly 10 years behind bars (equivalent to a 20-year sentence taking ordinary 50% remission into account), Steve died in hospital of Covid-19; he had been taken there from HMP Bure, in Norfolk, after contracting the disease in December.

It must have been a bleak, lonely end to life, at a reported age of 66. That much he would have suffered in common with thousands in the pandemic, who have found themselves prevented by the isolation rules from seeing family and friends at a time of intense yearning for connection with loved ones, except, for some, when an "end of life" exception was clearly imminent.
For Steve, though, the separation was total, and far longer than just those final weeks. Once his co-defendant friends had been released he was left for years in total isolation from everyone he had known in the outside world. After leaving his native Stoke-on-Trent for London in 1976, his northern kin appear to have become increasingly remote from his life and estranged from his radicalism. They didn't want to know him when he was in trouble; and the latest news, after Steve's friend Leo Adamson contacted the funeral directors, is that the family do not wish to cooperate in any way with anyone outside the family.
Another close friend, "Barry", has indicated that the prison authorities banned Steve from communicating with any of his friends, who were accordingly left with no idea of how he was coping or what his thoughts were during most of his time inside. My guess is that, even if Steve has been able to write to old friends, he would have had reason to believe that doing so would have compromised his chance of "passing" the SOPT: it would have seemed too much like failing to distance himself from his "criminal associates".
In truth, Steve was always going to find it difficult to grovel hard enough in the face of the authorities' demands for signs of abject penitence and contrition over his past. Whereas many offenders would have no difficulty in simply bull-shitting their way through, telling the SOTP people what they wanted to hear, Steve was always a proud, stubborn guy, hard-pressed to conceal his real feelings – which I feel sure would not have included contrition. This was confirmed not that long ago when another inmate at HMP Bure, who had known Steve inside, was released, and got word out that he had not changed: same old unyielding Steve, uncompromising, uncompromised, and mercifully not, it would appear, broken in spirit, despite all the agony of those long, slow, seemingly endless, wasted years.
That defiant stance probably had something to do with why Steve had been singled out for a harsher sentence than his co-defendants. Another, far more distinctive reason, made much of by the police, prosecutors, and media, arose from Steve's considerable talent as an artist. As one newspaper put it, 3,000 "vile" drawings were found when police raided his home, including images this "monster" had drawn of "children being raped".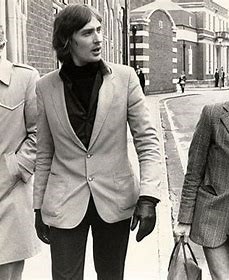 What they might have meant, I suspect, is pictures of men and boys (Steve was a BL) making love. That would have been a more threatening breach of taboo: to depict children as active, willing participants in such acts was to challenge the dogma that such a thing is impossible.
Either way, rape or not, Steve made legal history as the first person to be convicted for making obscene drawings of children under the recently enacted Coroners and Justice Act, 2009, in what Scotland Yard described as a "landmark case".
My guess is that they had more to feel pleased with themselves about than meets the eye. It looks likely the Met Police engineered the passing of a new law with Steve as its intended first target. As the Internet Watch Foundation noted on their website (open Case laws: R v Freeman):
Police had originally raided Freeman's house on a previous occasion in 2008 and Freeman was charged with the possession of Indecent Photographic Images, however as the 2009 Act had not come into force no specific action was able to be taken on the drawings. Once the Act came into force Police returned to Freeman's house and secured the case against him.
Do we think the police just twiddled their thumbs after initially finding they could take no action on the drawings? Unlikely. It seems probable the Met took this up at the highest level, lobbying successfully for an urgent change in the law in the full knowledge they could clobber Steve with it in a sensational case. The necessary provisions were simply shoehorned into a much bigger law reform that happened to be going through parliament at the time, so the opportunity was available. The applicable section, s.62 of the Act, came into force on 6 April 2010. Hardly more than a week after this, Steve had another knock on the door, leading to his conviction the following year over the photographic offences and the drawings.
Ironically, at the same time as this oppressive and philistine law was being applied in Steve's case, in another part of the same city at the same time, artistic images of sexual intercourse between man and boy were being positively celebrated by the media and cultural establishment, lauded as a great treasure by the BBC and the British Museum!
Remember the Warren Cup? It is named after Edward Perry Warren, a wealthy BL and art collector, who acquired it over a century ago, thrilled by the intergenerational sex scenes it depicted. On one side, a bearded man is shown anally penetrating a youth; on the other side, a youth is seen doing the same to a prepubescent boy. Well, not quite the same. The bearded bloke is positioned to go in with his penis from behind, whereas the boy is entered sideways.
This magnificent silver vessel, discovered near Jerusalem and dating back to the Roman occupation there, was purchased by the British Museum for £1.8 million in 1999. Yes, there was huffing and puffing in the media over both the subject matter and the price, but I do not remember anyone calling for the imprisonment of the "monsters" who had secured the "vile" object.
Admittedly, the Coroners and Justice Act had not been passed at that point. But its arrival did not prevent the Warren Cup's celebration in a prestigious BBC radio series called A History of the World in 100 Objects in 2010, by art historian Neil MacGregor, director of the museum from 2002 to 2015. A Guardian story about a recent exhibition featuring the cup dodged any potential embarrassment when arts correspondent Mark Brown resorted to a flat-out lie. He wrote, "The Warren Cup shows two scenes of men making love." Men? Including a prepubescent "man"? Either that was a deliberate porky or his eyesight is not up to being an arts writer.
There is even a detailed book about the cup by the museum's Keeper of Greek and Roman Antiquities, Dyfri Williams, who bravely resisted describing the most controversial scene on the cup as a description of child rape. Williams faced up squarely to the fact that the depiction was of a youth of around 16 penetrating a prepubescent boy of about 12 or 13. He described the scene as one of "tender calm and concentration" in which the boy is "almost cradled" by the youth in a "supportive and intimate gesture". Williams' scholarly interpretation is that this was an attempt by Romans of the time to imagine what idealized Athenian pederasty had been like in an earlier era, one that "allowed for fully physical relationships from even before puberty (as in Sparta and Crete)".
Now that's more like it! This is art appreciation of which Steve himself might have approved! As we have seen all too clearly, there was no such generosity towards his own art, or to him personally. A final twist of the knife from the media reporting his death was to quote an unnamed "insider" as saying "He won't be missed." The rest of my piece will be largely a demonstration that this contemptuous dismissal is itself empty, malicious, contemptible, and palpably false.
'HE WON'T BE MISSED'
Edmund Marlowe, author of the acclaimed BL novel Alexander's Choice, and host of the scholarly website Greek Love Through the Ages, launched a spirited fightback against this calumny in a post on BoyChat. For Marlowe, Steve's posts on the forum years ago "stood head and shoulders above all the others for wit, originality and erudition". After making contact with Steve on a one-to-one basis, including hours of Skype conversation, he discovered these qualities made Steve's online company "boundlessly fascinating and fun". Steve's integrity, Marlowe felt, was the key to his downfall:
Others got away very lightly compared to him by making the necessary compromises with the omnipotent state, but though fully aware of the dire consequences, Steve was one of those characters who found it well-nigh impossible to acknowledge as shameful, dirty and wrong what he believed to the core of his being to be beautiful, good and true.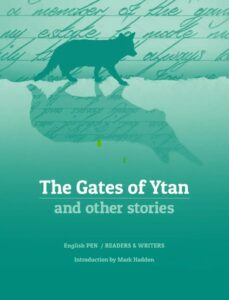 Also on BoyChat, I noted that in 2014 Steve had come first among 400 entries to win English PEN's Prison Writing competition with a story that became the title piece of The Gates of Ytan and other stories, downloadable here as a PDF. The event was judged by Mark Haddon, best-selling, multi-prize winning, author of The Curious Incident of the Dog in the Night Time.
Haddon is plainly a man we would expect to know literary talent when he sees it. So is Geoff Hardy, well known Gay Liberation Front pioneer of the 1970s in London, whose career as an "out" gay teacher (which took real courage in those days) included helping develop the literary talent of the British-Guyanese poet, novelist, playwright, and professor Fred D'Aguiar. Just a few days ago, Hardy wrote to a friend of mine saying:
It's obvious why [Steve's entry] won first prize… it's beautifully written… What a crime it is to think of his never being able to taste freedom again – yet his mind managed to free itself through writing… So much pain, perception and creativity exists behind bars. Thankfully, there are people who ensure that they have a route of expression and see them as fully human and with all the potential humans have…
Steve's name had not always been Freeman. As a child and young adult, he was Steven Smith, later preferring to be known as Steven Adrian before formally adopting the name Freeman. Leo, a fellow activist who knew Steve for many years, refers to this dance with identity in some wide-ranging reflections on a distinctive life:
A talented writer and artist with strains of stubbornness and fatalism that led more than once to disaster and tragedy, it is particularly sad that all of Steve's cartoons are almost certainly lost. Definitely obscene, with their fantastic storylines, the later ones bore comparison with Beardsley at his most extravagantly lewd.

He was determined to live as a paedophile, although his only known intimate relationships were with admired older men, one of whose names he chose as his post-PIE identity – although the delicious, multi-layered irony of "Freeman" may have helped with the choice.

He was an energetic chair of PIE, and the last two or three issues of Magpie, as well as all seven of Contact!, PIE's last newsletter, are mostly his creative editorial work. Most lasting, though, is the 1983 interview he gave to Newsnight, alongside Peter Bremner, which can still be found on YouTube.

It was a bold move to flee before the 1984 PIE trial and seek political asylum in the Netherlands. After six years, the claim was turned down, as the political atmosphere chilled there as well. But the British extradition case against him also failed, since the Netherlands had no equivalent to any of the offences he was charged with. In the end he was not extradited but deported, based on false assurances by the UK authorities that there were no charges outstanding against him. When he was arrested immediately on arrival, questions were asked in the Dutch Parliament. The UK authorities just shrugged and prosecuted him anyway. But, looking back, these events are enough to demonstrate the purely political nature of the charges against him, and PIE in general.

That exile is probably the time when his life was happiest and fullest, living for some years in a commune in a fine old, converted barn, and then in a spacious municipal flat, on excellent terms with the local youth, who appreciated his quick wit and salty humour. Plenty of room also for the cats that were another of his passions.

Back in the UK, after his first jail sentence, he lived quietly, with little involvement in the vestigial, dying paedophile politics of the day. Rather than the hopeless task of trying to overcome or convince a vastly more powerful adversary, after PIE he chose to live in the meagre margin left by state surveillance and micro-management. He became a bit of an angry old man, with biting observations of the ever-shrinking room for dissent by those with "one penis too many". Bure, the sex-offender re-education camp where he was caged for his last nine years, run almost entirely by women, with a few men in junior roles, will certainly have confirmed his anti-feminism.

He continued writing and drawing, partly for his own amusement, but some of it was more serious, and publishable. I hope more will be published and become a voice from a margin our cultural overseers would prefer silenced.
Barry, mentioned earlier, met Steve in 1978 after joining PIE and going to a local support group in South London. At that time, Steve had moved into the home of an older gay man – apparently one with BL sympathies and perhaps inclinations. This was "David", who until his retirement had been a master at Dulwich College. Barry wrote:
Personally, I felt very sad at hearing of his death. He had been a good friend and very understanding. He made himself available to help people out and was welcoming in inviting people to his home on a regular basis. It is distressing to think how badly treated he was in being denied his freedom for 10 years when he should have been released after his minimum sentence had been served.
For my part, I was never a close friend of Steve's, unlike Leo or Barry, nor quite as in thrall to his charms as Edmund. As I noted on BoyChat, we had our differences. However, I whole-heartedly approve the warm personal reminiscences recorded above. My intention here, at the personal level, is simply, as I said earlier, to contest the bogus claim that "He won't be missed." On that score, I will just add, finally, I am quite sure he would have been a valued and sorely missed conversationalist on the exercise yard at HMP Bure. Also, I know that an Italian literary scholar named Elisa, an intellectual admirer from afar who wrote a succession of supportive letters to Steve in prison, was greatly shocked and upset to see him go, even though she never had the reward of hearing back from him. Quite remarkable. And very touching.
As for a wider view of Steve's record, especially as regards his chairmanship of PIE and his circumstances in the Netherlands, it is a long story that will have to wait for another occasion.
R.I.P. Steve.