Heretic TOC is delighted to welcome a new guest blogger today. This is "Prue", who recently completed a Master's degree in critical theory, achieving a Distinction (first-class honours, in effect) with a dissertation on intergenerational sexuality. Prue, who goes by they/them pronouns, is not a MAP but is opposed to MAP demonisation. They plan further research on MAP / youth sexuality issues and aim for an academic career that will engage with related concerns, including pornographic literacies, asexuality, post-feminism (in contrast to victimological feminism), and contemporary fascism.
CHILD MARRIAGE: OFTEN IT WAS FOR LOVE, ACTUALLY
Should you go down on one knee for your young lover? (Should they go down on one knee for you?) In Nicholas Syrett's American Child Bride: A History of Minors and Marriage in the United States, published in 2016, readers are presented with an appropriately myth-busting history that will appeal to heretics. To spark some discussion, I'll address the early chapters.
Reflecting the chronology of the book, Syrett begins by comparing Susie King Taylor's 1902 memoir Reminiscences of My Life, which narrates her escape from slavery and subsequent participation as a nurse in the American Civil War (1861-1865), with country singer Loretta Lynn's more recent 1976 autobiography, Coalminer's Daughter. Taylor married a soldier in 1862 during the war years, but her memoir does not focus on her marriage nor her age (14) at the time. In stark contrast, Loretta Lynn places her youthful marriage centre-stage, capitalizing on the "backwards" American South trope. In fact, "to appear as 'country' as possible" Syrett explains, Lynn "lied about the date of her marriage and thus her age […]: she had been fifteen, not thirteen" (p. 2). The difference in emphasis between the two accounts hints at the changing significance ascribed to the categories of 'minors' and 'marriage' from the 19th century to today.
Unfortunately for boy-lovers, this history is a squarely gendered one, with younger Assigned Female At Birth (AFAB) females typically marrying older AMAB males. It is not, however, a history of dumbfounded girls being forced to marry (either by their parents or prospective spouses). Although Syrett does not support the practice by any stretch of the imagination, he is at pains to explain how the 19th century ethos around youthful marriage meant that while a parent or caregiver (usually a father) had to give their consent, the girls were deciding for themselves.
The image of young girls forced to marry reflects in part, Syrett suggests, the history of American exceptionalism: the belief that "child marriage is practiced only in other places – India, Afghanistan, various African nations – or, if in the United States, only by religious sects where multiple girls marry one man against their will" (p. 6). "These versions of child marriage", Syrett writes, "forced unions arranged by parents, sometimes the exchange of a dowry, brides below the age of twelve – are indeed different from what usually happens in the United States, where marrying girls have tended to be in their teens and have usually themselves made the decision to marry" (p. 6, my emphasis).
Syrett makes some perceptive introductory remarks. One (p. 11) concerns how research is unclear as to whether minors who marry suffer adverse health consequences because of the marriage or because of the events / conditions surrounding a person who marries. That is, poverty, histories of violence, prior mental / physical health issues, and a lack of access to education, sex-education, contraception, and so on.
The obligatory, problematic, comments on "pedophilia", however, come as early as page 3. "Before the 1920s", Syrett writes, "most people […] did not share our understanding of pedophilia", which he follows up to define as "the sexual predilection of some adults for children" (p. 4). Other than taking this opportunity to point out that Syrett consistently appeals to some mythic shared and obviously superior collective unity – "us", "we" – "our" beliefs, the author's diction (word-choice), "understanding" in relation to paedophilia, is a stretch by any standard.
First, the stigmatized and misused term "pedophilia" is commonly invoked to shut-down understanding, especially academic research as per the "pedophile smear". Second, Syrett's definition is plain wrong, arguably misleading his readers when the author ought to know better. Paedophilia denotes exclusive or preferential (not occasional or one-time) attraction to prepubescents, whereas most "child marriage" occurs with late-teens! His language here seems even more strange because he later specifies his use of "child" to refer to the current American-legal definition meaning anyone under 18 years old, conflicting with this earlier usage where age demarcations are absent. Syrett's inaccuracy risks leaving readers easily, and erroneously, conflating those who fancy a teenager with exclusive or preferential paedophiles!
Whilst I agree with him that the "child" as 18 is an "arbitrary" designation, obviously so when the age of consent varies considerably both today and in the 19th to early 20th century, the age thresholds for marriage stipulated by the original American colonies, a minimum of age seven for minors with minors to the more general 12 for females and 14 for males, were arguably less arbitrary in that they aimed to reflect biological processes of puberty and reproductive capacity.
When I first glimpsed the book's cover, I thought the author was poking fun, making their own meme out of the current America-centric discourse where people under 18 are situated as "children", with their desires and sexual subjectivities rendered pathological and morally unacceptable as judged by a conservative standard of decency (or Fascist so-called "degeneracy"). But no. In showing a buxom, voluptuous young woman strolling on the beach arm-in-arm with her older husband, the audience are seriously invited to accept, rather than to question and unpack, the labelling of this woman as a "child" (perhaps "woman-child"?).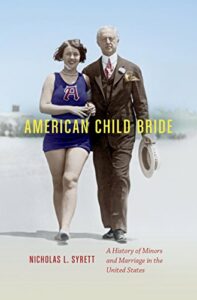 Reading the first few chapters, which focus on the antebellum period, it's striking to note that early Americans would typically not know their precise age, meaning that age demarcations would be less noteworthy than today. As Syrett explains, "earlier Americans had a functional, rather than chronological, understanding of childhood" (p. 4).
Of course, this entwined with many things we'd likely find objectionable, such as child-labour, notwithstanding wage-slavery in general. Yet the premise of taking young people seriously for what they can do, and moreover, want and give their consent to take part in ("willingness" being a variable influencing outcome; e.g. Rind et al., 1998), seems preferable to having young people's identification as consenting agents with positive experiences being denied, obfuscated, overwritten, discounted, essentialized and pathologized based on arbitrary age markers (Bauserman, 1991; Leahy, 1996; Grondin, 2011). It's become hard to imagine. People not obsessed with "arbitrary" age markers. People not being dismissed simply because they're deemed too old (senile), middle aged (mid-life crisis), too young (naïve, stupid).
Whilst Syrett's book doesn't focus on relationships, he does give many examples, often in rapid-fire succession with the occasional deluge of dates and names. I'd recommend purchasing it ONLY if you're interested in the nitty-gritty of child marriage as an institution, whereby regulation targets "marital beginnings" – who and when someone can enter into marriage. The book would also appeal, as a starting point, to researchers seeking case studies. Unfortunately, it's hard to access and expensive for the lay reader.
Alternatively, look out for Syrett's book An Open Secret, due for publication March 2021. The author also has a book chapter scheduled to appear in the February 2021 volume Heterosexual Histories, has written the chapter on "Age" in the 2020 Routledge History of American Sexuality, an open-access introduction in Historical Reflections' 2020 journal issue dedicated to intergenerational history, and has argued for "the usefulness of chronological age as an analytic tool" as part of a roundtable discussion for The American Historical Review. For Syrett, as historian Alex Lichtenstein summarized, age "is not a neutral fact, but a vector of power through which officials and ordinary people construct and contest the boundaries of citizenship and belonging".
Reading Syrett's book on minors and marriage, however, I found myself suspicious at points, so I did the "sniff test" and checked a source. Having some experience with palaeography (deciphering old texts) myself, I'm aware of how easy it would be for an author to omit crucial details when citing barely known 19th century texts.
For example, let's take Captain Thomas Mayne Reid. An author by trade, he wrote an adventure novel in 1868 called The Child Wife. At least one edition, Syrett explains, was endorsed by his wife, Elizabeth, claiming that "most of the events related in this book were actual incidents in the life of [or] within the experiences of the author." (Syrett, p. 47). Elizabeth had married Reid at 15, in 1835.
Syrett uses the novel and Elizabeth's own reflections on her husband and youthful marriage as an example of one reason for intergenerational marriage. Namely, for love. As crazy as that might sound to present-day readers tricked into believing that "men only want one thing!" (especially minor-attracted men!), Syrett explains how the reasons for intergenerational pairings commonly given indicate some combination of love, attraction, and fun.
Reid's novel receives exposition (pp. 49-50) but Syrett runs into problems when narrativizing the events the novellist's future wife recounts in her book. Syrett's source is in the public domain so we can check it easily. Although his re-telling is broadly accurate, Reid is emphasized as the protagonist whilst Elizabeth's role goes largely unmentioned, even though the account is hers and from her perspective. Syrett's readers are told of a two-year gap, but we are not told of its significance for Elizabeth: it was the last time she saw Reid face-to-face, after flat-out rejecting his marriage proposal. In Elizabeth's full account, she runs to her bedroom window and sees Reid leaving below. He looks back up at her, and blows a kiss…
Then BAM! Smash-cut to two years later, and by pure coincidence they see each other at a speaking-event. Things are different now. "Instantly", wrote Elizabeth, "as though drawn by an invisible hand", she followed Reid, and, with him sat at the front, facing the audience, their gazes remained fixed, "seeking each other throughout the whole evening". In Elizabeth's words, it was "like being in a dream. There was a sea of faces below me, but I seemed to distinguish nothing". Nothing, that is, but Reid.
It is no surprise Elizabeth could develop intense feelings for Reid. Research (Hatfield et al., 1988) suggests "passionate love" can be experienced by all ages, and expressed by age four at a minimum. Already it's becoming clear how much more is going on in Elizabeth's inner-life than Syrett provides his readers. When Syrett tells us that "Reid thrust his address into her hands" (p. 50), he makes Reid appear forceful. There was no "thrusting". Again, readers are not informed of how Elizabeth felt an "electric thrill" passing through her at the mere sight of Reid; how, afterwards, she rushed to him and they only just manage to speak before he leaves for a long, nearly-due train journey. Reid asks for her address, and when she doesn't know, he simply gives his and quickly rushes off (the sheer horror!!! The "thrusting!").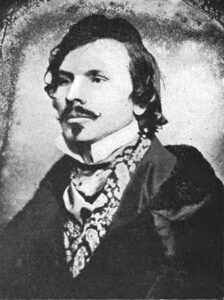 In giving his contact details to Elizabeth, the choice fell to Reid's would-be-child-wife. And, by her own agency they got in touch and by her insistence that they be married, Elizabeth's father reluctantly gave his consent. Remarkably, Elizabeth recalls telling her father that she ought to be able to marry Reid without his consent! "I remember telling my father", she explains, "that I should be obliged to marry Captain Reid all the same, even if he could not consent". (Read Elizabeth's account by searching "child-wife" here, pp. 122-134). In an era of prohibition (Leahy, 1994) regarding intergenerational relationships, it is terrifying to think what would happen to Elizabeth and Reid today. By both Reid and his wife's writings, their relationship was not about sex (as today's reductionist accounts like to pretend), but rather love, affection, romance, companionship and fun.
Syrett's account obscures the very child subject of the story, reflecting current Anglophone societies' cultural tendency to place young people's agency and sexual subjectivity "under erasure", where terms like "child sexuality" increasingly appear as an oxymoron (Angelides, 2004; 2019). Recently, scholars such as Hoko Horii (2018; 2019; 2020) have begun challenging the global exportation of American norms regarding child marriage, where the agentic capacities of younger persons alongside various cultural differences have otherwise been subjected to denial and erasure.
To be clear, I haven't taken the time to discuss Reid and Elizabeth's story to impugn Syrett. Although it is in the author's interest to present young people as only ever sexual objects to be acted upon, never sexual subjects until they magically transform at age 18, I raise their story and Syrett's narrativizing as a reminder that all work (including history) can be more or less "objective", involving the selection of material for inclusion or exclusion.
Appeals to "objectivity" often claim something to be "true" or "real" (as in material or physical). The problem is that there are multiple "truths" and no neutral way to interpret the "real", as we are never without values (even unconsciously) and we must interpret information to go from what is (descriptive), to what should be (prescriptive), known as the "is/ought" distinction. Our access to any "reality" is always coloured by interpretation and values, or frameworks, more conventionally known as ideology. Some have been ascribed names – Conservativism, Post-Feminism, Marxism – some haven't. Even down to the level of word-choice, the values of the author seep in.
"Objectivity" refers, rather, to a willingness to consider, incorporate, or critique and reject information and conclusions that conflict with previously held ideas, values, and information, pointing out where others are unaware of, or unjustifiably dismiss, contrary evidence. Or, alternatively, critiquing the production, selection or use of different research tools / methods used to interpret information and reach a given conclusion. Bruce Rind's statistical writings (2007; 2013) are exemplary here.
This is important because although Syrett embellishes in this instance, the very fact of his including positive accounts and risking controversy when he ostensibly opposes the practice, is testament to his objectivity. While I am grateful for any work that advances knowledge and highlights the nuances within intergenerational relations, no work is above critique. In Syrett's case, the copious extent of research coupled with his concise style, neutral and professional diction, makes his work a significant contribution. But this seeming neutrality does not mean readers should abandon a sceptical approach towards historical writing, nor accept the author's interpretation of material, or their vantage point of cultural superiority, as more "real" or "true".
Today we tend to romanticize marriage, thinking of it only in terms of "love". This conception, however, risks obscuring what marriage is and what it involves other than "love". Marriage is not "just a bit of paper", it's a contract that bestows recognition by a state, usually privileging the couple with rights that do not apply to unmarried persons. We might, therefore, ask whether MAPs should oppose child marriage by virtue of opposing marriage in general, in terms of equality under the law?
In the 19th century context concerning child brides, Syrett emphasises how marriage facilitated the movement of property / inherited wealth, asserting this to be a major consideration in marriages before the 20th century, particularly among elites. Making sure a man did not marry only to make-off with a girl's fortune was partly why parents were the final arbiters to "okay" a marriage. Today, the requirement of parental consent to marry under the age of majority persists as a hangover of this provision.
If marriage was simply a dramatized expression of love, a fun ceremony-party where people come together, it becomes much harder to see why intergenerational couples would be prohibited from expressing themselves. At least, in a society where hostility and dismissal (coupled by prison-terms and iatrogenic harm / secondary victimization) were not the a priori response directed at such couples, the practice might find space for cultural sanction.
So, what do you think?
NEW YORK 'CANCELS' THEO SANDFORT
Many heretics here will be aware of the ground-breaking research on child-adult sexual relationships undertaken by Theo Sandfort in the Netherlands, in books and articles published beween 1979 and the early 1990s.
He discovered children as young as 10 who were in consensual sexual relationships with adults, some of them decades older, and interviewed both the older and younger partners in depth. He concluded that the children should not always be labelled as "victims", and the Dutch age-of-consent laws should allow children "the right to accept as well as to refuse the sexual initiative of an adult," as he put it in the May 1984 issue of the Journal of Sex Research.
His words did not fall on deaf ears. Between 1990 and 2002, the Netherlands in effect lowered the age of consent from 16 to 12. A law passed in November 1990, permitted sex between 12 and 16, but allowed a challenge by parents based on erosion of parental authority or child exploitation, which would be heard by a Council for the Protection of Children. Unfortunately, this pioneering reform was abandoned early in the new millennium under international pressure driven by ideology not evidence.
As all of us here know, such pressures have continued relentlessly right up until the present day, and just last month they caught up with Dr Sandfort personally, not in his native country but in America, where he has been a professor of clinical sociomedical sciences at Columbia University for nearly two decades, during which time he earned a high reputation, not least for AIDS-related research, and he served as President of the International Academy of Sex Research.
And early last month he was riding especially high, reaching wider prominence with the publication of a landmark study he had undertaken for New York City's Administration for Children's Services on sexual and gender diversity among the city's foster youth.
This research, hailed by advocates and covered by The New York Times, led to the spotlight falling on his whole career, including his early work on MAPs.
Unsurprisingly, not everyone liked what they saw. His suitability to lead the city-commissioned project was brought into question. Before you could say "paedophilia", the city's Administration for Children's Services (ACS) announced that it had "severed all ties" with Dr Sandfort. A media outlet reported an ACS spokesperson as saying:
The City of New York has zero tolerance for pedophilia, The health, safety, and well-being of children is our top priority, and those who endanger children are contrary to the values of our city.
The implication that Dr Sandfort is a person who endangers children is not only false and insulting to a distinguished scholar who has done vastly more to help young people, especially gay youth, than any number of blowhards like the ACS mouthpiece, it is even borderline libellous. Sadly, though, such ignorant disrespect is par for the course now.
One of his former students and research co-authors in the Netherlands, Henny Bos, a professor of sexual and gender diversity in families and youth at the University of Amsterdam, called it "a strange and stupid decision" for New York City to sever ties with Sandfort. She emphasized the quality of his recent study of LGBTQ foster youth, calling it characteristic of his "extremely important" work on related topics.
She is right, but who is listening?
A follow-up report in The New York Times a few days ago gives an extensive account albeit with a bias towards Sandfort's critics.
MEET PENISMAN: NEW SUPERHERO ON KIDS' TV!
Denmark, believe it or not, has launched a children's TV show about a man with a giant penis that has superpowers. This mighty dong can perform rescue operations, etch murals, hoist a flag and even steal ice-cream from children.
The one mission even this prodigious trouser snake will be unlikely to accomplish anytime soon, though, is to get itself aired on British or American channels aimed at a similar age group, namely four- to eight-year-olds! Far too controversial!
See here for a report in The Guardian and here for an episode of the show itself.