As a bit of a night owl, these days, I usually close out my day nearly an hour after midnight. The late-night review of the morning newspapers on BBC News 24 is part of the routine, giving the pleasing illusion of knowing in advance what lesser mortals will only discover over breakfast the next day; then there is a solid session of dry academic reading to send me to sleep.
Fortified in this way with the sense that I have been virtuously busy, I feel no compunction to be an early riser; seldom do I get up before nine. But often I will have been awake long before that, tuning in to Today on Radio 4. This is not an option on Sunday, though; and being too lazy to change channel I find myself stuck with the religious news on Sunday, from 7 AM, then Sunday Worship, from a bit after 8 AM.
What a terrible predicament for an insomniac atheist!
Except that it isn't. Sunday, admittedly, is all too often preoccupied with handwringing over clerical child abuse but is occasionally interesting. But Sunday Worship only disappoints when the music is too happy-clappy and the message too moronic. Usually, it is neither. Instead, I find the hymns, especially, but also the lessons and sermons, in which there is often a thoughtful exploration of the scriptures, make a significant contribution to my day.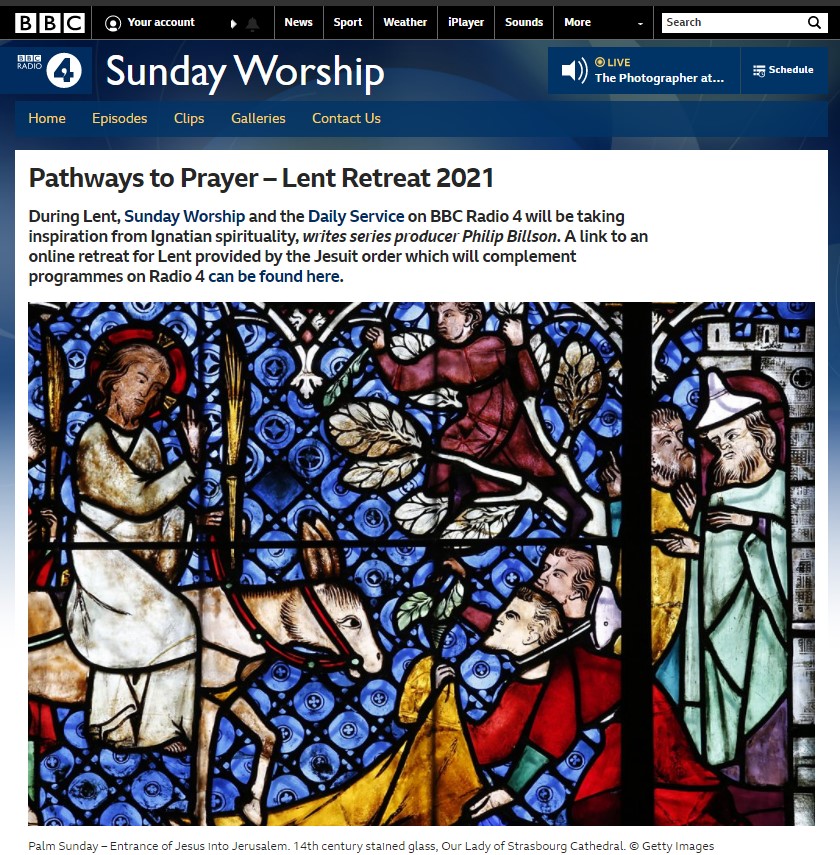 How so? What could religion possibly offer to those of us who can see no grounds for belief in God, and who know that Christianity has traditionally tended to disapprove of all sexual expression except within marriage for the purpose of baby-making?
While I have often reflected privately on this conundrum, my inspiration for now pondering it publicly at Heretic TOC comes in part from recent discussion with one particular heretic here – not a very heretical one, it should be said! – whose faith is clearly important to him and whose views I respect even as I disagree with them.
My continued attachment to the scriptures and the hymns undoubtedly has a foundation that goes to the very depths of my soul – if it can be said that I have one. Let's just say it touches the essence of who I feel I am; and it has been a matter of abiding sentiment that has never left me in all my 75 years, or as many of them as are accessible to memory – three score years and ten, shall we say, or not far short.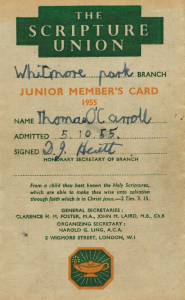 It is a deep emotional attachment, in other words, grounded in childhood. As the founder of the Jesuits is supposed to have said, "Give me the child for the first seven years and I will give you the man." In my case the big influence was not the Jesuits, or my parents, but a primary school teacher, Miss Hewitt, who introduced us kids to The Scripture Union. Under the spell of her passionate proselytizing, I joined enthusiastically.
By the age of ten, it may surprise some to learn, I was a rather devout little Christian, perhaps insufferably so to my less pious peers – although I did manage to "convert" one boy to the faith, winning at least his verbal commitment to Jesus. As far as I can remember, I didn't even have to threaten him with eternal damnation if he refused! Yo! Result!
Early in my secondary school life we were addressed by a guest of honour: Bishop Philip Strong of New Guinea, a missionary in the old imperial style. The son of an English vicar, he was part of a long tradition of ministers leaving home to spread the Gospel in far-flung parts of the globe – usually to places coloured pink on the map to signify that they "belonged" to the British Empire. If they didn't end up being eaten by cannibals (a fate much loved by the newspaper cartoonists of the day), they would succeed in planting the Cross as the flag of the church, alongside the Union Jack.
To my uncritical mind at the time, taking the word of God to the savage natives was a brave and noble mission. Inspired, I told my mum about the bishop's visit and his wonderful work. She was thrilled, apparently seeing my excitement as a revelation from above: one day, she told me, you will surely be a missionary yourself!
Perhaps she was right. Much of my adult life has been spent in a sort of missionary role. But omens are notoriously hard to interpret: ominously, what this one did not portend was the nature of the mission I would serve!
While I cannot remember exactly what Strong said, he would surely have told us that the Japanese had invaded in the war and killed a number of missionaries and native converts, who were later honoured as the New Guinea Martyrs. The bishop himself bore a heavy share of responsibility for this: living up to his name, he had stayed strong by remaining in post on the island, ordering his fellow clergy to do the same.
Brave? Or irresponsible? Whatever we might think now, as a boy I must have been mightily impressed. I loved the idea of standing one's ground and fighting for a cause, even a lost one. It is no accident that "Fight the good fight" and "Onward, Christian soldiers" were favourite hymns of mine then.
My later preference, as a teenager, was for calmer, more reflective fare. Meditative songs of praise seemed more mature. So "Dear Lord and father of mankind" became my divine top of the pops, especially this verse:
Drop your still dews of quietness,
till all our strivings cease;
take from our souls the strain and stress,
and let our ordered lives confess
the beauty of your peace,
the beauty of your peace.
But I wasn't so sure about the following one, which starts thus:
Breathe through the heats of our desire
your coolness and your balm;
let sense be dumb, let flesh retire…
Umm. Well. If we were being required to retire desire, especially of the fleshly kind, I was never quite fully signed up for that. I tried, for a while, but it didn't last long, either for me or any other of my fellow teens as far as I could tell. After all, how can desire possibly take early retirement at that age, before it has even finished its apprenticeship? Mine was a boys-only school, but that did not prevent a great deal of desire becoming apparent among us, swiftly followed by its satisfaction!
Doubts of a more cerebral kind began to crowd in during these teen years, too. As a VIth former I read Honest to God, a new and controversial book by John Robinson, Bishop of Woolwich. Not only did it reject the idea of God as an old guy with a beard spying on us from a palatial secret police HQ in the sky; even God as any sort of Supreme Being had to go. Instead, he would be watered down to something like my definition of the soul: God was to be considered as "the ground of our being", or simply as a synonym of love.
"God is love" is hardly a new idea. It comes to us in the First Epistle of St John: "God is love; and he that dwelleth in love dwelleth in God, and God in him. – 1 John, chapter 4:16. But, for John, God was no mere synonym. Something of a heresy-hunter, this epistle artist introduced the idea of "antichrist". He would hardly have agreed with another famous John that "All You Need Is Love" if that were to mean doing without religion, as Lennon proposed in Imagine.
For my part, I warmed to Robinson's view at a time when I was also being drawn towards the ethics of socialism, which appeared to have a lot in common with Christianity, not least in its most famous exposition: the Sermon on the Mount, especially in the Beatitudes, in which Jesus blesses the poor, the humble, the oppressed, promising better things to come, in heaven if not on earth. Early Christian communities attended to social justice in this life as well as the next: they practised communal living, working for each other and sharing their belongings. It was a simple form of socialism. In more recent times, Christian socialism has become a significant moral and political force, notably through Catholic liberation theology. Pope Francis has been astonishingly explicit about this, saying "it is the communists who think like Christians. Christ spoke of a society where the poor, the weak and the marginalized have the right to decide."
What a pity so much junk comes as part of the overall theological package, though, quite apart from the intellectually unsustainable idea of God as a supernatural entity with fantastic superpowers: all-knowing, all-powerful, capable to fixing all our problems but unwilling to do so! Richard Dawkins took care of that gibberish in his brilliant book The God Delusion. Instead, of helping, God the Father seems to be sadistically hooked on the world of suffering and injustice that God the Son is sacrificially made to endure on the cross. Weird, or what? And as for that thing with Abraham and Isaac, where God looks on voyeuristically, egging on a father to slit his little child's throat with a knife, what's all that about? Sick bastard!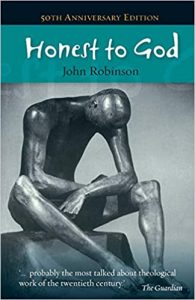 Worst thing for us MAPs, of course, is the body negativity that is such a salient feature of Christianity, especially as expounded by the misogynistic St Paul. Even he has his moments, though. Who could deny the wisdom and beauty of Paul's paean to love that begins, "Though I speak with the tongues of men and Angels, and have not love, I am as sounding brass, or a tinkling cymbal." – 1 Corinthians, 13:1. (Geneva Bible, 1599. Sadly, the usually wonderful King James version lets us down this time: its rendering of "love" as "charity" is hopelessly compromised by the narrow modern construction placed on "charity", as compared with the richer sense encompassed by the original Greek text.)
It is a hugely moving passage, and of course that is why religion is such an immensely big deal. It is not about God's power, but the emotional power – spiritual power, if you will – of community, goodwill towards our fellows, and shared belief. Its dark side is seen in the power of religion to bring people together against each other in wars of religion that have seen millions slain, and millions more persecuted and tortured as heretics. But let's not be churlish: much good is done too.
Rather than asking whether the good outweighs the bad, or vice versa, let's consider the power of emotion a bit more, especially emotive language, which is such a feature of the scriptures and the hymns. I will focus on just one of the latter, "How great thou Art", which is another of my own favourites*. Composed in 1885 by Swedish poet Carl Boberg and sung to the melody of an old folk song of his country, it has become one of the most enduringly popular of all the anthems of adulation.
Why? Obviously, it seems to me, because it packs an immense emotional wallop. Cracks me up every time. I love it, but I also find it overwhelming.
The words are supposed to be about the greatness of God, whose greatness doesn't impress me at all, because I do not believe in Him. So why would I care? Why would I be emotionally engaged? I believe it is because the original nine verses by Boberg, some of which are still sung today, are actually not so much about God as about what is notionally His creation: nature:
When I in awesome wonder
Consider all
The works Thy Hand hath made,
I see the stars,
I hear the mighty thunder…
The stars! The mighty thunder! Who could not be in awe? What soul could resist the ensuing litany of loveliness:
When through the woods
And forest glades I wander
I hear the birds
Sing sweetly in the trees;
When I look down
From lofty mountain grandeur
And hear the brook
And feel the gentle breeze…
As for the tune, I guess what really does it for us is the soaring refrain that follows. Once the singing birds and mountain grandeur have fed like that flowing brook into our thoughts, once they have filled our hearts to bursting, something simply has to break free, and there it comes, right on cue: "Then sings my SOUL!", hitting that high "SOUL!" like a volcano erupting:
Then sings my soul,
My Saviour God, to Thee,
How great Thou art!
How great Thou art!
It looks, actually, as though we are being seduced, or manoeuvred, our emotions steered away from nature, love of which comes naturally (natch!), towards an altogether more abstract construct, an artificial, man-made notion that piles all this natural enthusiasm into a great big lump, an unnaturally clumped together thing we cannot see, or hear, or touch, or know in any meaningful way, called God. What a bonkers idea, but we fall for it like idiots!
Boberg was sincere, I am sure, not a deliberate manipulator. Nor do I doubt the sincere conviction of Stuart K. Hine, a British Methodist missionary who in 1949 gave us the lyrics in most popular use today, which strike me as far more crassly manipulative, forcing us emotionally to buy into not just a crude, cobbled-together God, but also into the disgusting obscenity of the whole "redemption" thing, with this verse he shoehorned in:
And when I think that God, His Son not sparing,
Sent Him to die, I scarce can take it in;
That on the Cross, my burden gladly bearing,
He bled and died to take away my sin.
But whatever we consciously think about this hymn, and many others, and the absurdity of Christian theology as a whole, matters not a jot. In the majesty of the moment, when the sentiments aroused by the great hymns and scriptures begin to stir, and indeed great sermons too, all objections fail, feeling like mere insignificant noise – as sounding brass, or a tinkling cymbal!
* Another great redemption song, "Amazing Grace", is given some attention in an essay of mine on the Bible. It is one of two such articles that critique the scriptures as a source of ethical guidance. The first of them focuses mainly on the Old Testament, the second on the New. For anyone interested, they are here.
HERETIC TOC IS NOT A NEWSPAPER
Thank God, if I may be permitted to use this religious turn of phrase after the foregoing post; thank God that Heretic TOC is not a newspaper. This week alone has been so packed with "on topic" news that I would hardly know where to start. But some things cannot be passed by without even a nod of acknowledgement. So, I will close with just a few links and short observations, on events ranging from sickeningly horrific to hilariously absurd, with important affairs of state somewhere in the middle.