Today's guest blogger, Andrew, is a UK-based clinical psychologist and therapist with a professional interest in the topics of paedophilia and sexual offending. Although not a paedophile himself, Andrew believes that paedophilia and minor-attraction more broadly are poorly understood outside of scientific circles and that a rational approach to the topic is the one most conducive to children's well-being. He is keen to stress that his contribution here is not intended to represent the views of any organisation(s) or individual(s) with which/whom he may be affiliated. Nor should any conclusions be drawn about his wider views. Andrew likes cooking, socialising and helping people to lead more fulfilling lives.
THE POLITICS OF JUSTICE
As some readers in the UK will be aware, the Law Commission recently (6 December 2021) completed its review of hate crime legislation and submitted its recommendations to Parliament. I was one of many parties to submit a response to the Consultation Paper (published 23 September 2020). In my response, I characterised the Law Commission's stance on paedophilia in the Consultation Paper as 'misinformed or misguided'.
Key focus areas of the Law Commission's review included the characteristics afforded protection under hate crime legislation ('protected characteristics') and parity of treatment thereof. A distinction is made between a 'fixed category' approach and a 'residual' approach, with the former being based on fixed categories of protected characteristics (e.g. sexual orientation) and the latter being open-ended, which is to say that lists of protected characteristics are not exhaustive. A fixed category approach has the advantage of being more practical and more readily interpretable but is open to criticism on the grounds of limited inclusivity and limited even-handedness, affording protection to some categories of people but not others. A residual approach has the advantage of affording protection to a greater variety of people but is open to criticism on the grounds of limited guidance to courts, 'other than by analogy' (Consultation Paper, 17.98). Common to both approaches is a reliance on the categorisation of people into groups with shared characteristics, as one of the core rationales for hate crime legislation is that 'the harm caused by the crime is not limited to the affected individual, but impacts more broadly on people who share the characteristic to which the offender's hostility was directed, and the wider community to which the victims belong' (10.9). Hence a society's approach to hate crime legislation is inherently and invariably a political process, evolving as circumstances dictate and transforming the social landscape (cf. Rob White, 'Hate Crime Politics', Theoretical Criminology, Vol. 6, Issue 4 [November 2002], pp. 499-502).
The Consultation Paper goes on to highlight a legitimate concern about residual approaches to hate crime legislation (their 'potential to dilute the symbolic power of hate crime laws', 10.11) before raising a point that might otherwise seem to be in reductio ad absurdum territory were it not precedented, namely that an (in the Law Commission's eyes) unfortunate corollary of a residual approach is that it can afford—indeed, has twice afforded—protection to 'paedophiles'. To justify its instinctive aversion, the Law Commission cites Gail Mason ('Victim Attributes in Hate Crime Law: Difference and the Politics of Justice', The British Journal of Criminology, Vol. 54, No. 2 [March 2014], pp. 161-179), who suggests that 'we need to tether difference, as a criterion for victim protection, to a politics of justice that limits protected attributes to forms of difference that have a justifiable claim to affirmation, equality and respect for the attribute that makes them different' (10.42).
This strikes me as eminently sensible, but here I take issue with the Law Commission's failure to distinguish (as Mason does, p. 168) between paedophiles and child molesters. Despite widespread conflation of these terms in common parlance and even in news media, the term 'paedophile' is properly defined as an adult who is preferentially or exclusively attracted to prepubescent children. Paedophilia is not an action, let alone a criminal action. One reason why it is important to caution against conflating the two terms is that studies such as Kenneth Lanning's ('Child Molesters: A Behavioral Analysis') suggest that a majority of child molesters are not paedophiles but instead what are termed 'situational offenders' in the literature.
A clear and informed distinction therefore needs to be made between attraction and action, between who one is and what one has done. Mason's stance is obviously geared towards excluding from enhanced protection those individuals whose actions are reprehensible, but in the Law Commission's own words (on the hate crime project status page) hate crimes are 'acts of violence or hostility directed at people because of who they are', not because of what they have done. Whether or not an individual has offended against a child lies firmly in the realm of action. Hence the Law Commission need not worry that the remit of hate crime legislation could be extended under a residual approach to provide protection to child molesters, because actions (criminal or otherwise) are not the true purview of considerations of protected characteristics.
The conflation of terms means that non-offending paedophiles are shoehorned into the same category as child molesters, effectively denying them protection on the grounds of who they are (an attraction they have not chosen). This leaves the social landscape uneven, as an attack on an individual motivated solely by the type of person that the individual is thought to find most attractive may or may not be regardable as a hate crime, with the categorisation being contingent not on the conduct or the content of the character of the victim but on how palatable society finds that victim's attraction in and of itself.
Reading the Consultation Paper in full, it is hard not to reach the conclusion that the Law Commission was never open to the possibility of the merits of a residual approach (or even of a hybrid/flexible approach) weighing up favourably against the prospect of protection being granted to people with 'characteristics that are morally repugnant' (10.18), by which it is clear from the Paper as a whole that the Law Commission means – in the main if not exclusively – people who are attracted to children. On the assumption that the Law Commission would ultimately recommend maintaining a fixed category approach, my response encouraged either: i) broadening the definition of 'sexual orientation' to encompass any romantic or sexual attraction (as distinct from action); or ii) if this would prove problematic (e.g. due to the blanket conferral of sexual orientation status on various paraphilias and non-standard sexual interests), abandoning the term 'sexual orientation' and adopting alternative wording that allows protection to be granted on the basis of any type of romantic or sexual attraction (as distinct from action). In its final report, the Law Commission restricted itself to recommending that the definition of sexual orientation be broadened beyond the one enshrined in the Public Order Act 1986 and the Equality Act 2010 to encompass asexuality (Hate Crime Laws: Final Report, 4.152).
In the current climate of hysteria (already described and decried by James Kincaid nigh on a quarter of a century ago), there was little hope that the Law Commission would take seriously the idea of extending protection to groups of people whose 'characteristics' it deems 'morally repugnant'. The Law Commission's use of the word 'characteristics' (rather than 'behaviours') is revealing. In my response, I pointedly made the claim that making a clear distinction – as the science does – between attraction and action, between who one is and what one has done, is characteristic of a civilised society and that failure to distinguish between non-offending paedophiles and child molesters leaves a society in the realm of prejudice. At the start of his 1969 television documentary series, Civilisation, art historian Kenneth Clark refrains from attempting to define civilisation in abstract terms, instead offering his viewers a cliché: 'I can recognise it when I see it'. If a cliché will suffice for a scholar as erudite and eloquent as Clark, then I feel a little more at ease suggesting that I can recognise the most conspicuous instances of civilisation's absence; in the final analysis, the Law Commission has seen fit to tread the well-trodden path of the uncivilised by stooping to prejudice, which is precisely what hate crime legislation is designed to combat.
Prior to offering that cliché in lieu of a definition, Clark avers that civilisation is to be found where 'man [shows] himself to be an intelligent, creative, orderly and compassionate animal'. Much as the Law Commission's resistance to logic and repugnance at paedophiles' 'characteristics' leave it failing to satisfy at least two of these criteria, modern sensibilities will be more naturally attuned to the gender bias that inheres in Clark's formulation. It is instructive to consider that all cultures tend to fall into the trap of thinking that their mores, views and values and the selective focus of their compassion are beyond reproach. Clark cites the abolition of slavery as an example of 'awakened conscience' and yet remains blind to the misogyny of his own time and milieu. Similarly, by refusing to distinguish between who one is and what one has done, the Law Commission has dispensed with both logic and compassion in the name of preserving the integrity of a culturally sanctioned narrative. The message to MAPs and to those whose sexualities cannot neatly be shoehorned into the categories of heterosexual, bisexual, homosexual and (now) asexual, is, I am afraid, a rather invidious one: your 'characteristics' are repugnant and you do not deserve protection.
So, can the Law Commission be forgiven on the grounds of cultural relativism? In my view, no. You see, the Law Commission's transgression is more deplorable than a blinkered but ultimately unintended slight to the dignity of individual human beings, of people sharing the characteristic to which an offender's hostility is directed and of the wider community to which a victim belongs. The Law Commission has shown itself willing to wittingly turn a blind eye to the distinction between attraction and action. If its conflation of paedophiles and child molesters were born of ignorance, it would perhaps be understandable (if intellectually remiss), but my submission was designed to remove the excuse of ignorance. Without that excuse, the Law Commission's aversion to paedophiles' 'characteristics' rather than child molesters' criminal actions closely resembles the kind of bigoted hostility that underlies hate crime. It is right to highlight this hypocrisy and challenge what Mason terms 'the arbitrary and politicized hierarchy of victimhood' (p. 175).
My message to decent human beings who, through no choice or fault of their own, happen to find minors attractive, is this: your 'characteristics' are not in and of themselves morally repugnant, you have a justifiable claim to affirmation, equality and respect, your plight has not gone unnoticed and a time of awakened conscience will come.
WHY DIDN'T THEY SHOOT THIS PHILISTINE?
The toppling of Bristol slave-trader Edward Colston's statue made for an exhilaratingly dramatic breakthrough with the most shameful aspect of Britain's past.
Similar sentiments do not apply, for Heretic TOC, at least, to the attack a few days ago on Eric Gill's Prospero and Ariel, the best known of this great artist's sculptured group of figures completed in 1932 for the BBC's Broadcasting House in London. This act of vandalism was carried out by a hammer-wielding philistine who also etched a hate-speech message: "Noose all paedos".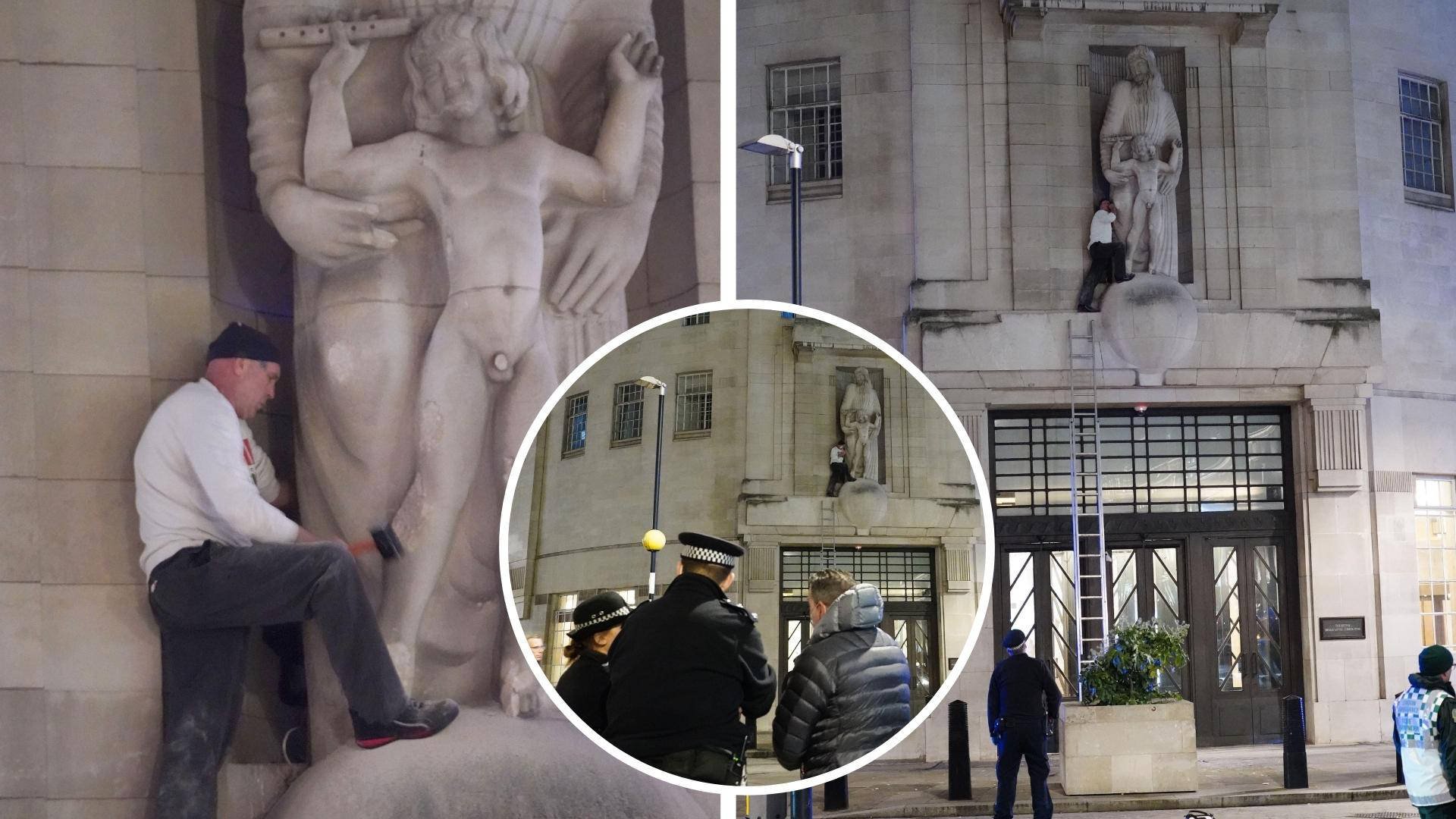 By his own account, in his diaries, Gill was indeed a MAP who had sexual relations with his own daughters – one of whom your blog host attempted to meet after a chance encounter in the early 1990s brought me into contact with a relative of Gill's who told me this daughter, by this time an old lady, still had fond memories of her distinguished father. As you may imagine, I was keen to find out more, directly from her. But the move was blocked. She might be upset, I was told, to have the past raked over after all these years. So she had to be "protected" from me. Hence silenced. And censored.
Appallingly, the police seemed in no hurry to protect Gill's art when it came under attack. The rampant iconoclast was allowed to pursue his destructive project for over four hours before finally he was escorted off when a fire service platform was hoisted.
Far too feeble. The bastard should have been shot. Literally. Police on arrival should have shouted one of their signature blood-curling oaths, warning him of dire consequences if he failed to come down immediately, which he could have done using the ordinary ladder, still in place, which he had apparently used to get up to the location in question. The sculpture is set just one storey above the doors of the grand façade.
Lest anyone feel my reaction is a bit extreme, the shot need not have been lethal. A pellet or two from an airgun would have made life sufficiently uncomfortable for him to retreat or fall – the latter might have seen him break a leg, but his obviously thick skull would have been beyond any possibility of damage.
Less emotively, it should not go without remark that this was an attack on a work by Gill, not a statue of  him. Whatever one might feel about the man and his morals is arguably completely irrelevant to the quality and status of his art. If all the creative output of morally questionable artists, writers, musicians, etc., were to be destroyed, we would be left with absolutely nothing. Because nobody is perfect.
Just to take the case of Gill himself a little further, he was a typographer as well as a sculptor, famed for his Gill Sans typeface, used by signage for British Railways, and in the classic design system of Penguin Books. Should we give up rail travel and reading Penguins on this account, until all vestiges of this heritage are expunged and excoriated? *** A more balanced and insightful view of the man and his art is concisely expressed in an article by his biographer Fiona MacCarthy. As for her book, it is superb.
*** [ADDED MONDAY 17 JAN] The question was rhetorical. I had no idea my attempt here at reductio ad absurdum would be promptly rendered null and void.  Amazingly, appallingly, my modestly satirical remark had been overtaken by life even before the metaphorical ink was dry on this electronic blog. I now see that in Saturday's copy of The Times, before the blog appeared on the Sunday, there was a story headed "Save the Children chiefs stop using font designed by paedophile artist". The report begins:
Save the Children is dropping from its branding a font originally designed by Eric Gill, the paedophile artist who abused his young daughters.

The child welfare charity said it would end its use of the Gill Sans typeface, created by Gill in 1928 and which features in the Save the Children logo.

The organisation said the decision was made last year, meaning it preceded events this week when one of Gill's most important works, a statue at Broadcasting House, was damaged by a hammer-wielding protester.
BBC HAS YET TO CANCEL JIMMY SAVILE
Attacking Gill's sculpture at the BBC HQ wouldn't do any good, according to one social media wit, because "They will only replace it with a statue of Jimmy Savile having just produced a BBC drama starring Steve Coogan, glorifying his putrid life!!
The reference was to The Reckoning, a four-part TV drama series written by Neil McKay, due to air this year. But I hardly think the BBC will be "glorifying" Savile, whose long involvement with the corporation via programmes including Top of the Pops and Jim'll Fix It led ultimately to a catastrophic scandal for them. McKay made it very plain in an interview with the Radio Times that there would be a significant input from "many people whose lives were impacted by Savile to ensure their stories are told with sensitivity and respect".
My worry is not glorification but yet another round of essentially baseless vilification.
Let me be quite clear. There are grounds for believing Savile was an oddball and a philanderer. At times he seemed almost to condemn himself out of this own mouth with cynical remarks about life in general and his own freewheeling behaviour.
But that does not make him a criminal, and although hundreds of allegations of sexual assault were made against him, he was never convicted of any such crime. Even as the scandal broke after his death, there were some who had reason to believe that a mountain was being made out of a molehill, in which Savile's publicly flirtatious style with girls, in his shows and elsewhere, had become an easy target for exaggeration into something more sinister.
Among the doubters was retired lawyer Susanne Cameron-Blackie, who used to blog as Anna Raccoon. Her well argued scepticism, based on being an insider to information from Duncroft School, a girls' residential approved school that had been the source of the early allegations that sparked off the scandal, was taken up in several Heretic TOC articles, including this one. Others, too, were impressed by her revelations, leading to research funded by the Economic and Social Research Council on the origins of the scandal. The work, based primarily on interviews with former pupils and staff members from Duncroft, resulted in findings published in the International Journal of Sociology and Social Policy in 2018. In the understated words of the report's Abstract, by academics from Edinburgh and Oxford universities, "The research provides a very different picture of Duncroft and the contemporary policy context to that presented in media accounts." In the body of the report, they say:
Accounts of the girls' sexual experience and behaviour indicate a degree of agency in sexual activity, which challenges the current orthodoxy of them as victims of predatory adults. The former residents we spoke to did not regard themselves as victims and any sexual activity they might have entered into was considered to have been consensual and in some cases initiated by the girls (although none claimed to have any knowledge of Savile being involved sexually with girls at Duncroft).