He's done it again! Supergeek Bruce Rind, chess master, stats wizard, revered within the research world but reviled by know-nothing politicians, has hammered yet another nail in the coffin of the CSA trauma thesis, in what I believe will ultimately be regarded as by far his most important paper ever.
Yes, yes, I can hear your scepticism already. Don't get too excited, you will say. We have learnt the hard way that people are swayed by stories, not statistics, so whatever Rind says will either be trashed or ignored. Intellectually, the trauma thesis has been in the coffin for years but its undead power to terrorise has never been more potent.
True, but for how long? As I argued last year, things can change very quickly in the face of the unexpected, such as a pandemic coming out of the blue. When the time is right real facts will start to count, and prophets who were not honoured will come to be heeded.
And don't knock the numbers too much. Remember, the antis were in such a panic over the fabled pre-millennium Rind et al. meta-analysis that the paper was condemned by both chambers of the United States Congress, in a unique act of anti-research vandalism never seen before or since in those houses. This devastating verdict proved all but a knockout blow to the careers of Rind and his colleagues.
But Rind is one helluva fighter. Soon back in the ring, he has been quietly boxing his way back up through the ranks over the years. Bout after bout, paper after paper, his reputation as a smart mover and a hard hitter has been unstoppable. Sure, the fight promoters (who award the research grants, the professorships, the conference platforms, the whole apparatus of academic career advancement) still shun him as box office poison, but talent will always have its day in the end.
Also, this time Rind has a positive story to go with his numbers. Ironically, considering the fuss it caused, the notorious meta-analysis was intrinsically quite limited. It's core message was that CSA is not usually very harmful. Big deal! Hardly compelling enough to bring age of consent laws tumbling down like the walls of Jericho.
By sharp contrast, researchers such as Theo Sandfort, Paul Okami, and Allie Kilpatrick have been saying for decades that good research would not start from the assumption child-adult sexual encounters are harmful, or predefine them as "abuse". Likewise, interest should not be confined to what type of harm had been caused, how severe, in what circumstances, how to prevent contacts, etc. Instead, they have insisted, there is a need to look across the whole range, from encounters being experienced as "very negative" at one end of the spectrum, through milder middling positions to "very positive" at the other end.
Rind was himself fully onboard with the full-spectrum approach but the big problem was always going to be getting hold of the data. To be convincing you need large, expensive-to-conduct surveys. But the funders, mainly via government grants, were bound to be commissars of the child abuse industry – people whose careers depend on persuading "victims" they have been traumatised and on then being funded to fix things through needless drugs (anti-depressive, etc.) and therapies. So official backing for the best kind of research was never likely to be forthcoming.
One way around this problem was to forget trying to do research from original surveys. Instead, you could hunt around for large studies of a general nature that had already been completed, ones uncontroversially covering a wide range of sexual activity. Re-analysis of these studies might yield previously unnoticed information about childhood sexual activity, including with older partners. For Rind, the classic surveys by Alfred Kinsey and his colleagues turned out to be the most significant case in point. The Kinsey data indeed turned out to be a rich source, yielding important new findings published in three papers appearing from 2014-16 with co-author Max Welter.
But Kinsey's work had been conducted many decades earlier, based on childhoods as experienced very differently, up to a century or more ago; and Kinsey himself became a controversial figure after his death. What was now needed was a more up-to-date big database, and one of impeccable authority.
Such was the Finnish Child Victim Survey published (in Finnish) in 2014, an enormous population-based sample of sixth and ninth grade schoolchildren (aged mainly 12 and 15) in Finland. Participants were given personal privacy. In the first survey they answered questions via paper and pencil in a room alone, while in the second two surveys they answered in classrooms on computers by accessing a website.
In Rind's paper,  three samples were merged and analysed from Finnish victimization surveys conducted in 1988, 2008, and 2013. Each sample was nationally representative of Finnish students in the selected grades. There were 32,145 participants in the pooled sample. Collectively, 5.1% of them reported relevant early sexual experiences with someone at least five years older.
One great thing here is that the Finnish research was so unimpeachably official. Funded by the government, it had the involvement and backing of the country's national police college. The survey covered children's experiences of all sorts of crime, such as theft and violent assault. But on the sexual side they were able to describe their experiences without having to self-label as a "victim". Also particularly informative was the fact that the children were asked about their responses to sexual contacts with their peers as well as with people significantly older than themselves. This enabled important comparisons to be made.
A few years ago I focused on the results of this study and other Scandinavian surveys that were pioneering what had previously been almost unthinkable: actually asking the kids themselves about their experiences. The results I foregrounded were amazing, as many heretics here will be aware. But what Rind has dug out of the Finnish goldmine is vastly more so, and not just for the numbers: in my view he has also managed to give a compelling narrative about those numbers, including a strong account of how the CSA industry has been misleading the world for decades.
The bottom line is that the findings – yes, I know I'm keeping you waiting for them but the conclusion is even more important than the details – strongly validate the view that children can consent, can take a lot of pleasure and satisfaction from doing so, and that it is willing participation that overwhelmingly makes the difference between being harmed and not harmed. As Rind says, there have been hints of such validation from a number of studies in recent years, notably in a doctoral thesis by Nathan Daly that was discussed briefly in the comments here. But the new findings from Rind are more convincing. So let us at last turn to them.
Starting with the boys, no fewer than 78% reacted positively at the time to their first "minor-older" sexual experience, a figure similar to that for boys sexually involved with peer-aged partners (77%). In retrospect,  the rate of positive reactions to minor-older sex dropped somewhat to 69%, but so did the rate for boy-peer sex (67%).
Rind noted that for boys in the general population — as opposed to clinical or forensic cases, or selected anecdotes — sexual events with significantly older persons are mostly not experienced as a unique ordeal, characterised by such conditions or responses as "toxic stress" or "anxiety, hostility, and suicidality", as CSA researchers have commonly asserted over the last four decades. He said the data on positive reactions suggest that these sexual events are "more often perceived as appetitive than aversive" by boys in the general population. In other words, they like it and want more.
Girls sexually involved with older persons, by contrast, stood out among the four participant-partner age-class groups as most prone to react negatively. Nevertheless, half did not react negatively at the time, while over a third reacted positively, which as Rind said, "is inconsistent with the trauma view of unique ordeal".
So far, so startling, especially as regards the boys. But when we come to Rind's analyses of "personal and situational factors" his findings become revealing in a more fine-grained way. Mainstream CSA research, he points out, has entirely ignored considering what characteristics might enhance positive reactions. His work identifies them.
Starting with personal characteristics, he finds that the age of the younger person does make a difference, but not entirely along the lines that might be expected. While the students in general reported a higher level of positive response with increasing age, boys aged 12-14 in the minor-older group had the highest rate of positive reactions among all groups (75%).
Rates of positive reactions were very similar for girls with partners 5–9 years older (52%) and girls with peers (48%). When their older partners were identified as friends, rather than relatives or strangers, girls reacted positively in two-thirds of cases. This age difference of 5–9 years in girl-older sex, along with the older partner being a friend, Rind comments, "conforms to the pubertal marriage arrangements that were normative throughout most of human history before modern complex societies".
As for type of sexual activity, full sexual intercourse is often described as the "most severe" form of "abuse" that can be inflicted on children, leading to the greatest trauma. But that is not how the Finnish youngsters reported it. For them it emerged as the least negative and most positive form of sex. It was a finding that prompted Rind to suggest that future discussion should abandon the false "severest" concept and move on. Instead, studies should focus on why intercourse is reacted to so positively. Reasons might include that achieving intercourse in minor-older sex normally depends on "greater comfort in the interaction". In other words, things don't go that far unless the partners have a real rapport.
Bringing the full range of factors together in the Discussion section, Rind sets out three scenarios showing combinations of younger and older partners in different circumstances that illustrate the likelihood of things going well or badly, based on his statistical analyses:
A minor under age 12 with a male relative older by 20 or more years, who uses coercion to achieve sexual touching, in a one-off incident in recent times. The chance of the minor reacting positively is 1% for both boys and girls. This scenario, says Rind, illustrates the incest model, which was built on the rape model (involving men with women) in the 1970s, and which soon became the standard model for understanding all minor-older sex. "The near-zero likelihood of reacting positively," he says, "is consistent with the trauma view, where negative reactions are expected in nearly all cases."
The second illustration is taken from the Sandfort study, in which Dutch boys in the early 1980s, who were mostly pubescent (12–14), were involved multiple times (more than 10) generally in sexual touching with adult male friends often 10–19 years older, who were the initiators of the sex but used no coercion. Here, the chance of a boy's reacting positively would be 56%. When boys were the initiators, the likelihood would rise to 81%. This scenario is "highly inconsistent with the trauma view".
Thirdly, there is a situation like the one portrayed in the film classic Summer of '42, in which a 15-year-old boy in 1942 is strongly erotically attracted to an adult woman 5–9 years older, with whom he becomes friends. Sex eventually ensues, with vaginal intercourse once, in the absence of any coercion. The likelihood of subjectively reacting positively here would be 99%. If this scenario had been a 15-year-old girl with a young man instead, the likelihood would fall to 21%. But if the intercourse had been frequent (more than 10 times), the likelihood would rise to 85%.
In short, he says, the analyses indicate that minor-older sex is not utterly different to other sexual encounters and inevitably worse. It actually works in a similar way to minor-peer sex. Minor-older sex is not uniformly the ordeal implied in the incest model; rather, subjective reactions to it vary by context – and there are plenty of contexts in which it can be a positive, even very positive, experience.
All in all, Rind does a great job. The "purity" of the Finnish dataset has helped enormously, enabling him to expose clear sets of probabilities. The 1998 meta-analysis, by contrast, had been based on aggregating numerous early studies that had used a variety of different methods, making comparisons difficult, such that important conclusions – especially as regards the difference consent makes – could be made only tentatively, as a hypothesis not a firm finding.
As you might expect, though, I have a few reservations. It is unfortunate that relatively little emerged from the data about sexual experiences in early childhood, leaving the impression that these are very likely to fit the incest/trauma model, especially if the dyad is a girl of single-digit age with an adult male old enough to be her father or grandfather. But this is clearly not true, as Susan Clancy demonstrated in her book The Trauma Myth. In all circumstances, the bottom line is that adults, and even older children, should not impose themselves on younger kids. Loving, respectful, invited intimacy (that might start by a kid coming for a cuddle or just grabbing your dick: it happens) is always going to be another matter though. Every case should be judged on its merits, not on dogma.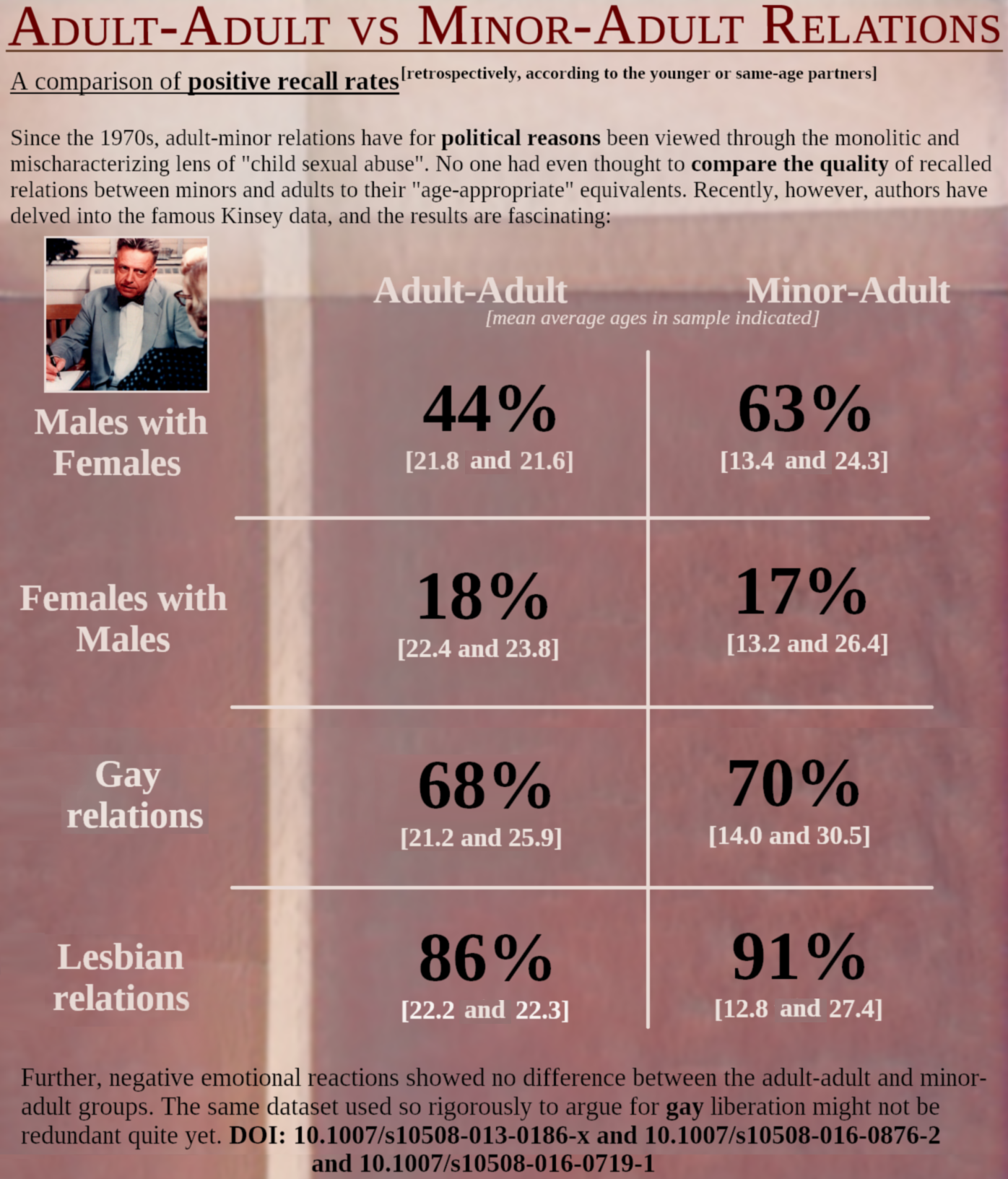 Rind's Finnish study powerfully compares minor-peer relations to minor-adult ("older"). Missing from this work, though, is any comparison of minor-adult with adult-adult relations. But his earlier papers with Welter did include this dimension, as shown in this wonderful graphic, which is based on these papers. A key feature here is the "Females with Males" response. The low rate of positive recall by girls who had sexual contact with a man (17%), looks a very poor advertisement for this type of contact. But the positive response rate of grown women to their sex with men (18%), is also very low, apparently showing they take a dim view of their heterosexual experience regardless of age! As men have complained possibly since our species evolved, females are mysterious and hard to please! This is an important issue, certainly, but not one with any clear bearing on ages of consent.