What are we to make of the Queer Britain museum, which opened a couple of weeks ago in London? How inclusive, especially, is its presentation of queerness? Is there any space for MAPs?
Housed in a quietly elegant conversion at Granary Square, King's Cross, the building suggests up-market office space rather than anything daring. Going by what director Joseph Galliano has reportedly said, and by the website, the inside is no more outré than the exterior. The focus is to be "on celebrating queer accomplishments" rather than "the tragic parts", such as AIDS or, one would think, the unresolved tragedies of MAP oppression and the denial of children's sexuality.
Philosopher Kathleen Stock's critique for UnHerd, is scathing. A famously controversial figure herself, who resigned from the University of Sussex in the face of an aggressive campaign against her alleged "transphobia", she takes a pop at the whole idea of queerness, seeing it as an unholy alliance between sexual libertarians and "rainbow bureaucrats". The libertarians – mainly men, she claims – are into absolutely anything deemed consensual, including "chemsex, BDSM, furries, sexual choking", while the mainly female bureaucrats focus on endless moralistic rulemaking and the relentless policing of prohibitions against saying things that might upset minorities.
But not all minorities, of course. Just the fashionable ones admitted under the "consensual" rainbow umbrella.  As for those beyond the pale, she writes:
Should a sexual libertarian ever go rogue and overdo the transgression (say, by claiming that "children have sexual desires at an early age"), … bureaucrats will instantly appear in reassuring mummy-mode to steady the horses, talking soothingly about best international practice and strong safeguarding policies…
The rogue referred to in Stock's link is Peter Tatchell, who sadly recanted many years ago his 1980s embrace of children's sexuality and paedophilia. Briefly, we need to revisit that story. You may recall a gem from last year, in which Tatchell told an Irish newspaper, "I never met Tom O'Carroll and would never want to. I condemn all that he stands for. His views are disgusting." But as I wrote at the time, if my views are disgusting, so were his back in the day: we were saying much the same things. You may remember there was a Netflix documentary about Tatchell. He was being lauded as a gay saint. But his record was challenged in some quarters at least, including a piece by Julie Bindel in UnHerd. I made my own contribution to that debate in the comments there, and later in a blog with genuinely exclusive revelations on the early radicalism of his writing, as proven by published work unearthed from a rarely visited shelf of the British Library.
Until now, I assumed my big story had fallen on deaf ears. The MSM, it seemed, wanted only the saintly Netflix narrative. But no! Have a look at Stock's link. It is a weighty (three named co-writers) report in the totally mainstream Daily Telegraph. And guess what? It is clearly cribbed from my blog, especially the hot news that Tatchell's early support for consensual child-adult sexual relations had been truly nailed via a book review he had written for an obscure communist journal (gathering dust in said library) that had been brought to my notice by an old PIE friend of mine who knew about it. Look at the date: the Telegraph piece came out shortly after Heretic TOC's. Look at the writers: Bindel is one of them. She would have seen my comments in UnHerd in response to her piece, including my announcement that I had a blog exclusive in the pipeline.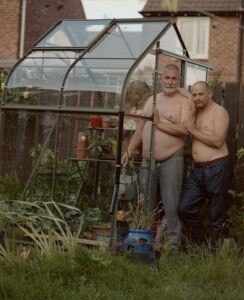 Obviously, I could not let this Heretic TOC triumph pass unnoticed, although there is a horrible irony in joining forces with the likes of Stock, Bindel, and the deeply conservative Daily Telegraph in order to denounce Tatchell. I would prefer to praise his early radicalism than trash his multiple St Peter-style denials at cockcrow. Where Stock and Co. denounce him for going rogue, our problem is precisely that queerness is being policed to muzzle radical voices and to erase children's sexuality: note that the energy powering transgender rights (which are important but we need to be clear what we mean) has been all about children's gender identity, while fiercely denying any trans connection to gay sexuality, and still less to early sexual expression with either peers or adults.
We have already seen that Queer Britain is keen on a celebratory approach. Another big hint as to its "don't frighten the horses" blandness is to be found in where the money and partnership support are coming from. It all looks very Establishment. The website is littered with the logos of prestigious corporate sponsors. As Stock herself notes: "The venture is financially supported by M&C Saatchi, Allen and Overy, Levis, and Coutts, and lists partnership with the V&A, the National Trust, the Tate, the British Library, and English Heritage…" Nor is Stock the only one to be struck by the commercial aspect. Ella Braidwood notes for Huffington Post:
Once inside the fully-accessible threshold, the gift shop to the left is most immediately obvious. Laden with colourful memorabilia, it's got the usual staples: high-end chocolate, greetings cards and candles. But it's clear that this is an LGBTQ+ space: a table of books curated by the Gay's the Word bookshop sits in the centre, and there are plenty of rainbows – on badges, bottles and fridge magnets – plus Queer Britain's own branded merchandise.
Nothing wrong with any of that, although I would add that I have personal experience of the baleful contribution Gay's the Word has made to the erasure of pederasty from gay history. The manager there refused to stock my book Michael Jackson's Dangerous Liaisons, based on my support for the late entertainer's boy-love. When I pointed out to him there are strong indications that gay icon Oscar Wilde had sexual encounters with several boys in their earlier teens, he was curtly dismissive: "That was then, this is now", he snapped.
Will history be just as unwelcome and irrelevant to the museum itself, as well as its bookshop? Officially, Queer Britain is "the first UK museum dedicated to exploring LGBTQ+ histories, people and ideas", thus expressly acknowledging queer pasts as well as current culture.  One of the rooms, Braidwood tells us, exhibits art works which "show the diversity of the LGBTQ+ community, including people of colour and those of marginalised gender identities." That's fine, except that none of the pictures shown on the website, of these artworks or anything else, or any of the website text, appears to have anything to say about either children's sexuality or MAPs. There is no sign of historic pederasty getting a look in at all, neither via Wilde and his circle nor even through the British tradition of classical studies, with its emphasis on the "pedagogic pederasty" of ancient Greece. As for children, Freud famously described their early sexuality as "polymorphous perverse". You could hardly get more queer than that! So where are they?
I would like to be proven wrong, but I live a long way out of London and will not be able to check out Queer Britain for myself anytime soon. Maybe other heretics here could do that? Entry is free. What is sure, though, is that until future acquisitions and exhibitions become fully inclusive, Queer Britain will necessarily remain a great deal less queer than the folk it is supposed to be celebrating.
HOW TO READ DONALD DUCK
The sponsorship setup at Queer Britain finds an interesting echo on the other side of the Atlantic, where, as cultural theorist Geoff Shullenberger observes, "corporate America has now largely aligned itself with the values of the cultural Left".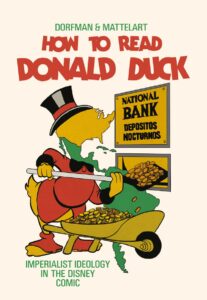 This was strikingly demonstrated recently by the Disney Corporation when it officially deplored a new Florida law prohibiting classroom teaching about such matters as homosexuality and transgender identity to "kindergarten through third-grade students" i.e. children mainly aged nine and under. This so-called "Don't say gay" law "should never have passed and should never have been signed into law," said Disney in a policy statement. "Our goal as a company is for this law to be repealed by the legislature or struck down in the courts." Bearing in mind that Disney World is in Florida, this comes across as deadly serious: more a declaration of war than a mere token gesture. Hitting back from the cultural Right, Bailey Duran in The Federalist goes so far as to accuse Disney of "grooming" children.
As with Queer Britain, the historical dimension looms large here. Back in the 1970s, as Shullenberger points out, Disney was facing similar accusations – but from the Left! This attack came in the form of a book by playwright Ariel Dorfman and sociologist Armand Mattelart, called How to Read Donald Duck. Published in Chile in 1971, it critiques Disney comics from a Marxist point of view as capitalist propaganda for American corporate and cultural imperialism. It became a bestseller throughout Latin America and is still considered a cultural studies classic. It was reissued in 2018 to a general audience in the US, with a new introduction by Dorfman.
As the title suggests, the focus is on Donald Duck and his extended family. Shullenberger takes up the story:
… this is an odd family: Donald Duck, along with Mickey Mouse and much of the rest of the Disney pantheon, exists in a "universe of uncles and grand-uncles, nephews and cousins". Indeed, "there is one basic product that is never stocked in the Disney store: parents". The "innocence" of this world, it turns out, required even the exclusion of normative heterosexual coupling.
The real significance of the disappearance of parental relationships, we hear, is to universalise the capitalist "law of the jungle":
In other words, the elimination of the nuclear family unit reduces all Disney characters to "island-individuals", strivers for whom "all that is left . . . is to compete". The patriarch of Duckburg, after all, is none other than Uncle Scrooge, who takes his name from the Victorian icon of cruel rapacity and avarice; the adventures of his nephews tend to concern the acquisition of even more treasures for his horde.

The point of all this, according to Dorfman and Mattelart, is to "lend innocence to the adult world". In the dominion of Uncle Scrooge, "gold, criticized ever since the beginning of a monetary economy as a contamination of human relations and the corruption of human nature, mingles with the innocence of the child." The riches he and his nephews acquire always lack a material origin: gold simply appears, with no source or origin, just as the children are parentless. This "simultaneous lack of biological reproduction and direct economic production is not coincidental": Disney's "innocence" requires eradication of "all reference to the real world".
One illustration of the propaganda functions taken on by Disney in the Global South reported by the authors is that the US Agency for International Development circulated films featuring Disney characters promoting contraception. They reinforce this association with the title of their chapter on Disney family dynamics: "Uncle, buy me a contraceptive…"
The US state, according to Dorfman and Mattelart, wanted to suppress fertility in the developing world, where the value placed on family was seen as undermining what was most important for the expansion of capitalism, namely the promotion of efficiency, productivity, individualism, and competition. Shullenberger reads this as "less like an attempt to protect childhood innocence, than part and parcel of the larger modern decoupling of sex from reproduction".
All very queer, one might say! It's a fascinating analysis, whatever one makes of it. But Disney has moved on, and so has Dorfman. In an introduction to a 2018 re-issue of the book, published in an English translation, his hostility to the corporation has reportedly softened, in line with the corporation's own fashionable move to the cultural Left.
Finally, a short note about Shullenberger, who first came to my attention late last year when he did a great piece on Allyn Walker and the precarious status of academic freedom in the US. On his personal website, he tells us:
I'm a Clinical Associate Professor in the Expository Writing Program at NYU. I've written extensively about the intersection of cultural theory and the internet, the decline of academia, conspiracy theory, the recent evolution of biopolitical technocracy, and more. My blog is outsidertheory.com.
What caught my eye was the Outsider Theory stuff, which looks interesting. I won't go into it now, as that would be a whole new blog, but here is a very deep and fascinating article to start with: The scapegoating machine. If you get around to reading this you will see that a key point of reference is the works of French philosophical anthropologist René Girard. I mention this simply because Girard has been a significant influence in the thinking of our very own Warbling J Turpitude. Mr Turp was a student of Eric Gans, who was himself one of Girard's students. I say no more, although Mr Turp himself would be very welcome to do so!