Today's guest blog is by Zen Thinker, who has a background in finance and enjoys many spectator sports. He is interested in thinking deeply about today's world in all its social and philosophical dimensions, and especially the intersection of technology and historical tradition.
TECHNOLOGY, THE ACCEPTANCE OF MAPS
AND CHILDREN'S SELF-DETERMINATION
On the battlefield of life, what came to pass, Sanjaya?
We are locked in a constant intellectual battle over ideologies. There are periods of history where civilisation takes a massively regressive turn: to the (surmised) delight of modern conservatives everywhere, the decadent and libertine late Roman Empire collapsed, and monasteries were widely established in Europe, ushering in a thousand years of technologically basic, highly socially controlled feudalism. However, for the most part, and especially in the modern era, society and civilisation in the West have followed a progressive ascendency. This ascendency is set to continue, barring seismic calamity (perhaps the best thing conservatives can hope for to reset the clock is a nuclear holocaust). And this affluent progressivism has implications for MAPs.
Technology is already having a profound effect on the public portrayal of children, through both parent-directed and self-directed visual social media, and this is set to accelerate with the establishment of new technologies. In particular the Metaverse is set to highly challenge the boundaries of social relations, between people in general and perhaps the generations too. We often complain that life is now too "online". Well, that tendency is set to be further exacerbated by the mass adoption of virtual reality technologies, to create collective social spaces that may prove a nightmare for state regulators trying to restrict children.
But first, a step back. We are used to hearing that only children over the age of thirteen are allowed to create social media accounts (this is due to arcane data protection law rather than from safety concerns). There are two fundamental problems with this. Firstly, children have created TikTok accounts as young as five years old, and secondly, parents are giving children Instagram representation effectively from birth in many cases. The end result is a flood of child representation on social media.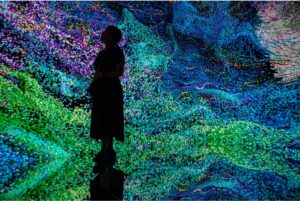 The character of this representation is noteworthy: children are appearing in a kind of extreme of glamour and expensive fashion, not universally, but certainly on prominent accounts. There are bikini shots, pretty dresses, summer fashion, and very precocious looking children at surprisingly young ages. Now this heavy representation is tilting more and more toward the child as an example of objectified beauty, and this is consequential for the identity of children and our perception of them, both as independent beings and as desirable. It will likely lead to a reassessment of the popular characterisation of children as asexual beings, and affect the public mind over time with a liberalising tendency towards a licit notion of the sexual child, at least as an existential possibility.
The Child & the Public Square 
The child is fast becoming a public figure due to the artificial intimacy of social media representation. And with the advent of the Metaverse, who knows in what direction this will turn? We can at least make several educated guesses. The Metaverse is likely to redefine the public square, as Twitter has done in the present. But as the Metaverse is a radical amalgam of all social media forms, i.e. the visual influencer, the video blogger, the opinionated jerk and the forum for online friendships, it is likely to unify all these separate strands into an addictive virtual world. Children are likely to be a key part of this world, and children's integration into the broader cultural community will be enhanced.
Remember when "Instagram for Kids" was shelved due to populist pressure? Well I was secretly relieved as it risked ghettoising children, creating a closed off exclusionary zone, but there is reason to believe this will not be the shape of the future. For one thing, Instagram is full of (parent-moderated) child influencers, but the parents themselves are young, liberal and extrovert just like their offspring. Now rest assured that the reprobate NSPCC and associated acts will kick up a firestorm about the dangers of the Metaverse and the need for impossibly restrictive legislation. However, again I don't think this effort will succeed, going by the past behaviour and response of the big tech firms, and the (fortunate) reluctance of governments to lay out the red tape. Donald Trump tried to have TikTok shut down, ostensibly because it was a Chinese threat, but more likely underlying reasons include the addictive (and to conservatives, corrosive) influence it has on the young. Do you really expect children to leave the Metaverse alone? They will be unhealthily obsessed with it, by all current evidence of existing forms.
And as the Metaverse will function as the ultimate virtual public square, children will come to have an important and emergent public face like never before. There are currently online products for children such as Roblox, which is a kind of primitive Metaverse of linked worlds and environments. However I fully expect children to have a strong representative part in the main Metaverse, whether parent-led or otherwise, and Instagram is the main template for this, as it set the standard for permissible child representation (as opposed to the legions of children who sneak onto the TikTok platform illicitly – even the average child is deeply immersed in TikTok culture).
What does this mean for MAPs? It has an indirect but powerful effect, as with the emergence of the child as public figure, the function and ontology of children will be challenged and reassessed. By the "ontology" of the child I mean nothing less than the fundamental essence of childhood – key characteristics, being and identity. They will no longer be hidden in the private bubble of the nuclear family, but (rightly so) will be freed from those shackles to a large extent. The public may begin to view children as more mature, more responsible, more autonomous, and this will naturally feed into questions of children's competency in different areas of life, including their sexuality.
Many MAPs would like a reassessment of age of consent laws, and this changing social reality of children will go a long way to softening the ground for such a reassessment, in my opinion. Additionally, as children increasingly promote themselves in glamorous, attractive and precocious ways, then consideration of the sexual nature of children (which has never in academic psychology been in dispute) may well undergo a reassessment in the public mind, which will undoubtedly soften the marginalisation and exclusion of MAPs. Already Twitter is allowing MAP accounts, where at the same time they also suspend the accounts of those who do not follow leftist trans orthodoxies. This is certainly significant, as it suggests a deep cultural shift is underway.
Tucker Carlson and the hatred of the MAP agenda 
Tucker Carlson is a prime example of the extreme hatred demonstrated towards any who are soft or liberal on the idea of this shifting child representation. Of course, Carlson like every other conservative host was whipped up into a frenzy at the "Cuties" debacle on Netflix. He called out Ketanji Brown Jackson for being soft on indecent image offenders. He denounced Allyn Walker for their (rather gentle, as it turns out) book on MAPs.
But the truth is that however much conservatives man the barricades, they will be overridden by social progress, as an almost inevitable condition of technological advancement and the developing paradigm, or post-Enlightenment reality, of scientific and technical expertise in the West. And technology always liberalises the culture, whether through the end of the agrarian economy and the rise of the middle class, or the telescope and an end to the scientific dominance of the Church. We can certainly expect technology to transform our coddling and regressive attitudes towards children.
Trans: Children's autonomy and self-determination  
The medical technology of sex change is having a surprising effect on the debate around children's existential self-determination. Women were once effectively chattel, and that ultimately ended with universal suffrage and robust divorce laws. We may be approaching an era where the perception of children as parents' chattel is similarly coming to an end. What will bring about this change? Undoubtedly the power of the child's decision over their future gender is a massive and consequential decision. Now not all of us agree on the wisdom or merit of radical gender ideology, but many believe fervently in the right of even a young child to make this kind of judgement and determination.
This obviously has implications around consent. If a child can make such an important determination about the life-changing consequences of their own gender, it seems quaint and seriously dated that children are mentally unable to consent to a sexual experience. And when we look deeper, we see that this taboo enshrined in law is in fact an irrational residual element from a prior age, that we have kept, either out of cultural convenience or else cultural inertia, but that technology will dislodge from its time-encrusted capsule.
Conclusion 
Children are mentally developing in radically mature and precocious ways due to the effects of technology, and perceptions of them will continue to shift with this. Additionally, MAPs campaign on Twitter without suspension (albeit often on small, overlooked accounts), although in the face of public hatred; the latter may well soften over time as technology forces us to reassess the sexual nature of children, and hence the legitimacy of minor attraction as a valid category of thought. Conservatives will always oppose, but they in turn are being marginalised by the culture. Judge Jackson is being criticised on her woke attitude to issues, especially her softness on non-contact child sexual offences. It seems all the ingredients are in place for a fundamental reassessment of the sociological landscape, around children, sexuality, and self-determination, and the eventual acceptance of MAPs. I see all these issues playing out over the coming years: minor attraction will not always be the pariah cause it is now, due to complex sociological circumstances; change on this front seems inevitable.
GROOM FOR IMPROVEMENT IN SEX EDUCATION
Back from Zen Thinker to your HTOC host now, but staying with radical new thinking on childhood. Not so much "Vorsprung durch Technik" this time as "Vorsprung durch Grooming".
Or, rather, that is a hostile notion bandied about by self-styled "reactionary feminist" Mary Harrington in her recent article "The rise of the liberal groomer". Her topical point of focus is The Family Sex Show, a daring new venture coming shortly to British theatres – unless it falls victim to culture wars cancelling.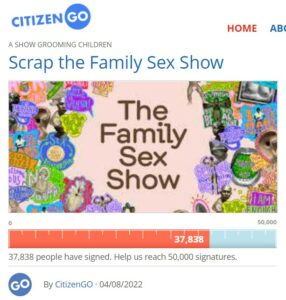 The show aims to present relationships and sex education in an entertaining way for children from age five and upwards – audiences are promised "an operatic song about the clitoris", for instance. Inevitably, a petition to scrap the show has quickly gained thousands of signatures. As Harrington says, the furore is a homegrown British version of an increasingly ferocious front in the American culture war, driven on the liberal side by those mainly seeking more positive sex education for LGBTQ youth. Conservatives, she says, are pushing back, smearing the would-be emancipators as "groomers".
We do not have to take her word for it. The headline for the Citizen Go petition is "A show grooming children". The intro says:
A sexually explicit show funded by the Arts Council, which is in turn funded by taxpayers and National Lottery money, is currently touring various UK theatres. The show… features full-frontal nudity… There is no difference between taking children to the Family Sex Show and taking them to a seedy peep show or strip club! It raises precisely the same safeguarding concerns. Children who exhibit precocious sexual knowledge are at increased risk of sexual abuse and vulnerable to sexual predators.
But if the conservatives think this will be an easy event to get cancelled they could be in for a shock, because the cultural establishment appears to be solidly behind it – as hinted at via its Arts Council sponsorship. And the liberal Guardian newspaper has given supportive coverage in which the event's producer Josie Dale-Jones recalls the "near to non-existent" sex education she had at school. There had been fearmongering about STIs, "But never a mention of why you might want to have sex, never anything about empathy or pleasure, or how any of it might impact other people."
Dale-Jones and her theatre company are bracing themselves for a battle. As reporter Kate Wyver notes:
It's no secret that talking to children about sex, relationships, and their bodies can draw negative attention. When Birmingham's Parkfield community school attempted to integrate an inclusive programme teaching their students that families can come in all shapes and sizes, including with same-sex parents, protesters picketed the school gates. Incidents like this have been fairly frequent over recent years. "We know we will get people who don't want it to happen," Dale-Jones says. "There aren't many of them, but they shout loudly. The main thing is looking after the company, the venues, their staff and the audiences."
Oh dear! I do hope this doesn't all end in tears, with liberal parents dragging their frightened little kids through screaming picket lines of hostile conservatives. How ironic that would be – especially for the conservatives, who claim to be so hot on child protection!
IT NEVER RAINS BUT IT POURS
The recent bad news from the Netherlands seems to have sent several lives into a terrible tailspin from which it may be hard to wrest back control.
In the most dramatic incident, one of those convicted for reviving an association that had been banned for "glorifying paedophilia", has reported being robbed and left penniless in the country to which he had fled, and where he seeks political asylum.
This is Nelson Maatman, who has recorded his plight in a 10-minute video posted on FreeSpeechTube, where he reports hooking up with a twink at a club, going home with him and then being roofied so seriously he woke up next morning spitting blood, with his personal belongings gone and his bank account emptied via a (somehow) stolen PIN. The police turned out to be homophobically hostile, and now he is talking about taking the law into his own hands…
This incident was in Mexico, to which another of the convicted, Marthijn Uittenbogaard and his partner Lesley have also reportedly fled. Lesley had not been tried for "glorifying paedophilia", but was raided in connection with the case. The latest news, reported here, is that he has just been convicted over a single "pornographic video" featuring a nine-year-old boy. His defence lawyer called it "a completely harmless film, made in the presence of the parents who have no problem with it".  The public prosecutor has called for a 12-months prison sentence. The court will decide on 27 April.
I am told that another of the group's long-time associates, formerly a leading activist, has also been raided recently in connection with suspected child pornography offences. He, too, was not charged in the "glorification" case. This is an elderly man who is not in good health. Obviously, a prison sentence would be an especially heavy blow in his case.