The word "orgasm" has been around for centuries. Personally, I prefer the wonderfully evocative phrase "the voluptuous acme", as coined by Albert Moll, the great pioneering German sexologist whose 1912 book The Sexual Life of the Child still has much to tell us.
Like his eminent rival Sigmund Freud, Moll was in no doubt that children do indeed have a sexual life, from infancy onwards. In more recent times, though, while lip service is still paid to this view, it is being downplayed in scholarship. The recent Cambridge Handbook of Sexual Development: Childhood and Adolescence, for instance, focuses on the adolescent minor, swiftly passing over the sexuality of prepubertal children as though with some embarrassment. And I was dismayed late last year to see psychologist David Ley telling us in an article on trans youth that "whether orgasms are even possible pre-puberty is it itself somewhat unclear in research".
Ley is a careful and generally very sex-positive scholar. So, could he be right? For my own part, I know with absolute certainty that prepubertal orgasm is possible because I experienced it myself as a child, some three years before any visible signs of puberty. But could it be that modern science has still not established the matter to its own satisfaction, beyond doubt?
Only one thing to do: check it out – dig into the various kinds of research and see what it amounts to. Ley's main source turned out to be semantic scholar Diederik Janssen's deservedly much cited paper, "First stirrings: cultural notes on orgasm, ejaculation, and wet dreams", from 2007. Janssen identifies nine types of relevant information, which I feel can be consolidated into just three main ones: (1) direct observations (medical, ethnographic, parental, teacher); (2) retrospective (surveys, autobiography); (3) physiological research.
Some accounts are rightly dismissed as mere anecdote if the reliability of the source is in question, or the report lacks relevant detail. But that does not mean the only reports that count must be in scientific journals. Personal accounts, such as this one by Katie Tandy in the Huffington Post, about her first orgasm, when she was eight, deserve to be accorded evidential value. Modern science tends to demand quantified studies, with rigorous statistics. Rigour of this sort is indeed vital when we want to know how prevalent a phenomenon is; but qualitative, rather than quantitative, rigour is what is required in order to establish that a phenomenon actually exists: we need detailed descriptions of what happens.
Actually, the reliability of even the largest and most scientifically prestigious quantitative studies may sometimes be put in doubt. A relevant case in point is Alfred Kinsey's famous studies more than half a century ago. His data showed that children of all ages down to infancy could experience orgasm, but the findings were compromised by his reliance on MAPs who had reported seeing orgasm in kids they had sex with. Some of these MAPs, he wrote, "are technically trained persons who have kept diaries or other records which have been put at our disposal; and from them we have secured information on 317 preadolescents who were either observed in self masturbation, or who were observed in contacts with other boys or older adults." Amazingly, it was only much later that this became controversial!
These MAPs could well have been entirely correct in their observations but their findings must be considered highly subjective. What about more objective reporting? Traditionally, medical professionals have been trusted in this regard and I feel that is reasonable: their bias (no one is without bias) on sexual matters generally leans towards the conservative – witness the medical world's long reluctance to give up the view that homosexuality is a disease. So, if even they are forced by the facts to admit the reality of early prepubertal orgasm, their findings should be accorded high credibility.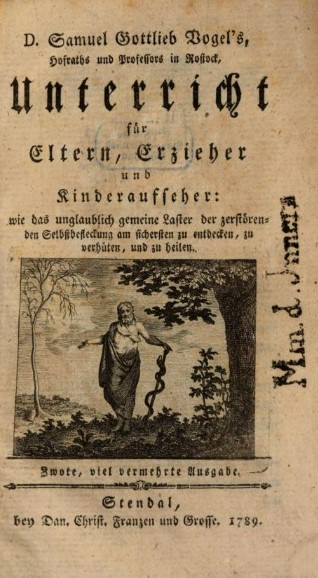 Janssen tells us that as far back as the 18th century clinicians have offered "quite incontrovertible descriptions" of infant masturbation to orgasm. The earliest was perhaps that of Samuel Gottlieb von Vogel, a physician famed in Germany as the father of the seaside resort. Doubtless he championed the healthiness of sea air and bathing, which is more than be said for his opinion of masturbation. The title of his 1789 text on the subject translates as Teaching parents, educators, and child caretakers how to most safely discover, prevent, and cure the incredibly vicious vice of destructive self-abuse. Hard to beat that for conservative bias!
Likewise Moll, qualified in neurology as well as psychology, was another leading medical man. He too writes of cases "reported to me" of orgasm in infancy and "still more frequently in respect of somewhat older children, for example, at ages of seven or eight years". But for authoritative reports of directly observed orgasm in childhood the best sources include those made by medically trained people who have actually witnessed prepubertal orgasm for themselves, in the course of clinical sessions with child patients.
A good example from  relatively recent times comes in the form of a lengthy, extremely detailed 1993 psychoanalytical case report from psychiatrist Rhoda Frenkel, who astonishingly appears to be still in practice as a psychiatrist more than 60 years after graduation. The case in question was that of a 6½-year-old girl who was seen as a patient four times a week for 2 years and 8 months, until she was 9. The data from the analytic sessions, Frenkel says, "demonstrate a young girl's capacity for intense genital pleasure and orgasm, achieved by self-stimulation of the clitoris and vaginal introitus."
We hear that during psychological testing, "Erica was uncooperative, responding to queries with the first thing that came to her mind. Her precocious seductiveness made the male psychologist uncomfortable."
In one session:
She started rolling on the floor, first saying she was angry with me, then laughing and wiggling her whole body in a clearly erotic fashion. She said she had gone to the fair with her daddy and did the monkey dance. When I asked if she was doing the monkey dance now, she said she would show me. Taking a cylindrical building block, she affixed a sphere of playdough to one end of it, labeling it "a thing" (a clearly phallic object). She began the monkey dances standing on a chair, sensually gyrating her body while caressing the "thing" against her chest. Moving to the floor, she continued to move her body seductively.

She seemed unaware of my presence as the tempo escalated, and breathing heavily she began to masturbate, rubbing the "thing" around her clitoris. Throwing it aside she used her hand to stimulate both her clitoral and vaginal areas. As she seemed to be reaching a climax, she stopped abruptly. Appearing fearful, but unable to verbalize her feelings, she insisted on going to the bathroom to avoid having an accident.
Later, we hear:
In the next two months Erica intermittently masturbated during her sessions, usually following visits with her father, which were now restricted to daytime and only with her sisters. Most often she would interrupt her excitement and go to the bathroom, but several times she seemed to reach a climax in the session. Using her hand she would begin in the clitoral area and, with increasing frenzy, she then reached into her vagina. Sometimes using one hand on top of the other, she tightly squeezed her perineal area, both intra- and extravaginally, held her breath for a few seconds, and then made a pleasurable sigh. Releasing her hands, she remained on the floor for a few moments with a dreamy look in her eyes.
From the full case report, running to nearly 10,000 words, we see that Erica clearly had emotional problems that owed much to her parents' divorce, for which she blamed herself. This is not the subject of our present concern except to say that her uninhibited behaviour makes a lot of sense when seen in its full context. One can only reasonably conclude that this is a painstakingly authentic account, and accurate in its description of the sexual behaviour.
Still, Erica only "seems" to have reached a climax in several clinical sessions. Is Frenkel being excessively cautious in her wording? Bold research undertaken by Ernest Borneman, whose daring exploits were reported here last year, was just as restrained in his wording, but his more extensive findings add weight to his interpretation. As well as having read close to a hundred reports of orgasms among infants and preschool children, he and his colleagues "found six children under two years and seven under four who seemed to be able to produce bodily states which we would have termed orgasmic had they occurred in a grown-up". These were clinical observations. He even wanted to film such activity which would have given permanent visual proof, but the parents objected! I suspect (but cannot personally confirm) that "CSEM" footage out there on the dark web includes at least a certain amount of authentically comparable material.
Never fear, plenty of confirmation comes from adults reporting in surveys on their own prepubertal orgasms, often referred to as "dry orgasm" in the case of boys because all that is lacking in the intense pleasure of "the voluptuous acme" is the ejaculation of sperm – although "pre-cum" wetness has been noted in the course of clinical observations of infant and early childhood orgasm from Vogel's account onwards. This has been attributed to discharge of "Cowper's fluid" from the bulbourethral glands, homologous to Bartholin's glands in females. Still on fluids, Floyd Martinson noted that both male and female infants display evidence of sexual arousal at birth, with erections continuing for male infants and female infants displaying vaginal lubrication (reported in this book, pp. 47-8).
Now, some number crunching on those retrospective surveys. Van Wyk and Geist (1984) found that more than 25% of boys, as opposed to 10% of girls, masturbate to orgasm before puberty. Of a sample of Swedish high school students, 44% of men and 23% of women had masturbated to orgasm prior to age 13 (Larsson & Svedin, 2002). Nine percent of a group of Spanish students reached orgasm before 11 years of age (Lopez Sanchez, 2002). Bancroft et al., (2003) reported that "One hundred and six women and 124 men gave their age when orgasm first occurred as a result of prepubertal masturbation. This was significantly earlier for women than for men (9.2 vs. 10.4 years)." Further support comes from observation by teachers in kindergartens: Gundersen, Melås and Skår (1981) reported, that "twenty-three percent of the preschool teachers [N=60] had observed orgasm in masturbating children".
These numbers are impressive, confirming a substantial amount of prepubertal orgasm, and thereby incidentally also confirming that Kinsey's "unreliable" MAP sources were pretty much correct! In his Human Male volume, he wrote: "… it is probable that half or more of the boys in an uninhibited society could reach climax by the time they were three or four years of age, and that nearly all of them could experience such a climax three to five years before the onset of adolescence.' (Sexual Behaviour in the Human Male, p. 178.)
As for physiological evidence for prepubertal orgasm, we have already touched on signs of "pre-cum" lubrication, but the most startling findings have come – remarkably – from before birth. As noted in a recent textbook published by Oxford University Press (suggesting substantial academic endorsement):
It is now commonly accepted, if not universally known even among professionals, that the neurological and genital capacity for sexual arousal to orgasm exists in children from before birth. Ultrasound examinations have demonstrated that fetuses suck their toes and fingers and male fetuses touch their penises. Erections are commonly seen in ultrasound images (Hitchcock, Sutphen, & Scholly, 1980), and masturbation in utero has also been observed in sonographic studies. Of a seven-month fetus (Meizner, 1987). Giorgi and Siccardi (1996) observed on sonography what appeared to be masturbation to orgasm in a 32-week female fetus, noting that she touched the region of her clitoris with her hand repeatedly for 30- to 40-second intervals, displaying short, rapid movements of her pelvis and legs, after which she stopped for a few minutes. After approximately 20 minutes of this behavior, which was also observed by the mother, the fetus displayed contractions of trunk and limb muscles, followed by tonic-clonic movements of the whole body, after which she "relaxed and rested. " While such apparent masturbation to orgasm in utero may be phenomenologically quite different from its homologs in postnatal life, Giorgi and Siccardi point out that female sexual response is distinct from reproductive function and "does not need a full sexual maturity to be explicit".
We began with David Ley's assertion that the research evidence for prepubertal orgasm is unclear. We might feel this claim is refuted by the sources presented here, but let's stick with Ley because he came up with some striking research information of his own on a related matter – not prepubertal orgasm but the mechanism that triggers sexual orgasms in general. He alerts us to stunning findings published only last year by Kevin McKenna, a professor of neuroscience and urology. McKenna's paper, "What is the trigger for sexual climax?", highlighted the role not of hormones, or the genitalia, but the spine.  He described how lumbar spinothalamic (LSt) cells are innervated by genital stimulation and generate sexual climax. He argues that these same neural mechanisms underlie climax in human males and females, as well as rats. By email, he told Ley that his research views orgasm as independent from hormones… (my emphasis).
If correct, this would appear to explain why orgasm need not wait for the hormonal surge that both sexes experience at puberty. The mechanism is already in place. The motivation is another matter. Hormones play a major role in sexual "libido" or "drive". Note, however, that even in this regard puberty is not the only significant hormonal development in childhood. There is also adrenarche, starting several years earlier, which is another big story.
Finally, though, I am aware that some heretics here may feel my focus on orgasm misses a major point about child sexuality: its pleasures and significance to children might not depend on having orgasms or even possessing the capacity to do so. After all, Freud himself held that child sexuality is initially focused orally, via its connection with the pleasure of breast feeding; depending on how individual development proceeds, any part of the body might later become an erogenous zone.
And in the course of researching this blog, I chanced upon a fascinating account by the now veteran anthropologist Robin Fox of his own prepubertal sexuality, in which he looks back on it nostalgically as a lost paradise of marvellous sexual pleasure – marvellous not because of orgasm but because of the capacity he then enjoyed to experience long-lasting pleasure that he compares with Tantric sex. "The Tantric Buddhists," he wrote, "may well be trying to recapture in adult life the pleasure that was lost when puberty with its vast increase in testosterone production brought on the quick-fix, ejaculatory orgasm." He says his own prepubertal masturbation could be "lengthy and blissfully pleasurable". Well, whatever turns you on! I am guessing, though, that most of us, at whatever age, would settle for a "voluptuous acme" of the plain vanilla sort!
KEY REFERENCES NOT ACCESSIBLE ONLINE FROM LINKS GIVEN ABOVE:
Gundersen, B. H., Melås, P. S., and Skår, J. E. (1981). "Sexual behavior of preschool children". In Constantine, L. L., and Martinson, F. M. (eds.), Children and Sex, Little, Brown, Boston, pp. 45–61.
Lopez Sanchez, F., Del Campo, A., & Guijo, V. (2002). "Prepubertal sexuality". Sexologies, 11, 42, 49-58. [Early volumes of this journal are not available online]. Cited in deGraaf, H., & Rademakers, J. (2006). "Sexual behavior of prepubertal children". Journal of Psychology & Human Sexuality, 18, 1–21.
DON'T FALL FOR THE FAKE NEWS FROM MEXICO
A few days ago, Prue drew attention in a comment here to the arrest of Dutch MAP activist Nelson Maatman. The story was given dramatic coverage in the Daily Mail. Most of us will probably not have been very surprised by the arrest itself following the circumstances in which Nelson fled his native Netherlands following persecution by the Dutch state – a situation given extensive coverage at Heretic TOC, most recently here, in March.
So, the arrest was all too real but statements put out by the authorities in Mexico and uncritically relayed by the media should be taken with a truckload of salt. I am pleased to see that Newgon is carrying a fake news alert at the top of all its pages. It says Nelson is being defamed and invites readers to visit their biographic entry on him, where they can find "material you can use to counter this defamation on social media". I heartily endorse this initiative. The page is here.
Contrary to the impression put out by the media, which makes Nelson look like an international gangster, from what I have seen he is a courageous and principled activist. The worst that can be said about him based on reliable accounts is that he has been rather too brave and incautious.
HERO GERT HEKMA WAS AN INSPIRATION
News is piling on top of itself. Heretic TOC should be a daily newspaper, not a monthly blog. A daily paper would have reported long ago the death in April, at age 70, of Dutch anthropologist and sociologist Gert Hekma, who specialised in the history of gay and other unconventional sexuality and who was outspoken in his support of MAPs. His work has been mentioned a number of times on Heretic TOC, most recently here.
I once had the pleasure and privilege of a long conversation with Gert at his elegant Amsterdam apartment on the Oudezijds Voorburgwal, overlooking one of the city's picturesque canals and with a delightful roof-top garden. He was a wonderfully friendly, congenial host, and every bit as erudite as might be hoped for in a professor with what must have been thousands of books in his home, in floor-to-ceiling shelves.  I also met Mattias Duyves, Gert's partner and a fellow academic, who was likewise very welcoming. Even then, a few years ago, the pair had been together for forty years, as described in an excellent "at home" profile article in which we are told that Mattias "could explain the work of philosopher Michel Foucault as intimately as if he had still been sitting on the French philosopher's lap" – which had actually happened: Foucault had been his lover when the famous – and controversial – intellectual was living in Amsterdam.
And now I learn that Gert's outspokenness on paedophilia has been an inspiration for Nelson Maatman's activism. Amidst all his troubles, Nelson found time to write an appreciation of Gert. He posted this obituary on Free Speech Tube, here.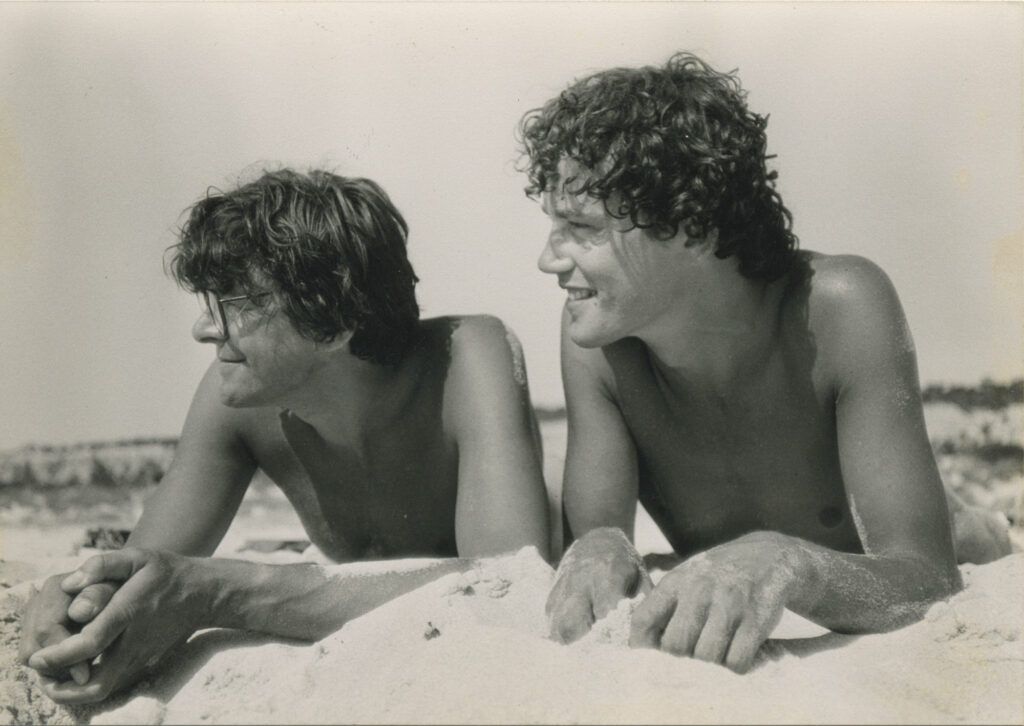 RODGER THE DODGER, WHO BEAT THE RAP
Very sadly, there is another death I should tell you about. At my age you tend to find old friends and acquaintances dropping out of circulation at a rate you might expect on a battlefield.
This time I must report that Roger Moody has left us. His name will be familiar to older London-based heretics and others with an interest in his internationalist pursuits, especially his editorship of Peace News and his decades-long battle against the ravages of global corporate capitalism, especially as regards the impact of mining on the rights of indigenous peoples. In this regard he was a well regarded expert and the author of many books, including Rocks and Hard Places: The Globalization of Mining.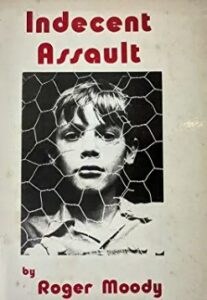 But it is a very different book, Indecent Assault, for which he will be most remembered by MAPs. Published in 1980, this was Roger's account of a rare victory against oppressive anti-MAP tactics by the police. He had been charged with indecent assault after a number of boys, if I remember righty, had been put under immense pressure by the police to make statements against him. Tactics included telling these boys – who were supposed to be victims, remember – that they would not be allowed home until they "admitted" that sexual things had gone on, and tricking them by falsely claiming Roger had already confessed.
One or more statements were duly extracted in this way and a case was brought to court. Bravely, Roger admitted he was sexually attracted to boys but pleaded he was not guilty of any criminal offence. His rare candour in the witness box over his sexuality must have made a great impression on the jury because they accepted his version of events and acquitted him.
Roger and I had our differences. He never joined PIE. Our policies and organisation were not to his liking, for reasons I found hard to fathom. We were both on the left, albeit he was doubtless more active and committed in a range of left-leaning causes than we were in PIE, where we tried to cater for all. But at a personal level he was friendly and I was hugely impressed by the love and care he showed for his brother, Peter, who had Down's syndrome and who predeceased him in 1998. Roger was born in March 1948. His departure at age 74 will be a great loss to a number of important causes. An interesting obituary appeared online just yesterday.