Today's guest-blogger is Liana Lial, a recently-out Gen Z transgender girl, familiar as a Boychat poster in recent years. She has previously written for NAMBLA ("Defeatism and Hopelessness"), as well as the prestigious Dutch student newspaper Propria Cures under the pen-name Laurel with her Coming Out story, wherein she recounts her struggles with family and bureaucracy as a young teenager. Since then, she has only grown more interested in advancing the autonomy of youth and youthlovers alike, attributing many of her beliefs to pre-existing anarchist principles. She spends much of her time reading about historical social and political movements, and she is currently writing a story about inter-generational love. She hopes to further pursue writing in addition to computer science, cybersecurity, and punk music (if, as she puts it, she "ever gets around to learning guitar"!) Like the rest of the blog, the "important note" below was written by Liana Lial.
ANONYMOUS ACTION IS THE WAY TO GO
IMPORTANT NOTE: All actions proposed should and must stay within legal confines, regardless of opinions on whether or not any particular action SHOULD or SHOULD NOT be illegal. The use of encrypted communication does not and must not entail correspondence that would be illegal. The use of encrypted communication is for privacy and anonymity, and these two things do not entail illegal action, but rather a desire to proclaim one's right to privacy in an increasing age of mass data-collection, and all the misuses of said collection. I am advocating the careful, legal use of communication for protected, legal assembly and speech.
 
1.  Surveillance State & Encrypted Contact
The modern state of surveillance harshly restricts the assembly of youthlovers, whether for casual interaction or political advocacy. There are some notable exceptions, such as the workshops of B4U-ACT, which have been created with great care so as to secure their existence. By and large, however, most are not willing to engage in activism with potentially devastating interpersonal consequences. I suggest that the veil of digital anonymity could circumvent this issue to some degree.
The use of anonymity to engage in political organizing is well established. The '50s gay rights organization in the US, The Mattachine Society, followed a security protocol similar to their contemporary Communist party. Participation entailed oaths of secrecy and membership levels based on commitment. In more recent times, we have seen the rise of the Black Bloc, most strongly associated with anti-fascist and anarchist protest. The anonymity provided by the uniform black attire has allowed mass protest to ensue while decreasing the amount of arrests that could be gained from identification (regardless of actual criminal wrongdoing).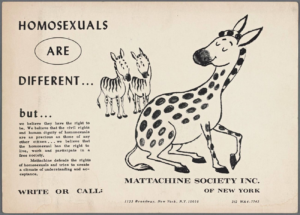 These measures were necessitated by policing, and whistle-blowers such as Edward Snowden have shown us that the need to avoid surveillance has only heightened. This increased digital surveillance has given rise to publicly available encryption software such as Veracrypt, TOR, Tox, Signal, etc., alongside a number of Linux operating systems that encrypt disk-drives. I myself use Pop!_OS.
Although there is a time and place for actions with identifiable faces, that time is not now for most. With a need to spread positive rhetoric, but immense risk of outing, there needs to be a melding of public-facing action with anonymous participation. My suggestion is thus:
Spread knowledge, in your local jurisdiction, of encrypted spaces wherein discussions of youthlove advocacy can take place. These spaces can be used to discuss specific actions or broader plans which can be carried out concurrently, but physically separate. To illustrate, someone learns of such a space through some graphic in their town. This person can send encrypted messages to the creator, and thus discuss potential actions, all anonymously. The amount of information anyone is willing to give can vary from person to person so as to create as anonymous an environment as needed. This sort of organizing is small and extremely local, but it could help form the building blocks for broader organizing. To allow organizing to broaden in scope, we'll need methods by which to securely spread information.
2.  Anonymous Journalism
Anonymous action being supplemented with anonymous journalism has its own storied history. The Daughters of Bilitis circulated The Ladder, the lesbian equivalent to Mattachine's One, Inc. These journals contained short stories, poems, and news. A major goal of The Ladder was to provide isolated lesbians with an alternative to the heavily policed or mafia-run gay bars that were signature of the time. Like Physique Pictorial magazines, the newspapers were distributed with brown paper coverings. The journal was obtained by word-of-mouth, and anonymous mailing lists were the norm. In one issue of The Ladder, under a section labeled "Where Did We Get Your Name?" we see:
A certain amount of anxiety has been created, apparently, by the widespread mailing list of THE LADDER. We wish to emphatically deny the use of ONE's mailing list, or that of anyone else, for that matter. We have literally badgered and bullied everyone we know for names of friends who might be interested in the ladder These friends have sent in names of their friends, and so it grows. To those of you who thought ONE has broken its pledge to keep its mailing list inviolate, the answer is that it did not [. . .] If your name is on the list, then a friend of yours sent it along.
Within each issue, too, the mission statement of the Daughters of Bilitis would be printed:
1. Education of the variant…to enable her to understand herself and make her adjustment to society…this to be accomplished by establishing…a library…on the sex deviant theme; by sponsoring public discussions…to be conducted by leading members of the legal psychiatric, religious and other professions; by advocating a mode of behavior and dress acceptable to society.

2. Education of the public ..leading to an eventual breakdown of erroneous taboos and prejudices…

3. Participation in research projects by duly authorized and responsible psychologists, sociologists, and other such experts directed towards further knowledge of the homosexual.

4. Investigation of the penal code as it pertain to the homosexual, proposal of changes,…and promotion of these changes through the due process of law in the state legislatures.
The Ladder and One, Inc would serve as predecessors to later Gay Liberation journals such as Come Out!, Fag Rag, or the NAMBLA Bulletin, just as Edythe Eyde's Vice Versa had done for the Daughters of Bilitis.
Anonymous journalism has stuck, too. Take the organization CrimethInc. This organization is an anarchist collective of autonomous cells (groups which can act independently of the whole) dedicated to distributing pro-anarchist analysis and news. All this while functioning entirely anonymously. As their "About" section reads:
"CrimethInc. is a banner for anonymous collective action. It is not a membership organization, but a mouthpiece for longings that extend throughout the population at large. Anyone can be CrimethInc. — it could be your next-door neighbor or the person sitting beside you on the bus. You and your friends already constitute an affinity group, the organizational model best suited to guerrilla tactics, ready to go into action against all the forces that threaten your freedom."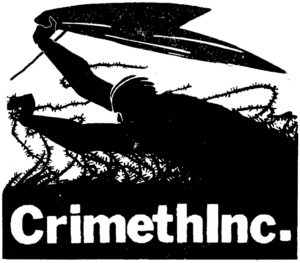 A similar system of anonymous journalism could be used to publicize, to even some small degree, the actions and rhetoric of the smaller affinity groups established under the methodology of the prior section. This could further encourage similar action elsewhere, or grow the numbers of pre- existing groups. Such a journalistic group could form through the same means as presented in the prior section.
The specific functioning of such a journal could be varied, and the subjects reported as well. It is possible for material to be produced by many outside of the website hoping to spread information on local activities, just as this site accepts guest bloggers. This format, by allowing for coverage of events not merely witnessed by the participants of the organization, allows information from all across the nation (or nations) to come into the stream of information. (This, it should be understood, comes with the caveats of language barriers.)
2a. Verification and Chapters
A hurdle which could be encountered with such a publication would be that of verification. The likely anonymous nature of many reports could cause difficulty with the verification of certain stories. To this point, the solution I propose is three-fold:
Through encrypted contacts listed on the website, one could speak with other small groups. These groups, if willing, could serve as trusted chapters/affiliates to the journal. The specifics of verifying these affiliates could vary by specific circumstances. However, anything which might ensure reliability without reasonably risking anonymity would do.
If complete reliability cannot be attained, either do not report the story or expressly acknowledge limitations. Report as true only what can be verified as such. Report all else with the heavy caveat that it was reported with no method of perfect verification, and must only be spoken of in terms of "likely" and "not likely" true. Constraints on the publication and informers are likely to restrict expansive access to information.
Build trust and be secure! If any potential participants know that their information will be handled securely, both in the method of communication by which it is gained and who it is revealed to (or rather, veiled from), they are more likely to volunteer information that will be of value to news coverage. There will be less fear that giving too much information will lead to a breach of their own security and make them a victim of doxxing.
3.  The Goal of Anonymous Action
The anonymous advocacy I propose should be seen as a means to an end. The need for anonymity proves the severity of our oppression. The actions taken by the pioneers of gay activism were surely taken in the hopes that they would one day be unnecessary. I approach the issue with the same mindset. The goal, then, of anonymous advocacy is to increase visibility and awareness to a point where people feel empowered to come out and exist as youthlovers in a public fashion.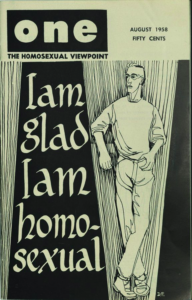 If we were to analogize with gay history, we are in an era comparative to that of the homophile movement, wherein the Stonewall Riots had not yet happened and a real rhetoric of Gay Power was not fully articulated. Society was still stuck on what Harris Mirkin called Phase 1, which consisted of dismissing dissidents. In his text The Pattern of Sexual Politics: Feminism, Homosexuality, and Pedophilia, Mirkin labels that first stage the battle to prevent the battle. In this period, there is an "overwhelming emotional and intellectual consensus" on the matter at hand, and the minority group is not yet fully conscious "of themselves as a group that has a right to make political claims."
Thus, anonymous activism serves as a stepping stone by which we can enter public consciousness as a minority group that can, does, and will continue to articulate demands and claims counter to the dominant, incarceral narrative towards youthlovers. It is unlikely that this effect will be created quickly, and immediate reactions will largely include dismissal. The effect is cumulative and actions must be taken repeatedly so as to be understood as expressions of long-standing dissidence. This will bring us into a phase of struggle where it cannot be denied that there is a question to be answered, and a community of people to speak to.
These actions should be both outward and inward. We need to reach and educate both other youthlovers and teleiophiles. All the specific tactics and actions that anonymous groups established by earlier instruction might undertake to reach the latter group is outside the scope of this particular essay. However, the former brings us neatly onto the topic of mutual aid.
Mutual aid is a topic which comes up significantly in anarchist circles. It is the mutual assistance, through resources or services, of one another. Though simple in concept, I would posit that it can have significant ramifications. There are a great deal of ways in which being a youthlover can impact the situations one faces, and many of them could be made better through mutual support. I hesitate to define the perimeters of "support" because it is intentionally encompassing. It could be financial, if someone is facing financial trouble. It could be supporting the mental health recovery of a peer or simply providing close, friendly connections. In short, a support network.
By making each other's lives markedly better, we give ourselves more stamina and strength to actually advocate and take action without feeling at risk of complete collapse.
Yet, with the veil of anonymity, this can be difficult. To assist someone, it is often the case that one will need to concede a certain level of anonymity (although perhaps not completely.) This further cements the necessity to push our cause out of the underground, but solutions must be proposed in the meantime. The nature of being a youthlover is that, unless you keep your sexuality entirely to yourself, you put yourself at some risk. We constantly play with risk-benefit analysis. Although unfortunate, just as it might be risky to spread awareness of communications (even if  the communications themselves are secure), it is going to be necessary to navigate risk if one wishes to provide support.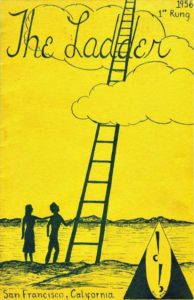 To mitigate risk, I can only suggest a thorough, if malleable, vetting process. I would not feel it wise to suggest a clear, rigid set of rules for others to follow. I cannot predict with accuracy the circumstances one might find themselves in. Instead, I can only suggest that any method produced still reasonably secure anonymity, even if sacrificing privacy, the difference being that the former hides person and the latter hides what stems from the person (e.g., one's behaviors, actions, writings, etc.)
If, despite all measures, support cannot be given in a fashion deemed reasonable by participants, then I can only concede that the group merely continue with political advocacy. This outcome is unfortunate, but I cannot rightfully suggest a group go against their better judgment of a circumstance.
4.  Concluding Statements
I have written this in the hopes of providing guidelines for anyone else who believes themselves capable of advocating for youthlove, but feels that they have no method of doing so in our current climate. It is understandable to be cautious, and in some circumstances, it is right or even necessary to wait. Despite this, action need not be completely eliminated from our minds in the years to come.
You might find that at some points, I was not sufficiently specific with steps or actions. This was intentional. As I have repeated, there is a level of idiosyncrasy to one's life that I cannot account for. I would not want someone to conclude that because they cannot take a specific action listed, that they could not take an alternative action. It is my desire that these guidelines will prompt even one hesitant-yet-antsy youthlover to get in touch with other youthlovers for the purposes of advocacy.
Sincerely,
Liana (or, Lial, depending on where you talk to me!)