It is no accident that today's guest blog by "Prue", who needs no introduction to time-served heretics here, includes a goodly sprinkling of links to excellent Newgon pages, of which they have been a prolific creator. There are many other links too, in their well referenced and challenging (especially to the Left) analytical essay.   
When MAPs Go Mainstream: Why Phillip Schofield Apologised after Doing Nothing Wrong
A spectre is haunting Europe — the spectre of paedophilia. All the powers of old Europe have entered into a holy alliance to exorcise this spectre. Where is the party in opposition that has not been decried as paedophilic by its opponents in power? Two things result from this fact: I. Paedophilia is already acknowledged by all European powers to be itself a power. II. It is high time that Paedophiles should openly, in the face of the whole world, publish their views, their aims, their tendencies, and meet this nursery tale of the Spectre of Paedophilia. [Freely adapted from The Communist Manifesto]
In this piece, I challenge the political Left to 'do better'.
Minor-attracted people (MAPs) have gone mainstream. We are coming up to #PaedoSchwing2025. Will the sheer scale of violent right-wing hatred linking transgenderism with paedophilia push liberals and leftists towards a more sympathetic stance on MAPs? That's the prediction, the wager, the gambit of some MAPs (see Katie Cruz 2022). MAPs are increasingly and accurately seen as a vulnerable minority population prone to mental health issues and suicide. In response, sex abuse experts are increasingly supporting efforts to de-stigmatise MAPs, so that they feel safe to build up what Allyn Walker (2021) called 'resilience strategies to offending behaviour'. Many of these academics, including Walker who has a background in prison abolitionist politics, are politically liberal or left leaning. In addition, MAPs are growing community conscious or, dare we say it, 'class conscious'. With increasingly internet-savvy generations rising up to contest their underclass status, MAPs have strength in numbers and can be seen boycotting stigmatising/dehumanising researchers/projects which cast them as 'monsters' and 'predators'.
Whatever happens by #PaedoSchwing2025, MAPs, adult-attracted minors (AAMs) and their allies can help to bring about a sea change. Newgon has been successfully building a baseline of resistance and community, using anonymous sock-puppet Twitter campaigns to gain visibility. The budget for these projects is low: this is not some fairy tale of 'elite' so-called paedophiles like Jeffrey Epstein. No, it's arguably the most hated element of the working-class, working together with their allies to get their voices and history heard. Some of these MAP-related Twitter posts have gained millions of views and led to coverage in mainstream media.
And that brings us to Phillip Schofield, a 61-year-old British TV presenter who has been demonised over a homosexual affair with a younger male staff member…
Going by news reports, the facts are that Schofield and a young male, Matthew McGreevy, first interacted over Twitter when Matt was 15 years old. The two maintained a friendship over the years until Matt went to work as a runner for ITV. With Matt now at 19/20 years old, their relationship at some point became sexual. Precisely what happened is unknown: sex? fellatio? a kiss and hug every now and then? News media and the 'victim industry' (Best, 1997)  typically speak of "abuse" and fail to give us the facts. Because the pair first interacted when Matt was under-age, Schofield is being labelled with the "groomer" slur, even though reports indicate that their relationship was entirely legal and consensual. On YouTube, the harshest media scrutiny has come from right-wing outlets, principally GB News. In one of many GB News videos about the drama, after 6:20 the guest says "let's be honest, grooming a young boy". A 19/20 year-old "man" easily morphs into a "boy".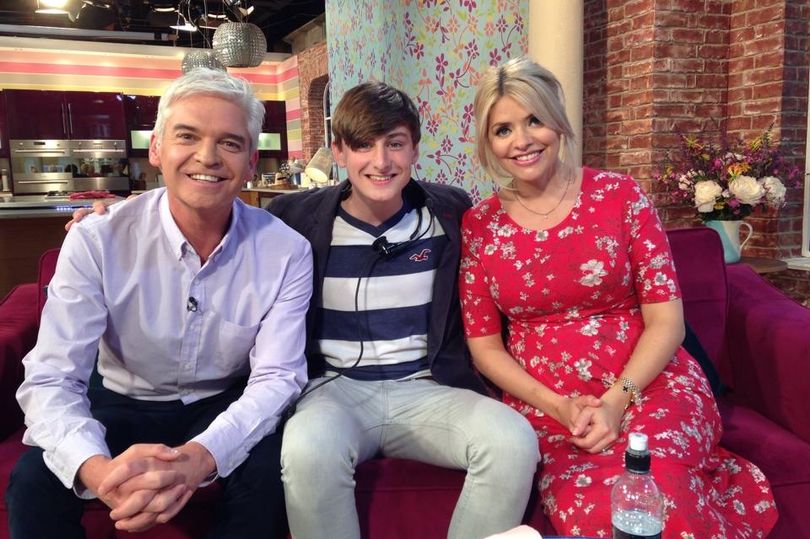 Another video reveals that The Sun newspaper ran a front-page story using the 'groomer' slur. By contrast, Piers Morgan, who denies being 'right-wing', has defended Schofield.
In YouTube comments, I have seen claims that Matt was aged 10 on first meeting Phillip. They attempt to draw a link between Schofield and his brother Timothy who, at 54, was imprisoned for sexual activity with a male teenager (see here and here). Meanwhile, Schofield has said how he sees "nothing ahead of me but blackness", asking his critics "Do you want me to die?" He raises the case of TV presenter Caroline Flack, who took her own life in 2020, saying: "I think I understand how Caroline Flack felt. Last week, if my daughters hadn't been there, then I wouldn't be here." (here).
Is it taboo for minors and adults to be friends outside a family context? Prohibiting or stigmatising such friendships might benefit those seeking to normalise incest and keep young people proverbially, or not as the case may be, entwined with their parents. But for everyone else, it's a huge restriction on everyday freedoms. Do we live under 'age apartheid', as Gayle Rubin put it in Thinking Sex (1984). To me, the underlying media message is clear: if you're adult, never be friends with a minor. The cynical haters seem to believe that Schofield would only want to be friends with the young Matt for his body, so evidently desirable it must be… Why else, I've heard it said, would you be friends with a minor?
Schofield's case combines the age taboo (Tsang, 1981) and the workplace taboo. Part of the uproar is that Matt may have got his job because of Schofield, thus appearing as favouritism and corruption. Even if this were the case, it only shows how inequality can be mobilised between workers for their benefit. The gap between them is where the 'power' of paedophilia, or, as it is currently widely if incorrectly understood, age-gap relationships, comes from. Like the gap in communism between the working and capitalist class, age-gap relationships, as a 1970s French gay liberation group put it, "radically questions all of society; subversion par excellence". Or, as historian Kadji Amin explained:
French gay liberationists valued pederasty as a radical challenge to the bourgeois nuclear family, understood to be the fundamental disciplinary unit of a society founded on repressive sex and gender normalisation. They theorised pederasty/paedophilia as a crucial means of contesting parents' possessive investment in their children and of championing minors' free exercise of their sexuality."
Leftists, who should in theory be class conscious, should also be aware that workers often spend eight hours or more a day at a place they call 'work'. This can leave them little time or energy for much outside that space, including finding a romantic/sexual partner. To impose a social taboo on workplace sex/relationships is an attack on the working class: a massive restriction on working people's everyday lives. Love, affection, and sexual connection do not wait for the office doors to close and neither does the magic line of an age of consent handed down by the state; all while sitting neatly along 'age apartheid' lines.
The Liberal Left appears to hate anything even MAP-adjacent. Figures on the Left such as the YouTubers Xanderhal and Vaush speak of 'Pedocon theory', attempting to paint conservative viewpoints as inherently supportive of intergenerational sex. The Left wants to avoid 'their people', particularly transgender people, being hit with what historian Vern Bullough called "the paedophile smear". Because MAPs can also be transgender, as is increasingly being discovered in trans-inclusive research such as Allyn Walker's, the Left will find itself validity policing who is acceptably trans and disavowing the 'bad queers' who are too hot to handle. Ignoring or ignorant of past links between LGBT groups and MAPs, as well as more overtly communist/socialist groups, the contemporary Left is trying to protect adult-adult gays and adult trans people, while avoiding the issue of MAPs.
Exploiting fears around queer children is the Right's biggest weapon to roll back the gains of previous decades. As seen recently in Florida, the Right will use the issue of MAPs to keep the Left on a leash and roll back as many gains as possible. The Western Left have been losing for decades on workers' rights, but have maintained some progressive sexual law reform. With even Roe v. Wade being overturned last year, increasingly the Left will have to choose: drop trans kids and stay MAP-phobic, or keep losing.
The Left has failed children (and Phillip Schofield)
In UK feminist Stevi Jackson's 1982 book Sexuality and Childhood (PDF here), she writes:
[A] great deal of effort is spent in keeping children childish. Not being encouraged towards independence, they remain dependent; unused to looking after themselves, they stay vulnerable; having their smallest needs fulfilled by adults, they are often unable to perform simple tasks well within their capabilities. (p. 27).

The activities and interests of children in other societies may contrast sharply with our ideas of what is natural or appropriate for them. We would find it strange for a boy of six or seven to be preoccupied with financial provision for his marriage, yet this is considered natural among the Tallensi. We would not expect a child of this age to be making a real contribution to the economic survival of the community, yet this is commonplace in many simpler societies. […] It is unusual for five-year-olds in our society to be fully aware of the facts of human sex and reproduction, but elsewhere this is normal.

Despite all the different forms of childhood that exist throughout the world, our society might be singled out as distinctly odd (p. 29).
Legally defined 'children', usually people under 18, tend to either not work or work very little. They are unlikely to be making "a real contribution to the economic survival of the community". If they do secure legal employment, they often face discrimination in being paid far less than older workers for what might be the same job. The fact that minors often do not, cannot, or are socially discouraged from work probably has a lot to do with the images we attach to terms like 'child labour'. Similar to the image of the 'monstrous paedophile', the image is one of a very young child doing dangerous, dirty activity. It's not a bulky or energetic, strong-willed 15, 16 or 17-year-old "child" stacking shelves. Children, as feminist Kate Millett pointed out, have little to no money: it is one of the major sources of their oppression. As the legal age of childhood has increased, alongside the decline of the trade union movement and the suppression of worker's wages and rights more generally, young people will remain – and are remaining – in relations of dependency for much longer.
While minors rarely work, they now have access to technology at younger and younger ages. This has been a massive material change in their everyday lives, with teens "as young as 13" reportedly using false IDs to engage in sex work on apps such as OnlyFans. According to the Internet Watch Foundation (IWF) report on self-generated content (2021), "Of the 252,194 webpages actioned during 2021, almost three quarters (182,281 or 72%) were assessed as containing self-generated imagery." (See here). The economically dependent, veritable underclass that is legally defined as 'children', against all the negative messaging about young people and sex, still tries to earn money and express themselves sexually. Kept largely out of work but with internet access, they have ample time to post online with few other socially/sexually validating and fun options to earn money. In supporting minors' agency to take part in the now heavily debated 'trans affirming care for minors', but also denying their sexual agency, the Left are playing into the Right's image of the vulnerable, confused, asexual child who cannot know their own mind or body: an image the Right use to stoke hatred for trans people and MAPs alike. Such hate leads to death, and not just by suicide. In the 2021 'Club Q' shooting, for example, a MAP-phobic gunman shot five dead in a Colorado nightclub after it had advertised an "all ages drag" event.
The Anti-MAP Left are creating their own enemies
In MAP forums you'll often hear protest at the idea that anyone seriously proposes raising the age of sexual consent to 21 or 25.  There is much talk online of men's rights and discrimination against men… In this case, raising the AOC would hit young men like Schofield's lover particularly hard. With young people remaining economically dependent for longer, often living with their parents rather than pay huge private rental fees to move-in with a prospective partner, the rates of young male virginity have increased. As much as young males may try, it's not very sexy to bring sex partners back to your parents' house. In an era of easy access to sexual content and interacting with each other without having to leave the house, people are lonelier than ever before. Dating apps such as Tinder, which sees male users outnumber women by large ratios, have been particularly bad for young heterosexual men. Raising the AOC would only induce further loneliness, misery and resentment in young men, driving them towards the political Right who offer them some hope compared to a dismissive Left who tend to mock 'pick up artistry' and men's attempts at self-improvement.
For his part, Schofield lived most of his life as a closeted, repressed homosexual. He may have missed out on gay sex during his teens and twenties. After coming out as gay on live television in 2020, it's understandable that an older Schofield, peeling away the repression of his earlier years, would welcome sexual interest from a younger man he already knew and likely felt comfortable with on that basis. Schofield's lover Matt had an interest in his future employment while still a minor, and later on a sexual interest in an older man, making him distinctly 'odd' by current cultural standards. Sometimes called the 'paedo multiplier' in online discourse, the force/impact of an accusation can be multiplied by placing the accused as close to the paedophile smear as possible. Schofield is, however, not a paedophile. He's a teleiophile being dragged down because he engaged in a perfectly lawful and mutual relationship which is adjacent or 'too close' to paedophilia/minor-attraction. His public shaming represents nothing more than 'adjacency anxiety' and an attack on the working-class.
NOT TO BE FORGOTTEN: DAVID SONENSCHEIN
Back to your host. My name is Tom O'Carroll in case you had forgotten — it has been a while since I posted a blog, although I have been kept quite busy moderating the 350+ comments (thanks for all of those) on the last one. I should take no credit for this final item about the late anthropologist David Sonenschein, whose scholarship in the field of sex research, especially on paedophiles and the media, is of obvious relevance to us.
Unfortunately, David's death two years ago went unrecorded here, and our guest blogger Prue has quite rightly suggested this omission should be rectified. More fortunately for me, this is an easy task because there is an excellent Newgon page on his life and work. See here.
I will just add that I read David's exceedingly thorough two-volume work Pedophiles on Parade many years ago. An abiding memory of it for me is the detailed attention he paid not just to paedophilia in the news media but also in fiction, notably the stomach-churning sex-crime novels to which lawyer and master hate-monger Andrew Vachss turned his hand. Vachss' depiction of paedophiles as the sort of psychopathic villain who would kill a puppy in front of a child in order to intimate and coerce them into (invariably violent) sex is difficult stuff to read but David somehow forced himself to plough through quite a few of these dreadful novels so that we do not have to. In other words, he dutifully performed a sterling service in the necessary business of carefully documenting how we are collectively libelled in fiction.