The big story this time was supposed to have been Bruce Rind's latest, a fantastic paper that came out a couple of months ago, based on German survey data. It is worth making a song and dance about, with a proper analysis and discussion of its contents.
But that will have to wait until another time. There is no urgency compared to a whole bunch of other stuff that needs a more immediate airing, some of which can be dealt with more briefly. I'll be highlighting my own news in a moment but decency demands prior mention of the continuing plight in Ecuador of Dutch former MAP activist Marthijn Uittenbogaard and his partner Lesley. As I reported briefly in June in the Comment space, linking to a Dutch newspaper report, the pair have been given 10-year prison terms based on convictions there is good reason to believe are based on false testimony. There is little new to say at the moment except that an appeal is said to be underway, and that Newgon's page on Marthijn is worth following as updates will likely appear there first.
So, what's my exciting news then? I have been CANCELLED.
Yes, yes, I know. No big deal bearing in mind that MAPs are being wiped out on a daily basis from social media. But say the Pope invites you to a personal audience. You're a good Catholic. You're thrilled. It's a huge honour. You rock up at the Vatican in your smart new Pope-meeting schmutter, glowing with pride as liveried flunkies usher you into His Holiness' presence. But instead of being greeted warmly with a blessing, all you get is a blunt rebuff: "You, you ingleesha cunt, you're fucking EX-a-COMMUNICATED as of righta NOW! So fucka you off, maximo pronto!"
The equivalent, for me, of the Pope on this occasion was a newish academic publishing house of growing repute (having published the work of several Nobel prize winners) who had accepted a chapter of mine back in February for inclusion in a forthcoming book, Ethics in Scientific Research: New Perspectives, being edited by a professor at the University of Belgrade. Publication as a hardback, at £79, was scheduled for late July. I felt this was a major triumph. I do not recall any other case in which an easily identifiable MAP such as myself, who favours sexual self-determination for children and writes under their own name, has been given a prestigious and highly visible platform on which to speak on an equal footing with career scientists.
My chapter was duly published online in March, ahead of the print edition. The title speaks for itself: "Where Angels Fear to Tread: Anxieties over Researching Child Sexuality Must Be Overcome". I had submitted it at the invitation of the publishers, who cited my earlier paper, "Childhood 'Innocence' is Not Ideal: Virtue Ethics and Child–Adult Sex", as the reason for their interest. This paper, which appeared in 2018 in Sexuality & Culture, has been accessed 56k times – massive for an academic article.
The book's editor, Miroslav Radenkovic, is a professor of pharmacology and bioethics expert at the University of Belgrade. After reading the submitted chapter, he "wholeheartedly" endorsed my approach, saying I had conducted a "very well prepared and executed analysis". The chapter proposes ethical grounds for researching child sexuality more extensively and in new ways: instead of research targeted, as in the past, at identifying and eliminating "abnormal" child behaviour, I propose a new paradigm aimed at a more positive and inclusive approach to sexual health – one which would allow for a diversity of sexual and gender expression and (reading between the lines) would not rule out minors' active interest in older partners.
So far so good. And my newly minted Open Access online chapter began to attract significant interest. The numbers are quite small as yet, but known readers include important figures in the field, including Jenny Walsh, a leading light of sexuality education in Australia, and Steven Angelides, author of The Fear of Child Sexuality. There has also been enthusiastic feedback from people I know personally in academic circles.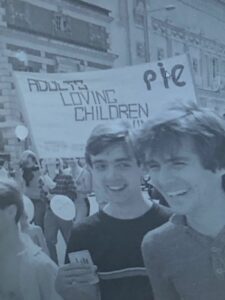 So, with all this positivity around, what could possibly go wrong? Bizarrely, I still do not know for sure, because publishers IntechOpen have refused to specify any particular grounds for withdrawing the chapter, a cancellation they announced in the middle of last month. They just left a notice on the chapter's webpage. As well as announcing the retraction, this notice gives a link to the company's general policy page on retractions and corrections, where all sorts of possible reasons for withdrawal are listed, such as fraud, plagiarism, etc., plus a catch-all clause covering any practice or act "considered potentially harmful to the scientific community".
But we do not have to look far to see what probably kicked it all off. The very day before the Intech take-down, there was a pile-on against me on Sexnet. As many here will already be aware, this is primarily an expert forum for psychologists, endocrinologists, neuro-scientists, etc., in which most of the invitation-only subscribers are researchers and clinicians, although there has always been a smattering of odd bods – including "specimens" of sexual minorities, such as me, and a few journalists with a specialist interest. The pile-on was dominated not by researchers but by newer feminist members known more for their writing in papers such as the New York Times and the Guardian. They would dearly love to see me kicked off the forum, but support from the moderator, psychologist Prof. Mike Bailey, was very robust. So it seems they went for a softer target: IntechOpen.
Reassuringly, one professor emailed me privately saying "I am sure that the retraction has nothing to do with the quality or ethics of the article itself, but is merely based on some victimological activists contacting them to protest publishing anything written by you. The argument would be that no paedophile can be objective about child sexuality. By the same infernal logic, no victim of CSA can be objective about it, no woman can be objective about women's issues, no black can be objective about black studies, no gay person can be objective about gay studies, etc."
Quite. But never mind, there is a silver lining. The paper remains available for free download from ResearchGate, where online readings and downloads are now ticking up nicely. Interest, it seems, has been boosted not diminished by IntechOpen's precipitate cancellation. In fact there has also been an upturn of interest in my "back catalogue" of academic articles listed at the site, and I am pleased to say I have other new ones in the pipeline.
On a lighter note, my Sexnet battle with the "feminazis", reminds me that back in June I was approached by Róisín Michaux, a thuggish TERF who writes for a despicable smear sheet called Reduxx. She said she was thinking about starting a podcast and wanted to record a conversation with me on sex education, specifically as regards "the gender identity stuff", which she felt was "was worrying for parents".
Why me? Presumably because in an earlier email exchange with her there had been some common ground between us. Like her, and other TERFs, I do feel strongly that the more militant trans activists take their claims to "equality" too far, notably as regards their insistence that big, hairy, muscular "women" with penises should be allowed to compete in women's athletics. This sort of "equal" rights creates anything but a level playing field. So Michaux was no doubt hoping she could get evidence that even paedos activists are anti-trans (which I am not).
Inspired by the impending Musk-Zuckerberg showdown, I replied saying I had a better idea than a podcast. How about a cage fight instead? I wrote: "As a young, fit, butch dyke (tell me you aren't!) you'd have no trouble quickly destroying an old-timer like me and it would be far less painful than a conversation with you."
"Seriously, though," I added, "the idea of doing a recorded convo for a podcast or whatever is not hugely attractive bearing in mind you must be seeing my role as that of useful idiot. If you want to trying selling it to me somehow by all means give it a go, but it's not as though I am short of things to do and my energy levels are not what they were."
She did not "give it a go". Nor did she reply in any way. No sense of humour, evidently. These attack bitches can dish it out but they can't take it, can they?
LET'S MARCH TO THE 8 MARCH TUNE
Children do consent to sex, in fact, if not in law. You know that. It's hardly news.
What is news, though, is that the United Nations has woken up to this simple truth in ways that have palpably begun to alarm conservatives this year and should bring cheer to our hearts – as well as renewed determination among us to assert the human rights principle that lies behind the great  awakening in question.
Have you heard of "The 8 March Principles"?
This is a ground-breaking human rights approach to criminal law, the fruit of lengthy deliberations by the International Commission of Jurists (ICJ), put out in a document earlier this year on, you guessed it, 8 March. It is high-powered stuff, developed through a five-year consultative process involving the UN's Office of the High Commissioner for Human Rights (OHCHR) along with numerous relevant NGOs and legal experts.
Best of all is Principle 16. This is the one that has frightened the horses. Donald Trump's Republican rival Senator Marco Rubio was quick to put out a statement that began by saying the UN had "sponsored a report that asserted underage minors can consent to sex with adults". He reported that he had fired off a letter to the US ambassador to the UN demanding to know "whether the Biden Administration was aware of the report prior to its publication and expressing opposition to providing UN contributions to any initiatives that promote underage sex".
Was Rubio exaggerating? Judge for yourself. Headed "Consensual sexual conduct", here is Principle 16 in full:
Consensual sexual conduct, irrespective of the type of sexual activity, the sex/gender, sexual orientation, gender identity or gender expression of the people involved or their marital status, may not be criminalized in any circumstances. Consensual same-sex, as well as consensual different-sex sexual relations, or consensual sexual relations with or between trans, non-binary and other gender-diverse people, or outside marriage – whether pre-marital or extramarital – may, therefore, never be criminalized.

With respect to the enforcement of criminal law, any prescribed minimum age of consent to sex must be applied in a non-discriminatory manner. Enforcement may not be linked to the sex/gender of participants or age of consent to marriage.

Moreover, sexual conduct involving persons below the domestically prescribed minimum age of consent to sex may be consensual in fact, if not in law. In this context, the enforcement of criminal law should reflect the rights and capacity of persons under 18 years of age to make decisions about engaging in consensual sexual conduct and their right to be heard in matters concerning them. Pursuant to their evolving capacities and progressive autonomy, persons under 18 years of age should participate in decisions affecting them, with due regard to their age, maturity and best interests, and with specific attention to non-discrimination guarantees.
Consensual sex, we read, may not be criminalized in any circumstances. If they had meant to exclude children below any particular ages of consent they would have said so. Abolition of age of consent laws is not proposed but it is asserted that, despite what these laws stipulate, law enforcement should "reflect the rights and capacity" of minors "to make decisions about engaging in consensual conduct". They do not say only if the conduct is solitary masturbation of oneself, or sex with another minor. There are no such caveats. There is nothing to invalidate a child's decision to have sex with a consenting adult. And there is no specification that the child would lack the necessary "capacity" unless they had reached a certain age. Thus, much would depend on how "capacity" is interpreted, but I see nothing here to suggest that Rubio is fundamentally wrong.
Some MAP activists have already started running with this, and I hope there will be many more. Prominent among those taking up the challenge has been a new star (new to me at least) on the pro-MAP scene, Master Seaman Jessica Silva of the Royal Canadian Navy.
In connection with June's Pride festivities, she reportedly commented on her social media page: "Pride is for everyone and every sexuality is valid and every experience is valid. MAP rights are human rights and MAP is a legitimate part of the queer community and culture." When challenged with the view that children cannot consent, she shot back smartly by citing the 8 March Principles.
Jessica, I am sure I speak for all at HTOC in saying, "We salute you!"
And a notable contribution has reached me from activist Steve Carson, who describes himself as a MAP and an advocate for a more rational understanding of human sexuality. He has written a rather good essay on consent. It does not mention the 8 March Principles but could easily have been inspired by them, as it puts kids' de facto ability to consent at the front and centre of his clearly presented argument. Encouraging signs!
WILL THERAPY SET YOU FREE?
As close followers of the Comments space will recollect, Heretic TOC has been approached by a team of researchers in Germany who are seeking participants for a MAP-focused online questionnaire they have put out.
Briefly, the questionnaire is for MAPs who have undergone "any kind of treatment or therapy" in connection with their sexual orientation and have dropped out of doing so for some reason. The stated aim is to explore why they have dropped out, in order to "identify approaches to tailor treatment services more closely to the needs of MAPs". The researchers emphasise that "It is explicitly not our position that all MAPs need therapy or require treatment".
Along with a link to the survey itself, the researchers furnished me with an introductory Letter to Participants and a more detailed formal statement, Rationale for the Proposed Study. I read these items and completed the survey myself, in order to get a full appreciation of the questions asked, and the experience of answering them. I published the relevant links and invited readers' feedback, without making any recommendations as to whether I felt participation was a good idea or not.
Feedback was duly received. In my view, readers made a number of good points, with some support for the survey but also a lot of scepticism as to the value of therapy for MAPs even in any "improved" therapy style that research might lead to. My own feeling is broadly that it is hard to see therapy being of benefit to radical, self-confident MAPs who know how to stay out of trouble. But we are not all like that. Others may take a completely different view, and for their benefit I have decided to take this matter "above the line" i.e. to publicise the research in the main blog space rather than just the Comments.
All you need to do to take part in the survey is to go to the survey link. This starts with all the participation information you need, which may help you decide whether you want to take part.
The four-strong team of researchers are led by Dr Stephan Mühlig, Professor of Clinical Psychology and Psychotherapy at the University of Technology, Chemnitz.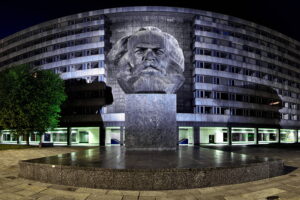 It is perhaps worth adding that as part of my short email correspondence with team member Alina Göpel, I gave her a link to a paper of mine published years ago by ATSA, on the very subject the survey is investigating. Titled "What to do with the entrenched client: A paedophilic entrenched client's view", it details my own feelings about unsuccessful therapy undertaken while I was on a period of post-release licence after serving a prison sentence. The paper appeared in ATSA Forum and the full text is here.
Ms Göpel, a Master's student, replied that she was "very interested" in reading about my experience. She said she had done an internship in a German prison. She had not observed such negative reactions as I reported, but she said, "I can understand your unhappiness regarding the attitude with which you were treated". She also added, "Also in German programs, we have been confronted with a number of critical arguments regarding their form of treatment and  about the intentions behind such programs."
"We found your insights to be very educative," she said, but she hoped I would "understand the point where we're coming from as well".
I hope I do understand where they are coming from; but it is where they are going to that is of more concern. I don't mean this research team, who are simply fact finding. Rather, our concern should be over where therapy itself is heading. As will be widely understood here, treatment programs, especially those in forensic settings, tend to be grounded in cognitive behavioural therapy (CBT) and run in an inflexible, authoritarian, "by the book" style. It is interesting to note that even in relatively benign settings aimed at addressing non-sexual problems, the downside of CBT appears at last to be coming into focus in public discourse. One swallow doesn't make a summer, but a recent piece in UnHerd (a lively place for spotting signs of the times) may be indicative. Titled "Why CBT won't set you free: Therapy isn't making us any happier", it is by Nina Lyon, who writes on psychology and philosophy. Recommended.
WHEN IS A CHILD RAPIST NOT A CHILD RAPIST?
When he's a drag artist protected by the warm embrace of the LGBT community it seems, aided and abetted by gay-friendly media, police forces keen to promote a pro-diversity image, nightclub owners unwilling to let go of a popular act, and event-space managers such as the prestigious Tate Britain, hosting Drag Queen Story Hour for nursery age kids.
Staggeringly, a man has just been convicted of a public order offence, described by a judge as "hate speech", for protesting outside a Story Hour performance room at the Tate – not just against the performance itself but more significantly against the drag performer's  earlier support for another drag queen who had a conviction for child rape. The media and judicial sympathy in this case seemed to be not just for drag queens in general (OK, that's great) but also for something far more dubious: they appeared to be hell-bent on silencing a protestor who, whatever we may think of him, was actually telling the truth about a matter of legitimate public interest.
Admittedly, one has to suspect that the "rape" may not have been a real one, but a consensual affair that could plausibly be seen as a gay relationship between roughly "equal" partners, given that the "rapist" and the "victim" had both been teenagers at the time, the younger of the two having been 14. Piecing things together from an old news report, it looks as though the older boy (Darren Sewell, who later changed his name to Darren Moore) could have been as young as 17, hence a minor himself. There had been four counts of "rape", from which we can infer that this had not been a single violent assault, but more likely an ongoing relationship.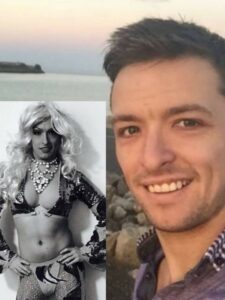 However, these mitigating circumstances are largely conjectural (I have been unable to find a report of the original rape case online) and would not have been known to most of the people who were so keen to deny the protestor's freedom of speech. Instead, they were prepared to sweep under the carpet what might truly have been a horrible crime simply because it is unfashionable to hold trans people to account for their behaviour, no matter how bad that behaviour might have been.
That, in my old-fashioned view is wrong. Truth, and the freedom to express inconvenient truths, should trump the grubby expediency of identity politics any day, even when it favours MAPs. But I was never any good at politics, so I guess I would say that, wouldn't I?
Anyway, that's the downside, but it must be admitted that this single case provides compelling evidence for the extraordinary power of intersectional solidarity between a wide range of sexual minorities if they can plausibly present themselves as on the right side of the gender revolution. Some of us have taken it for granted that a "P" will never be added as a new ingredient to the LGBT+ alphabet soup, but this rallying of support for a "child rapist" reminds us that we can never say never with certainty.
The Tate Britain case is just the latest development in a more complex story with a very tragic side (the "child rapist" was murdered earlier this year, in an all too real "hate" crime) that need not be foregrounded here. However, the backstory shows in spectacular fashion just how improbably popular Darren Moore had become as drag artist Crystal Couture, despite his youthful labelling as a "nonce" offender. See, for instance, news stories: here and here. Also, The Spectator carried a comment piece along somewhat similar lines to my own, albeit from a more conservative position.
COMPLAINANT COULDN'T BEAR BARE BEAR
I see that star BBC presenter Stephen Nolan is in hot water. The Irish News reported this week that Nolan sent unsolicited sexual images of a potential guest to staff on his radio and television shows some years ago. According to a follow-up in The Guardian:
The guest was Stephen Bear, a Celebrity Big Brother winner wanted by Nolan for his TV show. "I want Bear!" Nolan wrote in one message, saying in another: "If I don't get Bear tomorrow night, I'm sending more Bear photos."

One recipient of the images, which showed Bear's penis, said they were "beyond the pale" in an internal complaint to the BBC, according to the Irish News.
The Guardian solemnly adds that Nolan succeeded in landing Bear for his show in 2016, during which both men stripped to their underwear for "a segment on modelling".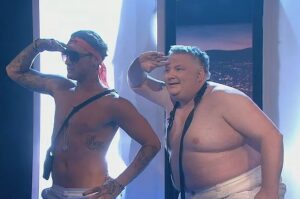 Whatever the excuse, the show must have been hilarious. See photo. Nolan is clearly "a bit of a lad". With a body like his you need guts in every sense to run such an item, and indeed to risk the ire of humour-challenged colleagues and our equally po-faced modern media by sending the dick pick, even in the year just before #MeToo.
I always thought he was one of the BBC's bravest. I don't watch his shows but I know he was brave enough to invite me as a guest on his TV show some years ago. Talks with his researchers had gone well over the course of several weeks only for the item to be knocked on the head. The BBC's top brass, I learned, had told Nolan they would not let him do it: too controversial. They felt the corporation should not give the MAP cause "the oxygen of publicity".
DID HE JUMP OR WAS HE PUSHED?
Some heretics will have seen a post by "Scotusbaby" on Boychat reporting that Jacob Breslow has quit his job as an academic at the London School of Economics (LSE). Dr Breslow himself put out a press statement. I would just remind everyone of the Heretic TOC blog last year in which significant background to this latest development was given an airing.
Breslow said that he left because of harassment, which he understands to be "to be part of a broader movement against the field of gender studies, and against trans rights and dignity".
Did he jump, or was he pushed officially? His statement mentions "LSE's independent investigation exonerating me". It is possible that despite this exoneration he was pushed gently; or, rather, encouraged to jump with the help of an undisclosed financial incentive to do so. It would be odd to abandon an attractive academic position, now styling himself an "Independent Scholar and Researcher", without having won any means to support himself in such a career.
There was a follow-up report earlier this month in Times Higher Education. The article does not speculate or show sign of inquiry into any official pressure, but does give the following as context:
Dr Breslow has been on leave after his involvement with Mermaids, a transgender youth support charity, was highlighted by The Times in October,  which also found he had attended a symposium organised by B4U-ACT, which promotes services and resources "for self-identified individuals…who are sexually attracted to children and desire such assistance", according to its website.