A powerful and provocative guest piece today from our old friend Leonard Sisyphus Mann, whose Consenting Humans blog is highly recommended and who has guested here several times before, as Lensman, perhaps most notably in this profound, forward-looking, contribution: "The future is green, and liberating for children", which prompted over 30,000 words of comment.
Today's piece bravely identifies female genital mutilation (FGM) as primarily an Islamic problem, and a growing one, in the modern world. While acknowledging the pre-Islamic roots of the phenomenon, LSM sees specifically religious factors as responsible for its perpetuation.
There is evidence to support this claim but Heretic TOC does not endorse any anti-Islamic polemics that might be inferred from LSM's essay. My belief is that Islam is capable of evolving in response to the needs and values of modern life, just as Christianity has adapted enormously: far fewer believers now hold fast to simplistic, literal, interpretations of the Bible, for example, than prevailed before Darwin and modern scriptural exegesis.
Accordingly, it would be mistaken to insist that Islam, especially in the West, will remain wedded to the practice of FGM, and certainly not to its more harmful forms. We should be supporting Muslims who themselves seek to end such practices (there are plenty of them), rather than be taking an accusatorial stance: finger-pointing smacks of dangerously confrontational "Islamophobia" that will only sustain and deepen entrenched customs.
Nevertheless, I know that LSM has put a huge amount of research into this piece and on the basis of its reliable information alone it is well worth reading and pondering deeply. I will not be surprised if it prompts a lively response.

FEMALE GENITAL MUTILATION: ITS ORIGINS, PERSISTENCE AND SPREAD
Despite modernisation, feminism, improving education and rising living-standards female genital mutilation (FGM) is flourishing where already established, re-emerging where once eradicated, and spreading to hitherto unaffected places – notably the West. By conservative estimate some 200,000,000 – one in twenty – women and girls alive today have undergone the procedure.
FGM involves one or more of 3 interventions that can be performed with varying degrees of severity:
clitoridectomy (amputation of the clitoris),
excision of the labia,
infibulation (sealing the vagina by grafting together opposing labia majora, leaving a small hole for urination and eventual menstruation).
Infibulation and excision usually also involve clitoridectomy. 'Sunnah Circumcision' is a rare procedure, analogous to male circumcision in that only the clitoral prepuce is removed. FGM is generally reserved for prepubescents, seven being the average age. Anaesthetics are seldom used, pain being an important part of the procedure.
Short-term consequences include severe pain, bleeding, shock, urinary retention, infections, injury to nearby genital tissue, and sometimes death. Contusions, dislocations and fractures can result from the girl's struggles against those restraining her (typically aunts or her mother).
Long-term consequences include chronic pain, pelvic infections, fistula, cysts, abscesses and ulcers, infections of the reproductive system, infertility, Post Traumatic Stress Disorder, frigidity and death. Infibulation can cause hematocolpos and chronic dysmenorrhea.
FGM increases complications during childbirth. Scar tissue resulting from excision and infibulation lacks the elasticity of healthy vulval and vaginal tissue, resulting in obstructed labour. One study found that a fifth of babies born to infibulated mothers died in child-birth, two-thirds experienced oxygen deprivation.
*
In his 1996 paper entitled "Ending Footbinding And Infibulation" American political scientist Gerry Mackie offers a coherent account of the origins and persistence of FGM, and proposes a means of eradicating it. According to Mackie both FGM and the Chinese practice of footbinding arose from the extreme polygyny that becomes possible where extreme wealth inequality prevails. Because the number of concubines (wives and sex slaves) one can keep is proportionate to one's wealth, extreme polygyny became a status symbol. Under these conditions, women can better attain the security and resources necessary for child-rearing as an elite man's nth wife than as a pauper's only wife. These conditions make hypergyny (females aspiring to marry into higher-ranking families) normative.
Mothers know that their children are indeed theirs; no man can be certain that a child he's raising is his own. Polygynous men's fidelity assurance problems are proportional to how many concubines they must keep faithful. Fidelity assurance measures include footbinding (which renders concubines housebound); domestic seclusion; gender segregation; veiling; arranged marriage (eliminating the risks to chastity attendant on socialising, choosing a partner and courtship); child marriage (before a girl can spoil her reputation); 'honour' codes (making 'unchastity' a life-and-death affair), and FGM.
Infibulation and excision promote fidelity by making penetration painful and dangerous. With infibulation, the resulting laceration and haemorrhaging also make penetration hard to conceal. FGM also promotes fidelity by instilling trauma-induced sex-negativity (hence the non-use of anaesthetics, even when available). FGM also acts similarly to slave-branding: teaching the child that submission and suffering (especially in sexual matters) are a woman's lot, and rendering her servile to the perpetrators (god, religion, community, family, husband). FGM is practised on girls when they are at their most receptive to such lessons: mid-childhood.
Polygynous males require fidelity not only in their concubines, but prospective concubines must also guarantee their fidelity and chastity to become their brides. Adopting  these practices is a way for non-elite families to make their daughters eligible for an elite marriage, and therefore improve their situation (and the lower-ranking the family, the more they have to gain by successful hypergyny). FGM tends to increase in severity over time, because polygyny creates competitive marriage-markets which push families to advertise their commitment to chastity and fidelity by engaging in more extreme interventions (vide sexual selection). FGM becomes normative, only the poorest families suffering the stigma of having uncut daughters.
*
Mackie postulates two 'traps' which explain the persistence of FGM beyond the above originating conditions.
Firstly: as FGM becomes normative it generates self-justifying narratives: female sexuality must be excessive to require such extreme restraints; uncut girls are unchaste, impure, unfaithful; FGM promotes hygiene, fertility and beauty; the clitoris, if it touches the baby during childbirth, or the husband during intercourse, will kill them; left uncut the clitoris will grow to the length of a goose neck. Such beliefs makes 'uncut' girls unmarriageable.
Because FGM tends to be universal in practising communities these beliefs remain untested: practitioners generally assume all women worldwide undergo FGM – and encountering uncut women (in person, or magazines, TV, films) does not test this belief since their genitals are hidden (and are rarely discussed).
Secondly: even parents free of such beliefs, who disapprove of FGM, conform because abstaining would result in their daughter remaining unmarried and stigmatised. They are caught in a trap similar to that of paedophiles, whose condition would be improved by mass 'coming out', but for whom 'going it alone' would be disastrous. In typical FGM-practising communities marriage is a girl's only route to security or status. Spinsters remain dependent on their family, or are condemned to begging or prostitution. In such circumstances not cutting one's daughter is as much an act of bad parenting as depriving a child of education is for Westerners.
The Chinese abandonment of footbinding shows how these 'traps' can be escaped: families formed local associations whose members publicly pledged to not bind their daughters' feet and (crucially) to only marry their sons to girls with natural feet. Soon, enough families had taken this pledge so that parents no longer feared that their daughters would remain unmarried if their feet weren't bound. This tipping point reached, abandonment became contagious. For example Tinghsien province went from a 94% binding-rate in 1899 to zero in 1919.
*
Geography (as in 'FGM is an African practice'), under-development, religion, and sexually-regressive attitudes and institutions have all been proposed as causes or aggravators of FGM. We can make a coarse-grained evaluation of these factors by comparing their distribution with that of FGM (follow hyperlinks for multivariate comparisons).
The following map reveals that FGM is not an 'African practice': most of Africa has very low FGM rates. Moreover, between a third and a half of FGM occurs outside Africa.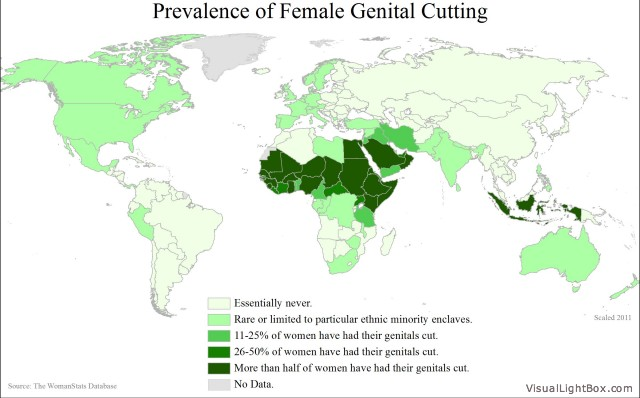 Development variables (such as poverty, education, health care, life expectancy) also correlate weakly with FGM.



Variables indicative of sexually-regressive institutions and attitudes (polygyny, dowries, child marriage, consanguineous marriage, forced marriage, sexual slavery, rape) correlate with, but also subsume, FGM.



The strongest correlate with FGM, and one which (I will argue) underlies the afore-listed regressive attitudes and practices, is that of Islam (compare Animism, Buddhism, Christianity, Hinduism, Judaism).



Mackie himself notes that "FGM is found only in or adjacent to Islamic groups".
*
Islam is the only religion which mentions FGM in its sacred texts. Moslems consider the Koran to be infallible and divinely-revealed. Equal in authority to the Koran is Mohammed's example and teachings as recorded in eyewitness accounts (Hadith). Collections of Hadith compiled by the Moslem scholars al-Bukhari and Muslim ibn al-Hajjaj are judged entirely reliable and authentic (sahih), and are indeed of high evidentiary quality. Many core Islamic practices and tenets – male genital mutilation (MGM), the Hajj, how to pray, the Five Pillars of Islam – are derived from the sahih Hadith.
While the Koran mentions neither FGM nor MGM explicitly, verse 30:30 prescribes them implicitly by commanding Moslems to:
"Adhere to the fitrah"
The Koran doesn't explain what 'fitrah' means; for that we turn to the Hadith (I note in bold the Arabic words used for 'circumcision'):
"[…] I heard [Mohammed] say: "The fitrah is five things […] circumcision [khitan], shaving the pubes, trimming the moustache, cutting the nails and plucking the armpit hairs."" Bukhari 77:106
Mohammed touches on FGM in three more Hadith ('sits amidst four parts' is a euphemism for sexual intercourse):
"[…Mohammed] said: When anyone sits amidst four parts (of the woman) and circumcised part [khitan] meets circumcised part [khitan] a ritual bath becomes obligatory." Muslim 3:684
"[…] A woman used to perform circumcision [khitan] in Medina. [Mohammed] said to her: Do not cut severely as that is better for a woman and more desirable for a husband." Sunan Abu Dawud 41:5251
"[…Mohammed] said: "Circumcision [khitan] is a law for men and a preservation of honour for women."" Ahmad Ibn Hanbal 5:75
Note that the above Hadith prescribes both MGM and FGM.
(There exists a fifth Hadith – the Hadith of Abdalla ibnu Umar – in which Mohammed enjoins the Medinan women to practice FGM. I have yet to see the actual text of this Hadith.)
Some Hadith report the practices not of Mohammed, but of his followers: they are therefore not 'Revelation', but are useful insofar as they inform us of what was normative amongst Mohammed's companions:
"[…] Umm al-Muhajir said, "I was captured with some girls from Byzantium. Uthman [a close companion of Mohammed] offered us Islam, but only myself and one other girl accepted Islam. Uthman said, 'Go trim them down [khifaad hma] and purify them.'"" Al-Adab Al-Mufrad 53:1245
"Umm Alqama related that when the daughters of Aisha's brother were circumcised [khitan], Aisha was asked, 'Shall we call someone to amuse them?' 'Yes,' she replied. Adi was sent for […]'" Al-Adab Al-Mufrad 53:1247
Note that several of these Hadith report purely female genital mutilation and that the word 'Khitan' is used for both FGM and MGM. Today, 'Khitan' is used only for MGM, leading some to mistakenly claim that the 'fitrah' and the 'four parts' Hadiths advocate only MGM.
*
Increasing globalisation and advancing women's rights have made the world more aware of, and concerned about FGM. These developments, and secularism, have penetrated the Islamic world, so that many Moslems are also uneasy about FGM. The most frequently-cited fatwa critical of FGM is Dr Ahmed Talib's (a former Dean of the Faculty of Shariah of Al Azhar university, Islam's most prestigious seat of scholarship).
"All practices of female circumcision and mutilation are crimes and have no relationship with Islam. Whether it involves the removal of the skin or the cutting of the flesh of the female genital organs…it is not an obligation in Islam." (2005)
The statement '[FGM] is not an obligation in Islam' actually boils down to 1/ FGM is allowed in Islam, and 2/ it can't be forbidden (for if it were he would have said so). Yet primed by his opening condemnations, his conclusion is easily misread as being prohibitory.
(The obfuscatory nature of his statement becomes clearer if one replaces 'FGM' with some equivalent act: '[rape] is not an obligation in Islam'. Moreover, most core precepts and practices of all religions/ideologies are not 'obligatory': Holy Communion is no less 'Christian' for not being obligatory; many forms of prayer are voluntary in Islam, but that makes them no less 'Islamic'.)
Dr Talib's prevarication results from his conscience being in conflict with Islamic jurisprudence, an axiom of which is that only that which god or Mohammed unambiguously forbade can be forbidden. As we saw earlier, Mohammed, far from forbidding, FGM, advocated it. This means that no school of Islamic jurisprudence (Sharia) can forbid FGM.
Not that Mohammed was shy about forbidding things. Compare Dr Talib's prevarication over FGM with a fatwa concerning alcohol:
"[Mohammed] cursed alcohol and the one who drinks it, the one who sells it, the one who buys it, the one who carries it, the one to whom it is carried, the one who consumes its price, the one who squeezes the grapes and the one for whom they are squeezed." Selling alcohol to kaafirs Islam Q&A 2000
One can only wonder how things would be different if Mohammed had similarly cursed and forbidden FGM.
Nor is Dr Talib correct in stating that FGM 'is not an obligation in Islam': Shafi'ism – one of the four schools of Sunni Islam (which constitutes 90% of Moslems) decrees FGM as obligatory (the other three schools recommend FGM as 'optional' or 'honourable'). Unsurprisingly FGM rates are highest under Shafi'ism (e.g. Somalia 98%).


*
"FGM/C [is] stubbornly resistant to change" Gerry Mackie (2009)
In 1996 Mackie predicted that pledge associations would accomplish FGM's eradication. Where tried, results have been disappointing, especially when compared to China's spectacular abandonment of footbinding. FGM is instead increasing in incidence, spreading to previously unaffected countries and reappearing where eradicated.
Why?
Firstly, Mackie assumes that the extreme polygyny that engenders FGM is no longer practiced. He overlooks that:
– Moslems can have up to four wives (which is arguably enough to require fidelity-assurance measures),
– neither the Koran nor the Hadith set a limit to how many sex-slaves a Moslem male may own (whose chastity must also be guaranteed). Sexual slavery is still common in the Islamic world – whether overt (Islamic State, Boko Haram etc.) or covert (Islamic grooming gangs in the West).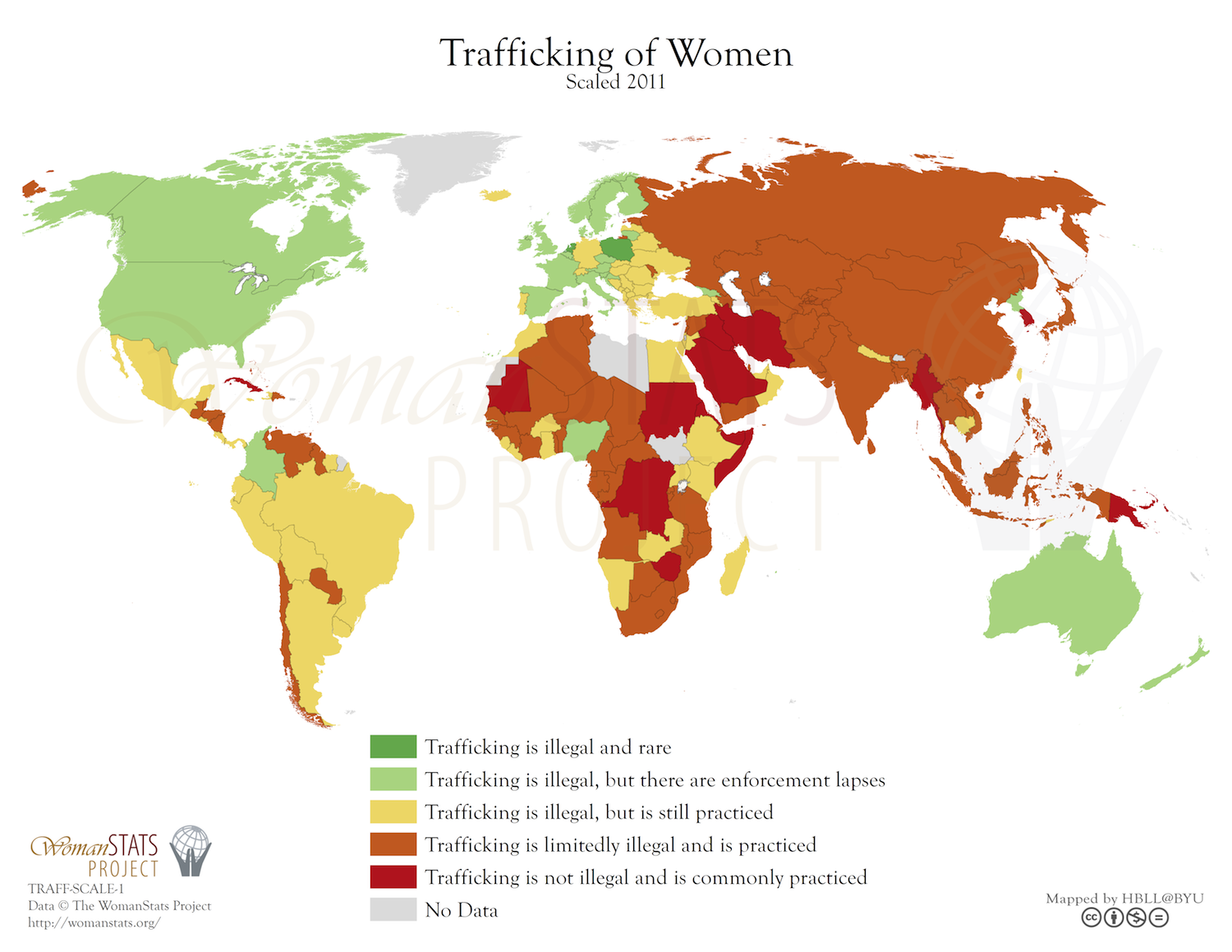 But the oversight that most limits the explanatory scope of Mackie's theory is that, unlike footbinding, FGM is not just a social convention but is also a religious practice.
There are two ways in which this religious dimension determines FGM's perpetuation, spread, and resistance to eradication: directly via doctrines favouring or allowing FGM, and indirectly via doctrines which create conditions where chastity protection measures may be necessary or useful.
Islamic doctrine engenders an obsession with preserving female pre-marital virginity, upon which depends the 'honour' of the girl, her family and clan. Women/girls are held responsible for not only their own sexual behaviour, but also that of men, including any sexual crimes committed against them. Shifting responsibility for male sexual violence from the perpetrators to the victims creates sexually violent societies in which chastity-control measures may be necessary.
Polygyny creates 'bride vacuums' amongst non-elite men that can be alleviated either through sexual violence, which increases the need for fidelity assurance measures such as FGM (see maps below) or by taking women from non-Moslem communities as sex slaves – engendering an expansionist dynamic which spreads Islam and FGM. As Islam expanded and subjugated new peoples it also sanctified any indigenous FGM it encountered, FGM that would have died out but for Islam's patronage.



Likewise bride-to-groom dowries place a financial value on a girl's chastity and reputation; and Sharia law makes it almost impossible for a woman or child to bring a prosecution for rape.
FGM was practised by Mohammed's tribe (the Banu Hashim) in pre-Islamic Arabia. Other tribes (notably Jews and Christians) didn't practise FGM. By integrating FGM into his new religion, rather than following the Jewish example and forbidding it, and by pronouncing his own example and teachings as divine revelation, Mohammed sanctified and eternised a practice that would otherwise have died out. Enshrined in its sacred texts, Islam became the ever-fecund wellspring of FGM.
The world history of FGM is essentially one of its eradication. In Mankind's early history FGM probably occurred world-wide, but sporadically where the precursors outlined by Mackie prevailed. However, it died out on exposure to monogamous kinship structures and the relatively advanced human rights of Graeco-Roman civilisation and Christianity. By resisting these, and by sanctifying FGM and the factors that engender it (polygyny and slavery – females captured for sex-slavery were infibulated), Islam has prevented this process from reaching completion, and consequently today defines the zones where FGM continues to flourish.


*
About 80% of FGM is attributable to Moslems. However it would be wrong to conclude from this that the remaining 20% is 'non-Islamic'. Virtually all non-Moslem FGM occurs under the aegis of Islam – either at the historical centres of the Islamic slave trade (Nigeria, Eritrea & Ethiopia, Kenya), or amongst religious minorities living in Islamic countries where FGM is normative and institutionalised.
These minorities, for centuries isolated from their religions' mainstream, have adopted the dominant community's practices, including FGM, in order to blend in and minimise discrimination and persecution. Though Moslem women can't marry outside their religion, Moslem men can (Mohammed married a Jewess). As marginalised and persecuted groups in Moslem-dominated societies, non-Moslems have much to gain by successful hypergyny and this incentivises non-Moslem families to adopt FGM.
The notable mass abandonments of FGM have occurred amongst minority non-Moslem practitioners, such as the Beta Israel Jews of Ethiopia; and the successes of the Pledge Association method reported by Mackie in his 2009 paper were Egyptian Copts and Ethiopian Orthodox Christians. Such groups, because not doctrinally shackled to the practice, readily abandon it when Pledge Associations make abandonment possible.
Compare this to Moslem practitioners who, on moving to non-Islamic countries where FGM is not normative, go to great lengths, to the point of breaking their adopted country's laws, in order to maintain the practice (see here, here & here).
*
Imagine a society that doesn't forbid, punish or even stigmatise murder, that instead tolerates, recommends, even commands it. Would it be surprising if that society were rife with murder?
Imagine societies defined by an ideology that, far from forbidding or stigmatising FGM, tolerates, praises, and commands it even. Should we surprised that such societies are rife with FGM?
Religions are keen to take credit for any good they can lay claim to, but should they not be held equally responsible for any ills they (knowingly or inadvertently) engender, aggravate or perpetuate?
If FGM is indeed un-Islamic then why, over its 1400 year existence, has Islam not even attempted to eliminate it, as it does all things 'un-Islamic', but instead tolerated, spread and promoted it?
Had Mohammed forbidden FGM (as he did alcohol and pork), or criticised it, or even just not mentioned it, FGM would have died out under Islam, as it has done under every other ideology, religion and social system. And the world would have been spared 1400 years-worth of the practice.
No problem is resolvable whose causes remain unaddressed. Pointing out the causal links between Islam and FGM has become taboo, dismissed as a symptom of a 'phobia'. This taboo will ensure FGM's continued flourishing and spread. Establishing a discourse around FGM that is free of taboos, insults and imputed motives is the crucial first step in resisting the growing ascendancy of FGM. It is a first step each one of us can take.