With a single bound he was free. So was she. What about they?
HE is Thomas Hubbard, professor of classics at the University of Texas, Austin, who resigned after campus protests and a mob attack on his home provoked by a disgruntled student who used his scholarship on pederasty in ancient Greece and his discussion of boy love in modern times to brand him a paedophile and call for his sacking. He left the city to live somewhere more congenial, sued for defamation, won a handsome financial settlement, and now heads the prestigious William A Percy Foundation for Social and Historical Studies.
SHE is Kathleen Stock, a philosophy professor at the University of Sussex, who resigned after coming under comparable hostility, this time from radical trans activists. While empathising with trans people, her sin was to challenge the view that it is possible to change sex, as opposed to gender. Biologists in general agree with her: physical intersex conditions and sex-change operations make no difference to the fact that sex in fundamentally binary. She too, has fallen on her feet. She has just accepted an offer to join the recently announced new University of Austin, which proclaims that it will be dedicated to academic freedom. Ironically, this new institution is in Austin, Texas, the very place Tom Hubbard had been hounded out of.
THEY is (are? Sorry, can't get the hang of these newfangled pronouns) Allyn Walker, a transgender assistant professor of sociology and criminal justice at Old Dominion University (ODU), Norfolk, Virginia, who was placed on "administrative leave" last week after a social media storm and rightwing news coverage (a graphic on Tucker Carlson Tonight read "THE LEFT'S DEPRAVED NEW LOW"), followed by campus protests calling for their sacking. This furore had been triggered following an interview Walker gave with Prostasia, in which they expressed the view that the stigma to which MAPs are subjected, not least through hostile use of the word "paedophile", is unhelpful for the protection of children. What is going to become of Walker now that life on campus has become unsafe for them, a point no one disputes? The university president has been despicably unsupportive and would clearly love to see Walker walk. Maybe they should indeed vote with their feet and apply for a post at the University of Austin – or even the William A Percy Foundation! The world could be their oyster!
That said, this is a fast moving story. It is conceivable Walker could be terminated. Just one day after the Daily Mail ran a lengthy story headed "Trans university professor sparks fury after claiming sexual attraction to children isn't always immoral", they dropped another blockbuster titled "Fury as Old Dominion university REFUSES to fire trans professor who said pedophiles can't help their urges and should be given child sex dolls". Walker actually said more or less the opposite: most paedophiles can control their "urges" and their behaviour but, like everyone else, they have no choice as to their sexual orientation. But, hey, that's the mendacious Mail for you!
The sex dolls bit was lifted from Walker's PhD, a juicy attack line the sluggardly American media have been slow to catch up with. Their focus has so far been on the Prostasia interview and a book by Walker that gave rise to it: A Long, Dark Shadow: Minor-Attracted People and Their Pursuit of Dignity – brought out, incidentally, by the University of California Press, a point little mentioned in all the smear stories. Makes sense. Naming this prestigious publisher would confer respectability on the author, and they would not want that.
While media pressure alone, especially an ocean away from Virginia, would be unlikely to precipitate Walker's culling, the old guard at Old Dominion appear to have no more than the shakiest of grasps on the importance of freedom within the intellectual community – vital for study, discussion, and research undertaken without fear of jobs being in peril for saying "the wrong thing". Or, more likely, most of the old guard do understand the principle but the top priority of the people in charge these days, now there are so many universities competing for undergraduates, is to keep these student "customers" happy by doing what they say and giving them what they want – which may not always be the same thing as providing a worthwhile education that challenges their preconceptions.
The shakiest grasp of all in this case might well be that of the ODU's president, Brian Hemphill. Following the university's official statement, which had itself failed to give robust support to Walker, he sent his own personal email to faculty, students and staff, saying:
Many individuals have shared with me the view that the phrase "minor-attracted people" is inappropriate and should not be utilized as a euphemism for behavior that is illegal, morally unacceptable, and profoundly damaging. It is important to call pedophilia what it is. As a father, I am troubled by this narrative and its potential consequences for my children and that of future generations.
In other words, he goes out of his way to distance himself from Walker and their ideas – grossly misrepresenting them in the process – rather than offering any backing.
Even worse, arguably, a statement made by the "As(t*)erisk Trans* Student Advisory Board," failed to express any solidarity with their beleaguered trans colleague. Instead, they released a statement denouncing the "misappropriation of exclusively queer experiences" in Walker's book, saying that the controversy generated by the author's research "innately included and simultaneously maligned [the trans community] without our consent."
Tom Hubbard's response on Sexnet totally nails it:
Apparently the inclusive asterisk doesn't include Allyn Walker. As usual, the people who most ostentatiously advertise their allegiance to diversity and inclusion are the first to engage in ideological purges of anyone they choose to label as deviant….

What are "exclusively queer experiences"? I thought the point of the term "queer" was to be inclusive of any sexual orientation that differs from the social norm. Doesn't the acronym LGBTQIA+ suggest the opposite of "exclusive"?….

I also don't understand the phrase "innately included and simultaneously maligned [the trans community] without our consent"… Who is authorized to give consent on behalf of the whole trans community? It is a highly diverse set of individuals ranging from self-identified autogynephiles to people who deny that there is such a thing. "Innately included"? I thought the trans activists were against the idea that sex is innate. These people are scarcely even literate, let alone logical.
As I said, though, it's a fast moving story, and elsewhere on the battlefield the news is not as bleak. We are beginning to see a welcome rallying around to Walker's cause. The most visible signs, so far, have been in the American higher education media, where there have been strong statements of support from academic figures.
Adam B. Steinbaugh, a program director at the Foundation for Individual Rights in Education, said FIRE is "concerned by the deteriorating situation at ODU." Noting that there had been credible threats of violence against Walker – who was given an armed guard before being sent on leave – he said the appropriate response to "unpopular, controversial or dissenting speech" is to "punish those who are attempting to silence a speaker through threats, not silence the speaker on the threateners' behalf."
Those silenced by the bullies tend to include not just the controversial speakers themselves, of course, but also well-wishers who may have much to lose by offering public support. So it has been encouraging to learn that Jezebel, an online culture/lifestyle magazine with a feminist slant, ran a good article on the controversy at the weekend, putting the record straight on Walker's work, with input directly from an interview with the central figure. Walker took the opportunity to reveal to Jezebel that they had received an "outpouring" of support in the wake of the storm.
The latest development, as I write, is that support has also been rallying behind the scenes among academics who are set to go public. A letter backing Walker, their work, and freedom of expression in higher education, has been drafted, circulated, and signed by sympathetic researchers. A copy of this letter was circulated on Sexnet, so I saw it at the weekend. A well-crafted piece of work, it is scheduled to plonk down with considerable heft into President Hemphill's in-tray this morning (of which there is about two hours left, US Eastern Standard Time, as I write). So there's some bang up-to-the-minute news for y'all heretics here that I knew before he did!
Now, I said the letter is well crafted but I will not be adding my name to it. For one thing, although I have well over 100 academic citations for my books and academic papers, I would be only dubiously qualified as a "researcher" within the intended terms. Also, as an even more controversial figure than Walker, I would not wish to embarrass or compromise anyone by appearing among the signatories.
More fundamentally, though, I do not support one important aspect of the impression the letter gives. I hope it has long been clear to regular readers of Heretic TOC that I am passionately opposed to any form of child abuse, including coerced and manipulative sexual contacts. However, the letter emphatically and repeatedly repudiates "child sexual abuse" (CSA) without ever defining the term, leaving the strong impression it is thought there could never be any positively experienced child-adult sexual contact – a stance that echoes the line taken by Walker themself in his Prostasia interview. Although I could sign the letter with no overt dishonesty, by contenting myself with the thought that my definition of CSA would exclude consensual contacts, I would not be comfortable to leave readers with the impression that I was some sort of "virtuous" anti-contact MAP.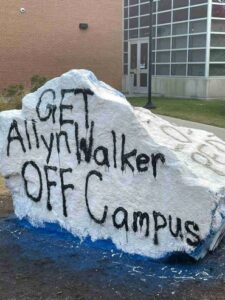 So I am very pleased to see action being taken in defence of academic freedom, along with what I hope will be morale-boosting support for Allyn Walker as an embattled individual, but I have major reservations about their work. Based on descriptions of this work in the Prostasia interview, I will not be rushing to read the book. I have heard it is well written, with some interesting content, so I don't want to be too harsh; but there is plenty of reason to believe it is hardly as ground-breaking or daring as all the fuss suggests.
Bear in mind that even Virtuous Pedophiles has been widely trashed in the social media as a front organisation for active "abusers", "child rapists", etc.; it is not necessary to be genuinely radical or "outrageous" to be painted that way. Bigotry far outweighs facts in this regard, sadly. Even after the Trump presidency, the sheer blatancy of this "Who cares about evidence?", "Who cares about facts?", approach to public discourse never ceases to amaze me.
Walker's line comes across to me as so timid, bland, and boring that even now I struggle to see why it should be controversial. At its heart, they are just saying that if people stay within the law they should not be pilloried as though they were brutal criminals, and that people are responsible for their behaviour but not for what they find attractive. These mild suggestions are so tepid they should be sending folks to sleep, not riling them up.
The difference between my understanding and that of the angry dudes is best explained, I guess, by cynicism. I had not appreciated how deep it runs until encountering a very revealing anecdote from the Prostasia interview:
So I remember a professor of mine asking about my research. And when I said I was studying people who are attracted to children who don't commit offenses, he said, "Oh, okay, so sex offenders." And I clarify, no, they have attractions to minors, but they haven't committed an act of sexual abuse. And he said, "Right sex offenders." He just could not comprehend the population that I was talking about.
Could not comprehend? Or cynically refused to believe? This is a professor we are talking about, not a village idiot, so I am guessing the latter. The big problem for the virtuous brigade is that self-proclaimed virtue is not the most credible kind. So why set out your stall on that basis?
Much more encouraging than anything I have so far heard from or about Walker, in my view, is a short but genuinely radical point made in favour of academic freedom in the wake of their removal from the ODU campus. It was made by Eugene Volokh, a distinguished law professor whose law review articles have been cited by opinions in eight US Supreme Court cases and thousands of scholarly articles. In his influential blog The Volokh Conspiracy (love the title!), he wrote, "I should note that even advocacy of legalizing such [child-adult] sex is likewise protected by academic freedom principles."
That's the spirit, prof!
STILL FAST MOVING…
This fast moving story has just moved fast again.
Word reached me via Sexnet this evening (24 Nov.) that Allyn Walker has today announced their resignation. Very soon after, a news report was put out by Associated Press.
Here is the start of the joint statement issued by Old Dominion University and Dr. Walker:
Today, Old Dominion University and Dr. Allyn Walker are announcing that Dr. Walker has decided to step down from their position as assistant professor of sociology and criminal justice at the expiration of their current contract in May 2022. Dr. Walker will remain on leave until that time.
Walker is quoted directly:
"My scholarship aims to prevent child sexual abuse," Dr. Walker said. "That research was mischaracterized by some in the media and online, partly on the basis of my trans identity. As a result, multiple threats were made against me and the campus community generally. I want to thank Old Dominion University for giving me the opportunity to teach and to conduct my research, and the ODU Department of Public Safety for monitoring the threats against me and the community."

"I am particularly grateful for the outpouring of support from many among the ODU community, as well as others in my research fields who have publicly affirmed the value of my work in advancing child safety. My Department Chair, Mona Danner, my colleagues, and my students all have been especially supportive. And, finally, I am thankful for the assistance of the Foundation for Individual Rights in Education (FIRE) during this time."
So, what to make of this?
Walker's apparent lack of anger suggests they may have been offered a generous severance payment. I hope so, because another job could be hard to come by in the circumstances. The new University of Austin is probably the best chance, but it is no means a given that this would be a practical option, especially at this early stage of the university's planning.
So, can we really say, "With a single bound they were free"?
Not really. Only time will tell.