Friendship needs no marketing campaign. Its benefits are obvious.
How about "friends with benefits"? We probably have in mind an adult scenario: sex without a committed relationship between friends who trust each other not to foul up anyone's marriage, or whatever. Not just a hook-up: more caring and personal. Sounds good, albeit not a MAP thing.
Or is it? Actually, it is massively an intergenerational phenomenon. It is just that we haven't been talking in these terms. We can begin to now, though, thanks to the fascinating findings of an overlooked research paper dug up and posted recently in the comments section here by "Prue", one of our most erudite contributors. This is an article by Sylvester Madu and Karl Peltzer in the Archives of Sexual Behavior of 2001, titled "Prevalence and Patterns of Child Sexual Abuse and Victim-Perpetrator Relationship Among Secondary School Students in the Northern Province (South Africa)".
Doesn't sound too promising, does it? There's the unscientific "CSA" construct, the hopelessly negative "victim-perpetrator" language, and the apparent irrelevance to developed societies such as our own in the UK of findings from far away and still exotic South Africa. Not even modern, urban South Africa at that, but "Northern Province", wherever that might be. As it turns out, it is just south of Zimbabwe, on the southern side of the Limpopo River, which forms the national border. It has been known since 2002 as Limpopo province.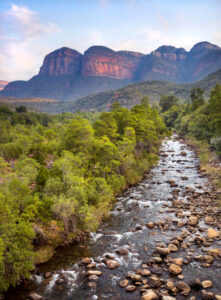 The human geography is more important to us than the physical kind, though, as we will see; but for now let's turn to the research itself, including eye-popping findings in which friendship with benefits plays a startling role.
This was a survey of 414 secondary school students. These were students who had finished their primary and secondary schooling and had moved on; they were now in grades classed as further education and training. This meant they were over 16 but not likely to be much older. They completed a questionnaire that asked about sexual encounters they'd had with someone at least five years older before they were 16, the usual definition of CSA. Results were measured separately for three kinds of sexual activity: kissing, touching, and intercourse (oral/anal/vaginal). Among those students reporting one or more of these things, 86.7% were kissed sexually, 60.9% were touched sexually, and 28.9% had experienced oral/anal/vaginal intercourse. The results showed an overall "CSA" prevalence rate of 54.2%, with 60% for males and 53.2% for females.
Those familiar with prevalence surveys may already have spotted that these results are unusual. The high percentage of boys compared to girls is striking, as is the very high overall level of encounters. But the most interesting findings emerge towards the end of the Abstract:
"Friend" was the highest indicated perpetrator in all patterns of sexual abuse. Many victims (86.7%) perceived themselves as not sexually abused as a child, and many (50.2%) rated their childhood as "very happy."
The real stunner, obviously, is that despite all the talk of "abuse" and "victims", as many as 17 out of every 20 so-called victims did not feel they had been abused, and therefore cannot have seen themselves as victims. Fully in accordance with this perception, at least half of them said they had been "very happy".
There are shrieking contradictions here, are there not, between the researchers' assumptions and definitions on the one hand and the truth of the matter on the other?
But what is truth, as they say? It is an elusive business. So we need not be surprised to find that instead of just ditching their false assumptions and failed theory, the researchers proceeded to bend over backwards in a desperate effort to reconcile their dogma with realities that uncomfortably threatened their entire philosophy of human intimacy and – perhaps even worse for them –  their comfortable careers as intelligence officers in the war against imaginary sex crimes.
Let's see how they did it.
Sensibly enough, they start with some reasonable points about the exceptional nature of the province, focused on the human geography briefly mentioned above. They note that in Northern Province (Limpopo) many parents work as migrant laborers, either in other provinces or at places far away from their homes. As a result, they say, many children are left either alone at home during the weekdays after school or with nannies and grandparents, "who may not give them proper care". Thus, it is suggested, the children "are vulnerable to sexual abuse from opportunistic perpetrators". What they mean by "proper care", of course, is what youth liberationists might call oppressive surveillance and control.
Responding to the high prevalence rate of "abuse" among the male subjects (60%), they suggest that "absence of the adult male (who is working as a migrant laborer) in many families and the frequent single parenthood in the society contribute to adult females abusing boys". They could definitely be onto something with this one. Totally contrary to the dictates of feminist victimological theory, it makes no sense to insist that boys who have sex with women must necessarily be seen as victims: many of them are wildly enthusiastic and can hardly believe their luck when it happens – as has been demonstrated empirically in developed-world studies much bigger than this African one, notably in the famous work of Bruce Rind and his colleagues, which I will be turning to shortly.
The human geography of Limpopo also includes village dwelling as opposed to urban life, and the ethnic composition of the population. Conducted in three different schools with the aim of capturing such differences in a representative way, the survey found a higher rate of urban "abuse" (62.8%) than rural (53.1%). The authors felt the stronger family and social ties experienced in the rural setting (theoretically enabling more "proper care") could have accounted for this lower rate. The same control factor, they felt, also explained a lower rate of "abuse" among blacks (51.2%) than whites (76.5%). These explanations are plausible, but less significant than the unmentioned elephant in the room: once "off the leash", whether through migrant parental absence or whatever, children have no inbuilt distaste for sexual contact with adults.
Having made a reasonable stab at accounting for the high prevalence rates, the authors fare less well when trying to explain away the students' lack of perceived victimhood. They write:
One may also speculate that many participants who indicated "friend" as the perpetrator may have decided to ignore our age criterion for perpetrators and indicated all forms of childhood sexual relationship with a friend or some of the participants may have written the word "friend" to mean an "acquaintance" (as some people in the area colloquially use it).
But why would they ignore the age criterion? And might not an older person who was initially a mere acquaintance become a real friend in the course of a relationship? No answers are offered, which is strikingly remiss given the very happy childhoods experienced by many of these youngsters and their perception that they had not been "abused". Apparently in desperation, the authors finally conclude that this perception "may be because of inclusion of many trivial incidents".
Trivial? Well, there are plenty of male old dinosaurs who still do not see a stolen kiss or squeeze of the backside as any great crime, still less when such acts are welcome or invited. But within the abuse industry, even two decades ago when this study was published, this claim that any act defined as CSA was "trivial" must have raised a few eyebrows. And now, in the wake of #MeToo, one suspects they would be drummed out of the business for such heresy.
Good researchers acknowledge the limitations of their study. These authors, Madu and Peltzer, have dutifully done so, making a number of good points, including their politically incorrect one about "trivial incidents". The inclusion of very mild "abuse" would definitely explain why some acts were not seen as abuse by the students, but by no means all or most acts were of this kind. As well as "sexual kissing" at the mild end, experienced by 86.7% of "victims", 60.9% had been touched sexually, and 28.9% had been engaged in oral, anal, or vaginal intercourse. Of the intercourse, 7.1% said force had been used – with the implication that well over nine out of 10 of these "non-trivial" encounters (92.9%) had been unforced, with no indication that they had been coerced in any way or that the child had been other than a fully willing participant.
In view of the amazing findings of this study, it makes sense to ask what the wider research community made of it. Was it discarded and allowed to lapse into obscurity because of some scandal relating to data fabrication by the authors, or exposure of faulty research methods?
Absolutely not. The paper was properly peer-reviewed in a leading academic journal. The authors themselves have gone on to become senior figures: Madu is a professor with over 1,500 citations to his name; Peltzer's publication record is even more impressive, with over 20,000 cites. This particular paper has been cited 138 times on Google Scholar. Most of them turn out on inspection to be not very relevant but about a dozen are: these are the ones that delve in some detail into the findings. None of them take serious issue with the research methods or express doubts over the findings so far as I can see – and I looked pretty closely.
So this paper belongs in the mainstream of the literature; it is canonical. What's more, it is an improvement on many retrospective CSA studies by virtue of the fact that it is one of a relatively small number of studies that have asked youngsters of school age directly about their experiences, while their memories are still fresh and they have not had their feelings about it bent out of shape by anti-CSA propaganda in the media and elsewhere over years or even decades, as is likely in the case of studies undertaken deep into adulthood.
This same advantage, from kids responding directly, was seen in the Finnish Child Victim Survey on which Heretic TOC reported earlier this year. Heretics here may remember that this survey was studied by Bruce Rind, mentioned above, who highlighted the children's strongly positive perceptions of their experiences – which we can now see should not have come as a great surprise bearing in mind the earlier data from far-away Limpopo.
I hope some readers will re-read that earlier blog, titled "Stunning comeback for a great champ", to make their own comparisons. One striking feature of similarity between the Finnish findings and the South African ones, is that children in both studies identified some of the so-called "perpetrators" as "friends", and that when they did so the positivity expressed was considerably higher than when this was not the case. So, "friends with benefits" indeed!
CHESS PRODIGY MAKES HIS MARK
Eight-year-old Maksym Kryshtafor, a Ukrainian refugee now living with his mother in England, has lost no time making his mark here. Just four days after arriving in the country he defeated adult competition to win a chess tournament in Darlington, picking up a £400 prize.
Maksym lived in Odesa, southern Ukraine. He and his mum Iryna fled to Romania shortly after the war broke out in February. Just days before the annual competition was held, they were brought to the UK by North Yorkshire chess enthusiast Paul Townsend as part of the UK Homes for Ukraine scheme. They are now living with Paul and his family near Harrogate and Maksym has been enrolled in a local primary school.
Maksym is the current Ukrainian Under-8 Champion and defeated experienced North East players winning all five games he played at the event, as reported in local paper the Chronicle, Newcastle. But his fame didn't end there. There has also been an absolutely huge write-up in the New York Times, with over a dozen photos of the winsome young talent!
Maksym's success in this event brought back memories for me. I used to live near where it took place, in Darlington, County Durham, and played for a club in the county. Like Maksym, I took part in the Durham Chess Congress, in my case about 15 years ago when it was held in the city of Durham.
Unlike Maksym, alas, I did not win my event. I did manage to beat the winner of a similar congress held a few weeks earlier, but among my less successful games was one against another child prodigy, a charming boy aged about 10. My excuse is that I must have been somewhat distracted!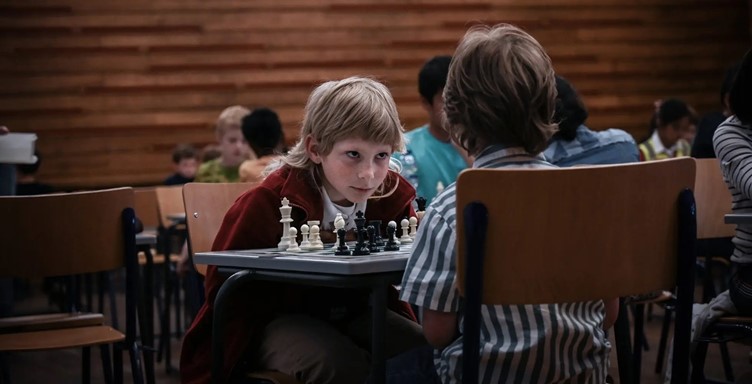 JUST WHEN YOU FELT SAFE…
By now you have probably begun to relax, feeling you have landed safely in a royalty-free zone, secure in your belief that you won't be triggered by endless blather about duty, service, successions, ceremonies, salutes, funerals, etc.
No such luck! My childhood role as a chronicler of our monarchy's history cannot be ignored (or not on my own blog at any rate! 😊) I started life in August 1945 as a little Georgian, not an Elizabethan, and was six and a half when the old king died. A school exercise book still in my possession reminds me that I loyally recorded the date of his funeral and burial with my own unskilled hand and hit-and-miss spelling. But I definitely got the date right, as the official order of service shows. See photos below.