Old soldiers never die,
Never die, never die,
Old soldiers never die,
They just fade away.
The earliest version of this song is said to date back to the First World War. I don't go back that far, but at 77 I am getting on a bit, and after Heretic TOC arrived at its 10th anniversary earlier this week, the time has come to take a serious look at what the future holds.
Mercifully, I feel in remarkably good nick for my age, both physically and mentally. So, who knows, I might go on fading so slowly you'd hardly notice for another decade, or even two. Or not. None of us knows when our luck will run out, and when the odds start turning against us it makes sense to plan for change.
I'll come back to that. But first, let's celebrate that birthday. Ten years is a long survival time for any personal blog, especially one that faces constant threats to its existence from hostile forces, and is never going to attract corporate sponsorship or other easy monetisation to cover expenses.
Yet over this time Heretic TOC has not just survived, but thrived, steadily increasing its readership throughout. Today's blog is the 270th. Just let that sink in: hundreds of chunky essays. As a student, in the laid-back 1960s, I was just as bone idle as  many of my friends, preferring to booze and party my way through uni, rather than do any actual studying. Essays were a dreaded imposition, not something to be tackled voluntarily. So it is still weird to me that I ever became an enthusiastic writer.
As a newspaper journalist, which was the trade I turned to after MAP issues terminated my short teaching career, I found it satisfying to see my work in print, especially after turning from news reporting to feature writing, which offered more scope for personal expression. But the strongest motivation to write, I find, comes from reader engagement, which Heretic TOC readers have given in spades. This is what gives a blog its life, its sense of purpose.
The extent of this engagement may be judged from the fact that there have been well over a million and a half words of readers' comment, in over 17,000 published reader contributions, a great many of which have been well argued and exceedingly well informed: I learn a lot from your posts. Overwhelmingly, they have also been courteous and good-humoured, putting to shame the abysmal "hellscape" that prevails elsewhere in the social media. Look, Elon Musk, and learn!
The readership has also been the source of many excellent guest blogs, most of them coming from regular commentators. Nearly all of these have been thoroughgoing heretics like me, albeit sometimes coming from very different angles, offering fresh perspectives. Non-heretics, notably VirPed, have also been given a platform. Rather than keeping this as a "safe space" where we block our ears against the hateful slanders spat constantly our way, we do well to debate with anyone who has a halfway coherent argument and reasonably good manners. It can be unpleasant to have our views and good faith challenged by those we feel should be on our side, but it keeps us real.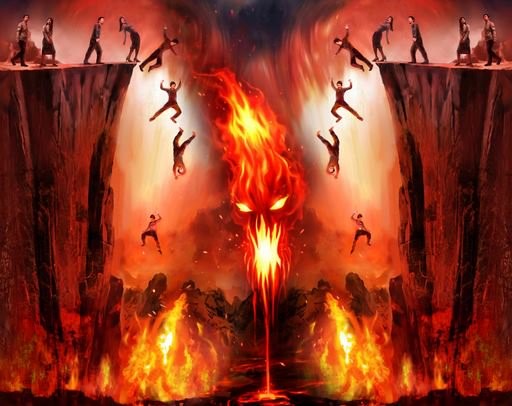 Another key aspect of Heretic TOC's resilience over the years has been that it does not stand alone. I may appear to be just one guy voicing a personal opinion, one of the last men standing, as it were, following the collapse of organised radical MAP groups around the world under pressure from hostile surveillance and policing over the course of several decades. But things have moved on in more positive ways as well. Rather than being choked off into silence, a tremendous diversity of MAP voices are beginning to find expression through an increasingly rich ecology of online social media output, with young contributors bringing great messaging skills to bear, in which graphics, animations, podcasts, etc., are reaching out to a much wider audience than I could hope to find with my clunky slabs of text.
Discerning MAPs, though, still have an appetite for formal argument backed by substantial scholarship. Heretic's TOC's place in the free market of ideas is bound to be confined to a rather nerdy minority of a minority, a slim niche within a niche; but within these constraints the stats for page hits have always been healthy and have seen a marked upward trend this year, since becoming well established on an independent hosting platform. Hits were up by a third in October from just three months earlier, and now stand at over 20,000 per month.
This could not have happened without support from the MAP community at two critical points in the history of Heretic TOC. One was seven years ago at a very trying time – literally so, when I faced a trial and likely prison sentence in an "historic" case on which I reported. Financial pledges from Heretic TOC readers and generous leading figures in the wider community were absolutely vital in making sure I could cope with legal costs when it looked as though I would be unable to get state legal aid. Hotel bills and travel expenses necessarily incurred to attend numerous hearings at courts far from home were also taken care of, enabling me and my legal team to focus on (successfully) dodging the bullet. That is solidarity. That is community in action. I will be forever in the debt of those who stood with me.
The second crisis came a couple of years ago when Heretic TOC was kicked off the wordpress.com blogging platform following hostile media coverage. This time key figures in the community rallied round not only financially but also with extensive technical help and advice, thereby securing a new host, a handsome makeover of the blog's appearance, and enhanced functionality, so no more comment threads getting ever narrower with each new comment! Remember that? 🙂 Again, my heartfelt thanks to all concerned.
Turning now to the future, Heretic TOC will need to become far less dependent on me. Rather than just go on blogging until I drop, or until heretics start finding better places to hang out, I see the focus of my energies shifting towards more academic work in such years of writing as remain to me – that and "putting my affairs in order", a phrase which usually means rich people deciding who gets the money when they go, but in my impecunious case means something more like sorting the wheat from the chaff of my ye olde parchments from the last century, noting what might be of some interest to MAP chroniclers.
I do not intend to disappear suddenly from the fray, like a soldier shot on the battlefield. I hope to find time for more blogs, but they will be less frequent. There may be something of the old soldier fading away but I hope the change will seem more like the intensely busy CEO who steps up into a less energetic oversight role in later years, when they move up to become chairman of the board.
So what I hope to see is more guest bloggers to continue the mission set out in Heretic TOC's About page i.e. presenting a "discourse of resistance" to "the dominant narrative" of sexual morality. Individual bloggers will have their own styles. I do not expect and would not want a clone of myself, but I hope they will continue the tradition of "humour and cheerfulness" along with "reason and research". I see my role on the site, going forward, as primarily that of editor and resource developer, building the website as a multi-page reference resource, in which, among much else, the back catalogue of blogs is properly indexed and made attractively visible.
One specific offsite project I have in mind  is bring out a paperback book next year featuring maybe 20-30 of what I feel are the best blogs of the last ten years, including some of the best comments and discussion threads. Combined with an original introduction written by me, outlining the purpose and history of the blog, I hope those readers who still have bookshelves in this digital age will be attracted to the idea of a souvenir edition gracing their home – or disgracing it, perhaps, in the eyes of the many shockable friends, relatives, LEA, carpet fitters, etc., who might see it. Fortunately, the expectation is not that this will be a best seller. The idea, rather, is to lay down something in a relatively permanent format, which would find a place in the British Library. So this would be for posterity, if you will. It is entirely likely that posterity will take no interest whatever, but one can live in hope!
Before the book, though, in the remainder of this year, it looks unlikely that I will be able to blog again. That is because I have been invited to make a substantial contribution to a book in the field of ethics, and I need to focus on that between now and Christmas. Sorry about that. But, hey, guest bloggers, here's your cue: time to get scribbling!
HISTORIAN OF PEDERASTY BILL PERCY DIES
Word has reached me that historian William Armstrong Percy III, best known to MAPs, and more specifically BLs, for his book Pederasty and Pedagogy in Archaic Greece, died late last month at the age of 88.
His passing is particularly sad for me for several reasons. I must have read his pederasty book not long after its publication in 1996, when I was struck by its refreshing lack of moralising against boy-love in the ancient world, including Crete, where he theorised that institutionalised pederasty originated, and in classical Athens, Sparta and other Greek city states. I was even more impressed when I heard him fearlessly defend the Greeks' enthusiasm for boys in a radio interview. It was almost as though he couldn't care less that he was saying anything "scandalous", or even relished the potential controversy.
So when I needed scholarly reviewers to give pre-publication endorsements for my book Michael Jackson's Dangerous Liaisons, he came to mind as one of the few people brave enough for such a task. Luckily for me, he read the book, said he loved it, and gave me a great review snippet that went on the end-page, along with his title: professor, University of Massachusetts, Boston. And on the strength of his keenness on my work, he soon after recruited me in a writing and research capacity on several of his projects. He paid handsomely, and our collaboration lasted for a number of years before age and infirmity put an end to his historical writing.
I never met Bill, but we must have spent dozens of hours on the phone talking about history, politics, and much else, in transatlantic conversations that went on long after the paid work dried up. We had become friends, in other words, and I would have taken up his offer to stay at his place in Boston but for the knowledge that I would never be allowed to enter the United States these days.
Bill was a larger than life character who was always a joy to talk with. His conversation was provocative, lively, and often outrageously politically incorrect. In the earlier part of his career he had fallen foul of anti-gay prejudice, when he had posts at universities in the Deep South, but survived to become a prominent gay activist in more liberal Boston. A significant landmark in that regard was his joint editorship, with Warren Johansson, of the Encyclopedia of Homosexuality.
From a wealthy family, he had substantial personal assets of his own which enabled him late in life to establish the William A. Percy Foundation for Social and Historical Studies, of which classicist Professor Thomas Hubbard is now the director – Tom himself has been outspoken in his honest scholarship on pederasty, as you may recall from his eventually embattled position at the University of Texas, which I blogged about at the time. Another part of Bill's legacy is a personal website, still extant as I write,  which includes biographical notes on gay and BL activists and much else of interest.
An official announcement of Bill's death has been made here. I am sure obituaries and tributes in the gay press and elsewhere will be appearing soon.
JIMMY CARR DESTROYS BROADCASTING STANDARDS
Did anybody see Jimmy Carr Destroys Art? This was a Channel 4 TV show with reviews ranging all the way from "moronic" to "pathetic". But that was the MSM view, so could it actually have been rather good, like the widely panned Brass Eye special on paedophilia, now regarded as a classic?
Comedian Jimmy Carr, more famous as a notorious tax dodger than for making people laugh, didn't have me doubled up with mirth, but that was not the point on this occasion. This was meant to be a provocation, an incitement to serious thought, or downright outrage, depending on your taste and values.
At this level it could hardly have failed because the provocation in question was massively controversial: original art, acquired at considerable expense by the programme makers, with work by some seriously famous figures, including Picasso, stood to be destroyed during the show, after a short debate, if the audience decided to "cancel" the artist based on disapproval of their private lives.
No surprise, then, that works by nonce artists Rolf Harris and Eric Gill were up for shredding, or burning. So far so tacky. There's no way these dodgy dudes can survive the audience's wrath, is there? So isn't it just shooting fish in a barrel? Well, no. The admittedly rather clever if vile bit is that these two wrong'uns are pitted against each other in a sort of gladiatorial sword fight between two pervy penises.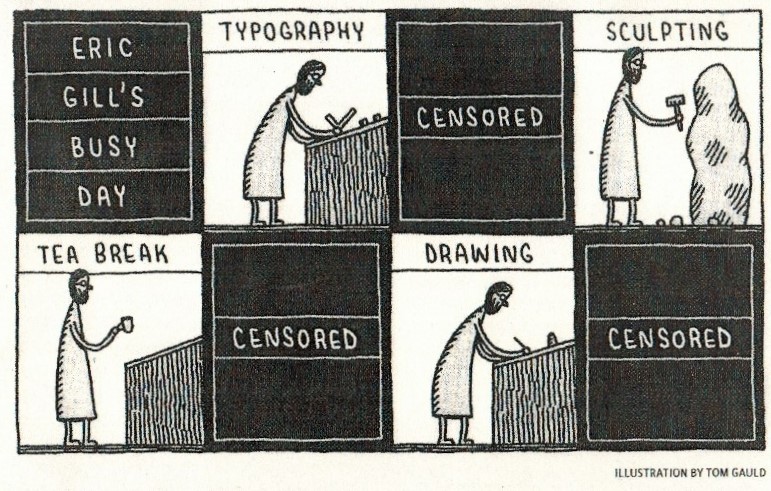 Guess who wins! Will it be Rolph, who had a bit of a thing for teenage girls (no big deal) and was once a national treasure but whose art, to put it charitably, is undistinguished? Or will it be Eric, hailed as the greatest artist-craftsman of the twentieth century, but who had sex with his prepubertal daughters and shagged the family dog for good measure?
Well, it's a no brainer, isn't it? No brains in the studio audience, that is, or nothing in their heads to deter them from cultural vandalism: obviously, Gill had to go! Sadly, it seems this bunch of clowns had failed to read and learn from my defence of Gill back in January. That came after a hammer-wielding philistine attacked his Prospero and Ariel, the best known of the artist's sculptured group of figures that graces the BBC's Broadcasting House in London. See Heretic TOC downpage item Why didn't they shoot this philistine?
What a terrible disaster for broadcasting standards! However could the programme commissioners possibly have judged that the destruction of real works of art could be justified in the name of vulgar entertainment? – even if it was quite thought provoking, albeit more so on the subject of art than of minor attraction.
NEWGON NEEDS MORE EDITORS
Apart from an unexplained reference to Newgon as an autogenerated baby name, there doesn't seem to be anything on the Home page of NewgonWiki, or the About page, that says how this marvellous resource of MAP-related information got its name.
So this looks like an opportunity for anyone who knows the origin story to edit the site by adding a sentence or two about it. Or if you fancy adding a whole page about something of MAP interest that isn't already covered, you can do that too. Using similar software to Wikipedia, Newgon volunteer editors can simply write their stuff and add it themselves. But there is a huge difference to Wikipedia, where anyone these days trying to add well-sourced information on child sexuality or attraction to minors will invariably find their work censored if there is the slightest suspicion that it comes from a MAP or MAP-friendly editor – including neutrally-presented research data that could be thought to favour MAP claims.
By sharp contrast, the Newgon Organization, and its support team who maintain the NewgonWiki site, are MAP-friendly and welcome good information from MAP editors about MAP issues. That's what they are for. That's the mission.
Take a look around the NewgonWiki site, if you haven't already, and you will discover a treasure trove of goodies. But it needs more volunteer editors, to strengthen what is already there and to keep the site growing, so it will become as indispensable to MAPs as Wikipedia now is on most subjects.
Unlike Wikipedia, which pretends to welcome all editors but in practice freezes out those who stray too far from orthodox input on controversial issues, NewgonWiki is upfront in having a recruitment policy. All applicants to do editing go through an initial vetting process. I have not (yet) done editing there myself, so I cannot describe the process in detail, but I imagine there will be a warm welcome for anyone with a bona fide interest who has the necessary skills, or could develop them with a bit of guidance, such as you will find on the editing portal and in the working standards and technical advice.
All you need to do to get started is email strategist@yesmap.net with basic information about the areas in which you think you will be able to contribute, and the skill level you can bring to the work in relevant tasks – notably researching (digging out interesting material to write about), writing, and editing.
120 DAYS OF HELL FOR NORBERT DE JONGE
Unlike the Marquis de Sade's novel The 120 Days of Sodom, in which violence escalates into torture and slaughter and was written while the author was in prison, the four months of Norbert de Jonge's recent incarceration did not end in carnage, but they were pretty terrifying and grim – hence, no doubt, the title he has given to a brief account of his experiences circulated to me and others a few days ago: The 120 Days of Norbert.
Heretics here may remember that I have blogged repeatedly about the increasingly hard line taken against MAPs in the Netherlands in recent times, notably in Repression in Netherlands rivals Russia's. Norbert was one of several activists tried for attempting to revive a banned pro-MAP organisation. He was convicted in March this year and given a sentence of four months, a prison term that began  somewhat later, in late June, and ended late last month.
In the UK he would probably have been assessed immediately on arrival as a vulnerable prisoner, on account of the hostility and violence to which inmates are routinely subjected if they are thought to be "paedos". As such, he would have been put on a segregated wing for his own protection along with fellow MAPs and others likely to be given a hard time.
Not in the Netherlands, or not in Norbert's case at least. Left to sink or swim among the main prison population, he soon came under suspicion. Some three weeks of rising tension and threats against him led to a crisis in which Norbert could stand no more, so he deliberately smashed the fluorescent lighting in the toilet area of his shared cell, an offence which saw him put into bleak but safe solitary confinement. Nearly two weeks later he was finally given a single cell on a separate floor for vulnerable prisoners, which is obviously where he should have been all along. Except, of course, that he should never have been jailed in the first place.